Currently Reading:
PLU Puts Its Own Face on National Campaign: It's On Us to Stop Sexual Assault
PLU Puts Its Own Face on National Campaign: It's On Us to Stop Sexual Assault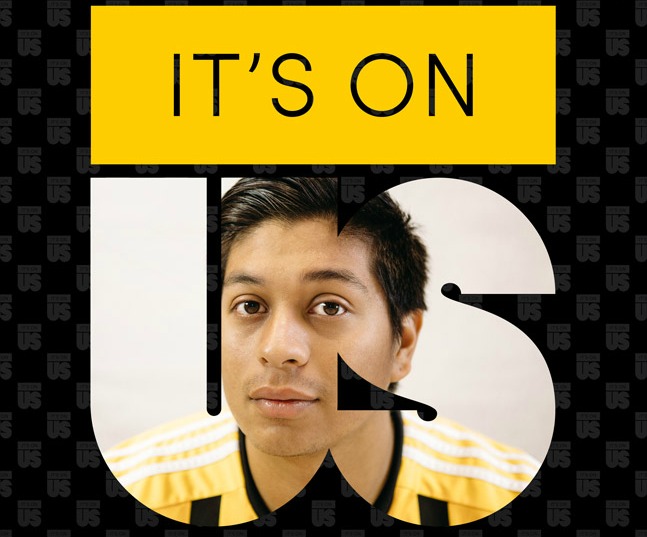 December 17, 2014
By Taylor Lunka '15
PLU Marketing & Communications Student Worker
TACOMA, Wash. (Dec. 17, 2014)—On Sept. 19, President Barack Obama joined Vice President Joe Biden in launching the It's On Us campaign—to keep men and women safe by putting an end to sexual assault on college campuses across the nation.
When the Lutes at the Women's Center at Pacific Lutheran University first heard of the campaign, they knew it was something they wanted to bring to campus right away.
The It's On Us campaign challenges all of us—as active bystanders—to put an end to sexual assault. Campuses and organizations nationwide can go to www.itsonus.org to download the campaign tool kit to get started.
"The timing felt right," said Women's Center Victim Advocate Jennifer Warwick. "It excited us because we knew it was something students could get behind."
And they have. Students and staff alike have signed pledges saying they will work, actively, to prevent sexual assault. And now, from Olson Gymnasium to Ramstad Commons to the Anderson University Center, signed Lute pledges are hanging all over campus.
Warwick said organizers thought the campaign was an especially good fit for PLU because of the work being done on campus around active bystanders. For example, at the beginning of the 2014-15 school year, new students and athletes attended a workshop on bystander training. And PLU's prevention program is seen as a national model by the Department of Justice.
"This [the It's On Us campaign] is keeping bystanders and these terms on PLU's radar," said Warwick.
The purpose of the campaign is to keep PLU secure.
"This matters because, more than anything, I think everyone comes to campus wanting to be safe," said Jonathan Yglesias, Men's Project Coordinator at the Women's Center. "Signing the pledge cards and hanging them up around campus reinforces that culture of care. We are proactive as opposed to reactive."
Jacynda Woodman-Ross, Advocacy Intern at the Women's Center and member of the class of 2017, said this campaign is important to create a safe community.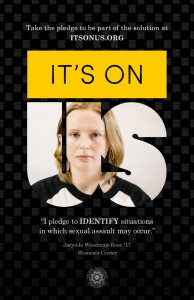 Last year, when Woodman-Ross first came to college, her mom gave her pepper spray. "I don't really want that to be the common culture on college campuses—especially not at PLU," she said. "I love PLU."
She also said that as a community we all could do better. "[People need to] understand that it is on us to end sexual assault," said Woodman-Ross.
"That's what the It's On Us campaign does—it helps to hopefully remold the responsibility of the university to reshape the culture around violence and that it's not simply a women's issue," said Jennifer Smith, Director of the Women's Center. "Everyone is impacted by violence, and everyone is responsible to speak up, act up, notice, and do something because if that becomes a cultural norm, people will know this isn't tolerated on campus."
Smith said that with so much of PLU supporting this campaign, it shows we are not afraid to address the issue.
"A lot of universities have been forced to respond in a reactive way, and traditionally it has been a topic that people don't want to promote broadly for a variety of reasons," said Smith. "We are not perfect. We recognize by virtue the need of the campaign. There is work to be done. We don't have it [sexual assault] figured out."
Across campus a variety of events offers opportunities for students and staff to support this campaign—and more are coming Spring semester.
As part of the Women's Center, The Sexual Awareness and Personal Empowerment Team (SAPET) has helped table in the Anderson University Center about the campaign with buttons and pledge cards. In November, there was a chapel service about preventing sexual assault. On Feb. 17, Lt. Col. Celia FlorCruz from Joint Base Lewis-McChord will speak on campus about sexual violence. During Spring semester there also will be a university wide photo shoot for anyone interested in supporting the campaign.
"Our hope is people translate the idea and general message of It's On Us to issues that aren't explicitly sexual assault," said Smith. "Like incidents of bias or someone says something racist or hurtful. [There are] a number of ways that harm can be done to members of our community. [We need to] translate that idea of It's On Us into all of those instances."
Here's a look at some members of the PLU community who are supporting the It's On Us campaign:
Allison Stephens, Associate Director of Academic Advising
Stephens first heard about the national campaign earlier this summer before Obama officially launched it. She is now a co-chair of the Active Bystander Coalition with University Pastor the Rev. Dennis Sepper.
"It's a kind of awareness campaign, but it's also a call to action for people to be active bystanders," said Stephens.
Stephens has been at PLU for about 10 years and says that the university has been doing bystander intervention for a majority of that time.
"We really appreciate this method of branding it, and so we decided to go ahead and utilize their tools to help students understand their role in preventing violence on our campus," said Stephens. "We've gone through different versions of how we do prevention, but when the bystander education version of prevention came about, it resonated with me a lot."
Stephens says that previous prevention work around the country hasn't changed the sexual-assault numbers. Many colleges and universities have focused on telling men not to be rapists and on telling women to take precautions to protect themselves before they go out.
"We look at the statistics of how many people actually experience sexual assault, and they haven't changed," said Stephens. "So clearly that type of prevention work was ineffective."
She says there is more to the story of sexual assault that needs to be addressed, even though most people blame the perpetrator and the victim.
"Most of the time, there are other people around, so why don't we shift the focus and say 'OK, other people around; let's tune in a little bit so you can see early warning signs of high risk?'" said Stephens. "It's our responsibility to make college a safer place for everyone."
She said that sexual assault, unwanted physical touch, sexual harassment, stalking and intimate partner violence are all things we need to prevent to make campuses across the country safer.
"It is really hard to find someone who does not know someone who has been affected by this," said Stephens.
Aaron Steelquist, Programs Coordinator, Student Involvement and Leadership
Steelquist, with the help of Hai Doan, Assistant Director of Social Media and Technology in Student Involvement & Leadership, created the PLU posters for the It's On Us campaign.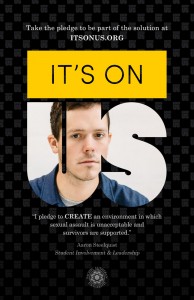 The posters, which can be seen throughout campus, feature students and staff—everyone from athletes, professors, student leaders and faculty has been invited to participate.
"Everyone seemed into the idea and wanted to be a part of it," said Steelquist. "There has been a culture at PLU for a while [about these kinds of issues]."
Steelquist said they knew they wanted to do PLU colors and stress the issue of putting the posters across campus.
Lt. Col. Kevin Keller, Professor of Military Science, MSIV Instructor
One of the first groups on campus to have all of its students sign pledges was ROTC, which partnered with the Women's Center for the It's On Us campaign.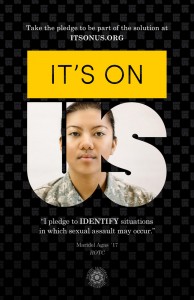 "We are heavily involved in this," said Keller. "We [the Women's Center and ROTC] share a lot of the same goals."
Keller said ROTC has a program similar to It's On Us called SHARP, located in the resource area of the Memorial Gym.
"We are all part of the human race," said Keller. "We have to take care of each other. We have to stem this ugly tide. This is something that affects so many—it has personally affected my own family."
Keller, who has been on the PLU faculty since 2013, said he is making prevention about sexual assault a top priority.
"I really want to see change in our attitude," he said. It's ridiculous."
Keller says that to tackle an issue as large as sexual assault, we all need to come together.
"We are teammates in this fight," he said. "We can only get better by teaming up with folks."
Jen Thomas, Associate Athletic Director
At the beginning of November, the volleyball team hosted a soft kickoff of the It's On Us campaign during a game against the University of Puget Sound. The volleyball team wore shirts that the Student Athletic Advisory Committee (SAAC) purchased. There was also a table at the game about the campaign, and everyone in SAAC signed a pledge card.
"The language of the campaign seems like a no-brainer," said Thomas. "It's an important topic that doesn't often get brought up."
The It's On Us Campaign resonated with Thomas and many of PLU's athletes.
"[Intervening] is something everyone should do," said Thomas.
Pledge cards have been signed by most of PLU's athletes.
The Rev. Dennis Sepper, University Pastor
Sepper has been university pastor since 1995 and is co-chair of the Active Bystander Coalition with Allison Stephens.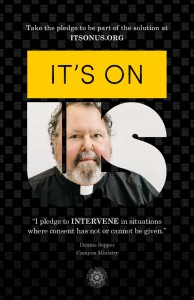 First, the coalition brought together people from all departments on campus to get this campaign in full swing at PLU.
"We want to make PLU an absolute safe place for everyone," said Sepper.
He says sexual assault is seen in too many parts of our world today.
"The level of violence in our society is crazy—crazy doesn't even get to it," said Sepper.
Sepper said this campaign reinforces PLU's goals as a university. From Green Dot to bystander trainings and resources on campus, this is another part of the university that makes it PLU.
"Community is a big thing here," said Sepper. "This issue [of sexual assault] is more than a women's issue. It's men's too—it's a community issue."