Currently Reading:
PLU Community Encouraged to Attend Listening Session Regarding JBLM Personnel Cuts
PLU Community Encouraged to Attend Listening Session Regarding JBLM Personnel Cuts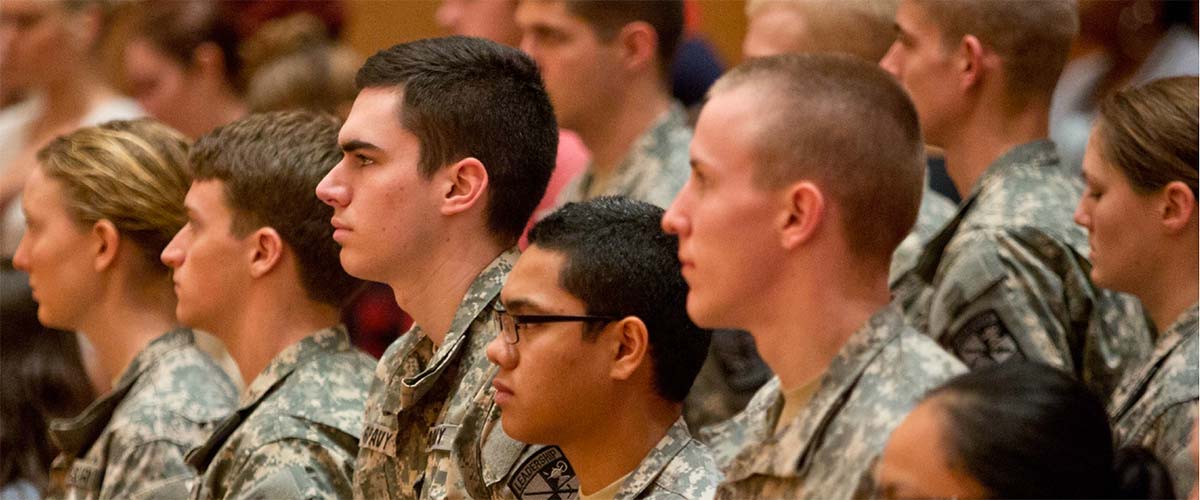 January 16, 2015
By Zach Powers
PLU Marketing & Communications
TACOMA, WA (Jan. 16, 2015)—PLU community members are encouraged to attend a "community listening session" regarding proposed cuts of 11,000-16,000 active-duty and civilian positions from Joint Base Lewis-McChord. The session will take place at the McGavick Conference Center at Clover Park Technical College in Lakewood on Wednesday, Jan. 21, from 10 a.m.–12 p.m.
Army officials from the Pentagon will be on hand to capture community input as part of the Army's overall force-structure analysis prior to making decisions on reductions. The Army is hopeful that participants will discuss "a full spectrum of issues" that will be used in making difficult decisions about structure and personnel cuts.
"My fellow Lutes should come to the listening session because thoughtful inquiry demands that we ask, 'Why is the Army cutting 16,000 troops, and how will the 40,000 people affected by this reduction further affect the community and the Earth?'" said PLU Director of Military Outreach Michael Farnum.
The 11,000 cuts suggested in June 2014 by the Army's 2014-2015 Supplemental Programmatic Environmental Assessment (SPEA) are in addition to the up to 8,000 cuts suggested by the Army's 2013 Programmatic Environmental Assessment (PEA). Both assessments were researched and published as a result of decreasing military budget projections.
Cuts to JBLM would represent as much as 8 percent of the total cuts recommended by SPEA, which calls for the Army to reduce its "active duty end-strength" from 562,000 in 2012 (when PEA research began) down to 420,000 or fewer. Wednesday's session will represent one of 30 throughout the country that are part of the Army's analyses and data collection regarding where to enact the pending cuts.
"The Army published a SPEA and determined that the reduction of some 16,000 service members (from JBLM) would have 'no significant impact' to the region," said Farnum. "Folks in the region said that that was untrue, so they are conducting the listening session to hear directly from those whom would be impacted."
Among those attending the listening session will be Joel Zylstra, director of PLU's Center for Community Engagement and Service. He worries that such dramatic cuts to JBLM would be harmful to the local economy and to the quality of life enjoyed by families living in and nearby the base.
"Healthy communities are sustainable communities," Zylstra explained. "Removing an infrastructure, economic engine, thousands of families and an interconnected industry will have an adverse impact beyond the boundaries of JBLM.
"This cut is not simply about military jobs, but also about the way that families interact with the complex systems that drive a thriving community," Zylstra continued.
Located just up the road from PLU, Joint Base Lewis–McChord is the world's fourth-largest military base. Home to more than 200,000 people and 25,000+ active-duty service members, the base serves as a training and mobilization center for all military services.
The most requested military base in the Army, JBLM comprises a 90,000-acre campus that includes 5,000 family housing units, 12,000 barracks spaces, 10 child-development centers, six  elementary schools, nine chapels, and 11 dining facilities. The JBLM population is an important economic driver for not only the City of Lakewood, but for the City of Tacoma and the entire south Puget Sound region.
Perennially named one of the "Best Colleges and University for Veterans" by U.S. News & World Report, PLU long has been committed to creating a multitude of opportunities for veterans, active-duty personnel, ROTC students, and military spouses and family members.
Highly aware of the challenges that often face veterans when entering a university community, PLU has created a student veteran center on campus, and the university employs a full-time director of military outreach, Farnum, as an ambassador for the school and to serve the needs of military students.
PLU belongs to the Servicemembers Opportunity Colleges Consortium, is certified for the GI Bill and participates in the Yellow Ribbon Program.