Currently Reading:
PLU Presents Service Awards to Students, Staff and Community
PLU Presents Service Awards to Students, Staff and Community

April 24, 2015
By Sandy Deneau Dunham
PLU Marketing & Communications
TACOMA, Wash. (April 24, 2015)—Pacific Lutheran University awarded six student scholarships and other awards on April 22 for outstanding contributions to service at PLU and the surrounding community.
Individual scholarships ranged from $250 to $1,000.
"The scholarships here don't come close monetarily to justify the amazing work that you are doing," Joel Zylstra, director of PLU's Center for Community Engagement and Service, told the recipients. "It is a small gesture of appreciation and a reminder to keep doing what you are doing and to stay engaged in learning with our community."
Here are the awards and recipients: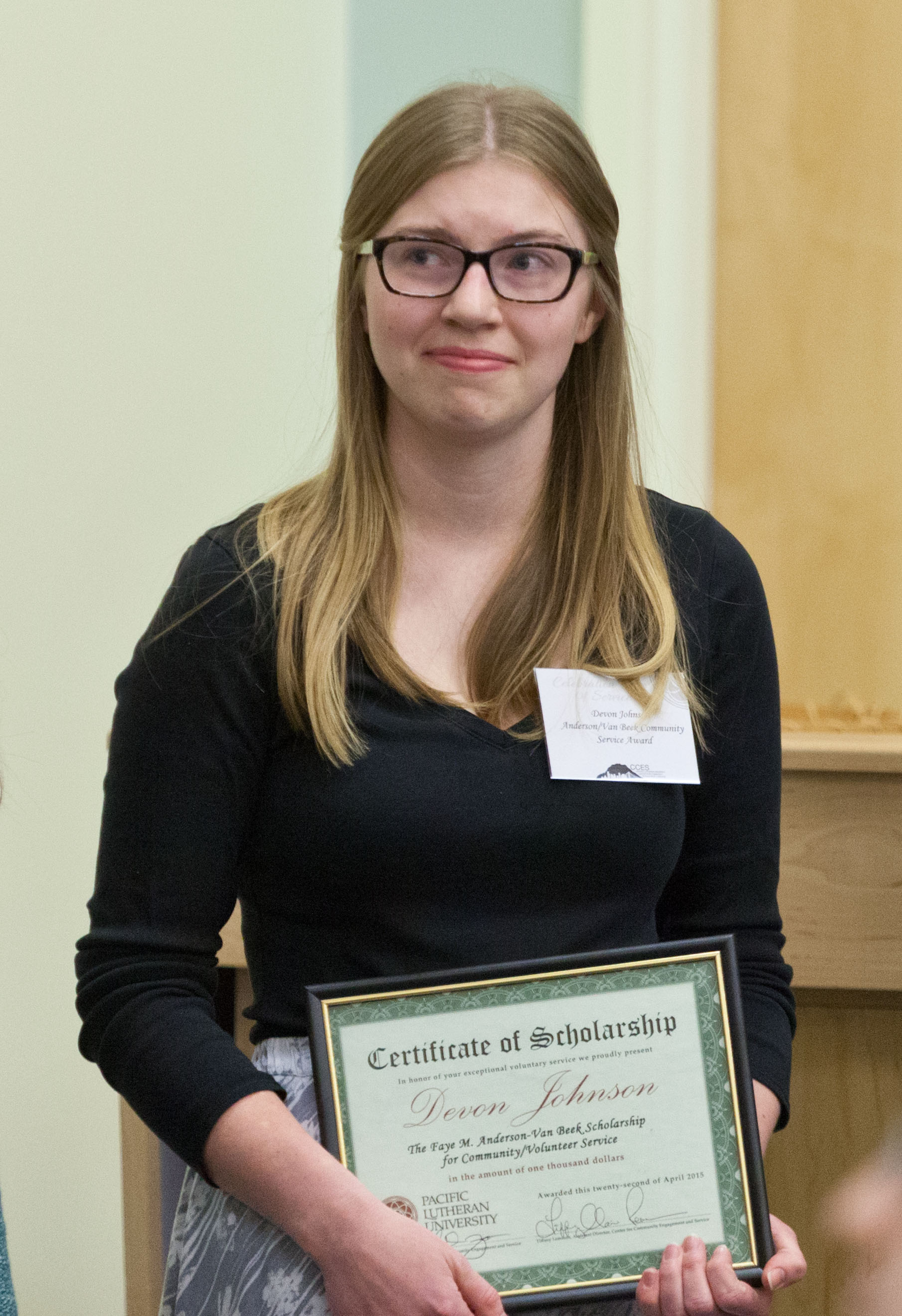 The Faye M. Anderson/Van Beek Scholarships for Community/Volunteer Service, endowed by Jim Van Beek in honor of Faye M. Anderson for her 22 years of service at PLU and the community (three awards; $1,000 each).
1.   Devon Johnson '17 contributed more than 50 hours of service as PLU ELL Program Volunteer co-coordinator and teacher, overseeing one level of ELL class and working with a team to organize the program, outreach, registration and teacher training.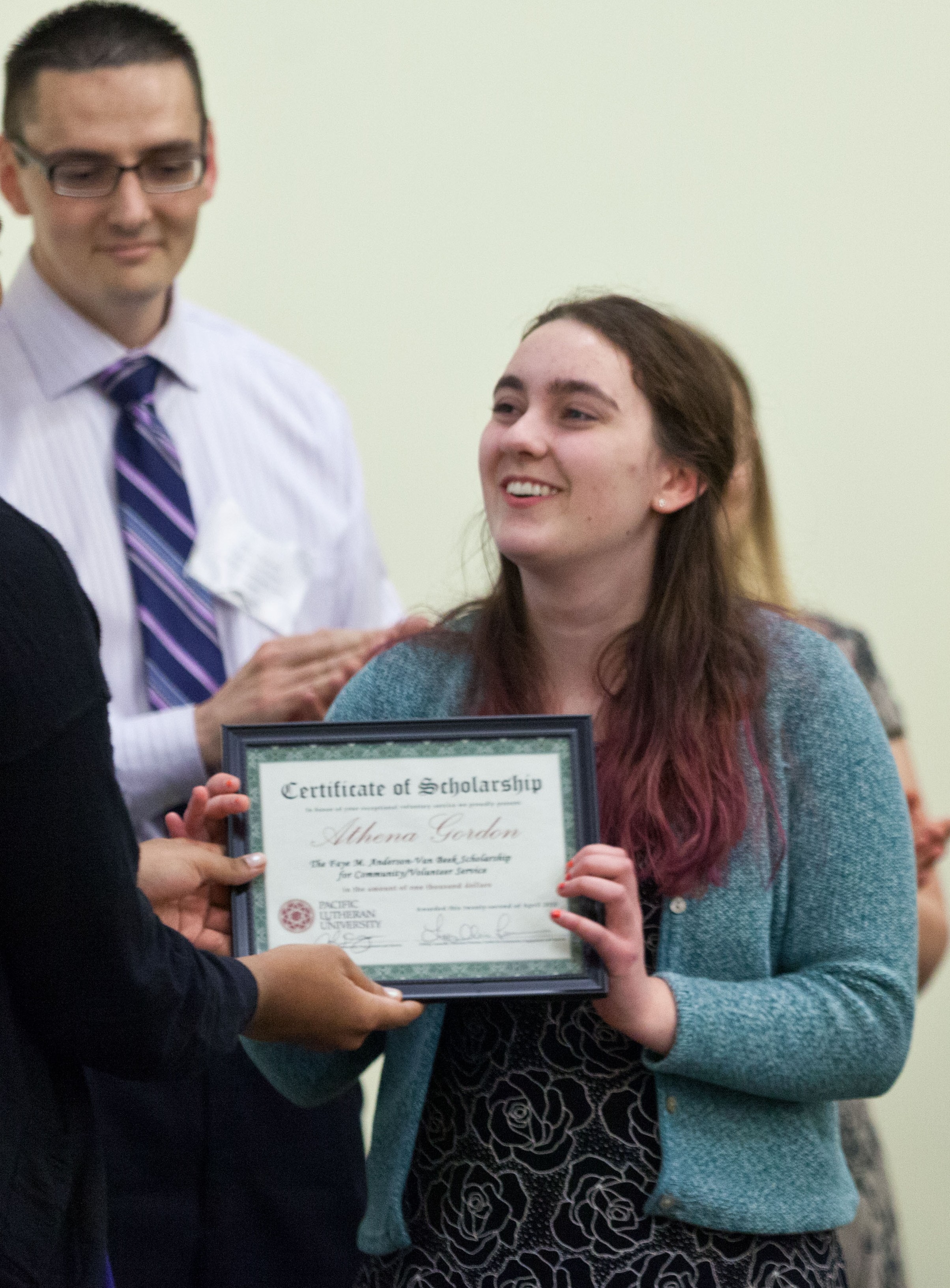 2.    Athena Gordon '17 contributed more than 100 hours to Club Keithley and RHC, helping students focus in class and collaborating with other members of Hinderlie Residence Hall Council to plan events that encourage diversity and provide a safe outlet for creativity.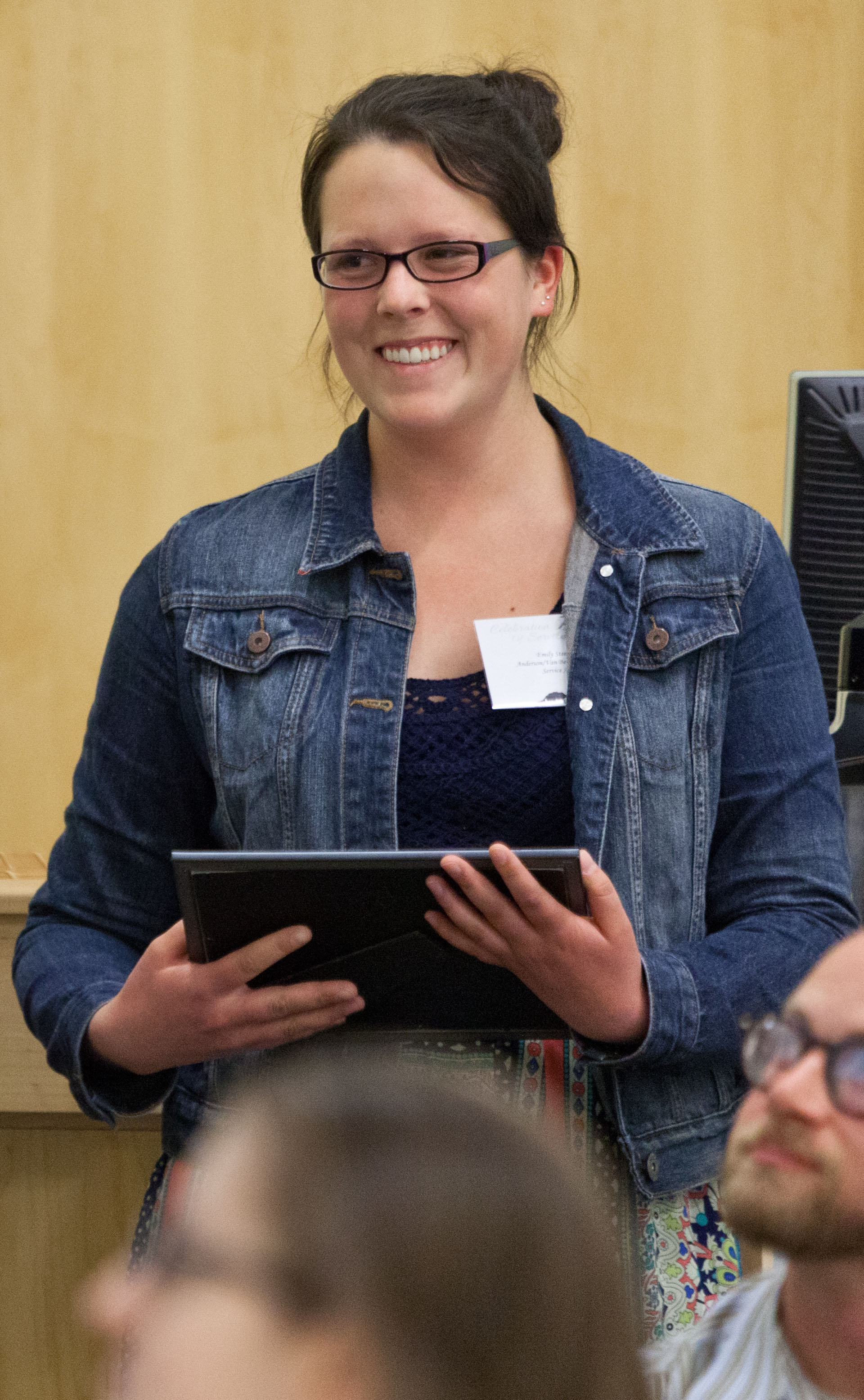 3.    Emily Steelquist '16 contributed more 200 hours of service with Club Keithley, Pierce County Habitat for Humanity, Food Connection, St. Leo, Nativity House, Tacoma Rescue Mission and PLU Alternative Spring Break-Parkland Immersion.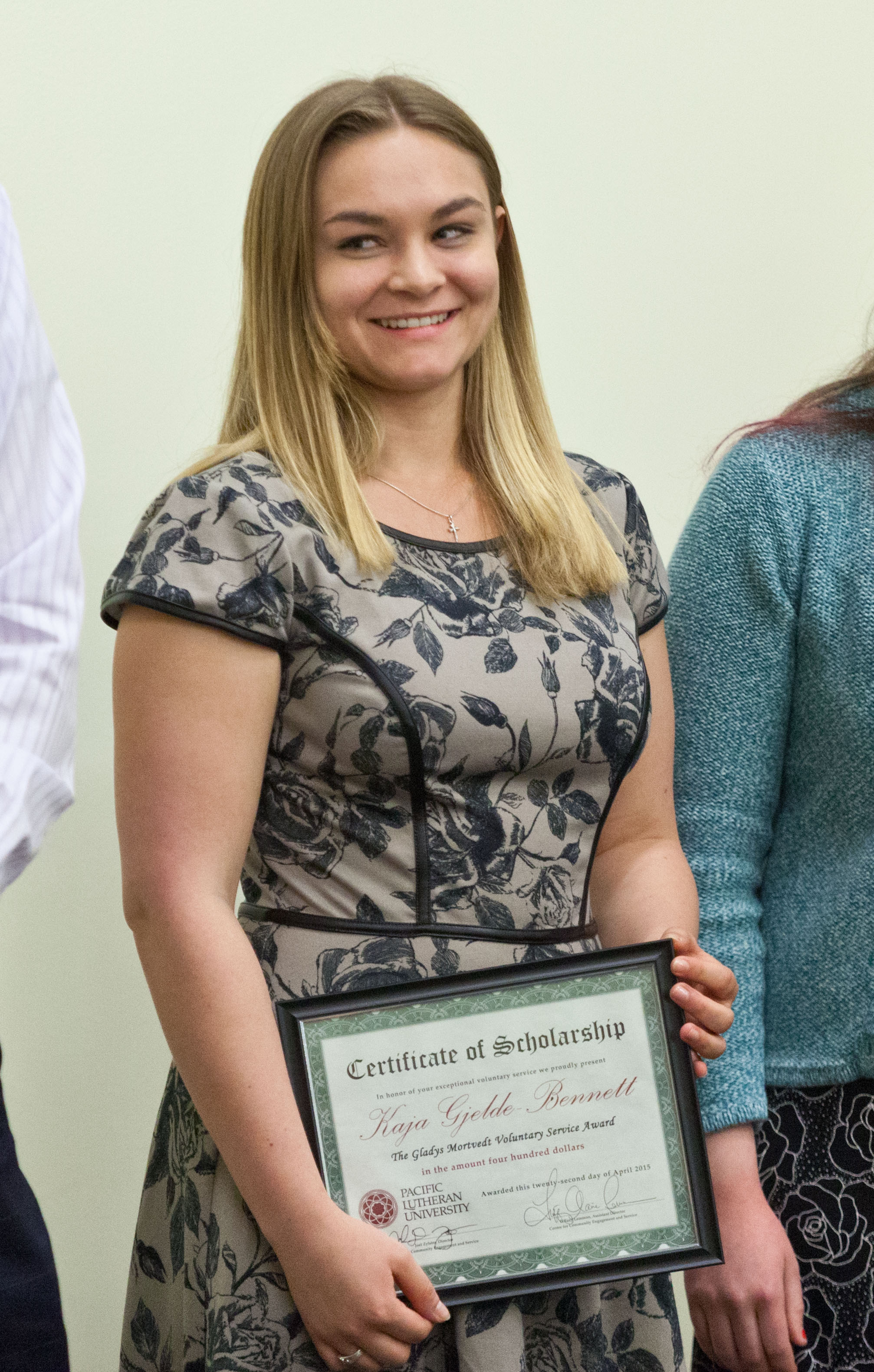 The Gladys Mortvedt Voluntary Service Award is awarded to a PLU student who has quietly won attention by rendering voluntary service without expectation of recognition or compensation ($400). It was awarded to Kaja Gjelde-Bennett '17, who contributed 150 hours of service to Faith Community Lutheran Church, English Language Learning, Centro de Esperanza Infantil and Escuela Secondaria Technica No. 2 in Oaxaca, Mexico.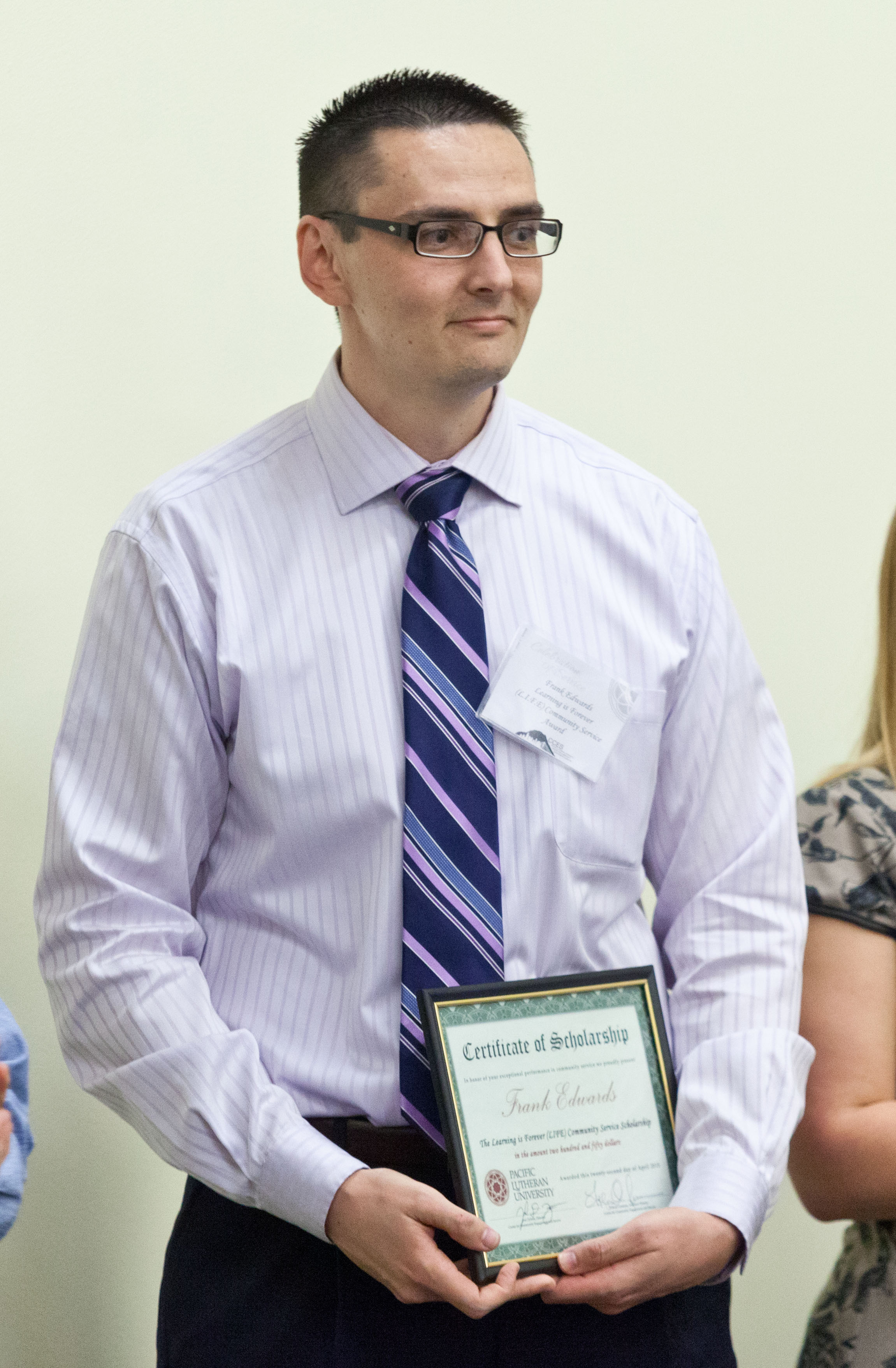 The Learning is Forever (L.I.F.E.) Community Service Scholarship is awarded to a PLU student who has shown outstanding commitment to service and an awareness of how community engagement contributes to learning ($250). It was awarded to Frank Edwards '16, who contributed more than 100 hours of service to Good Samaritan Hospital as a critical-care volunteer trainer. He also has received a 200+ hour Volunteer Service Award from Multicare.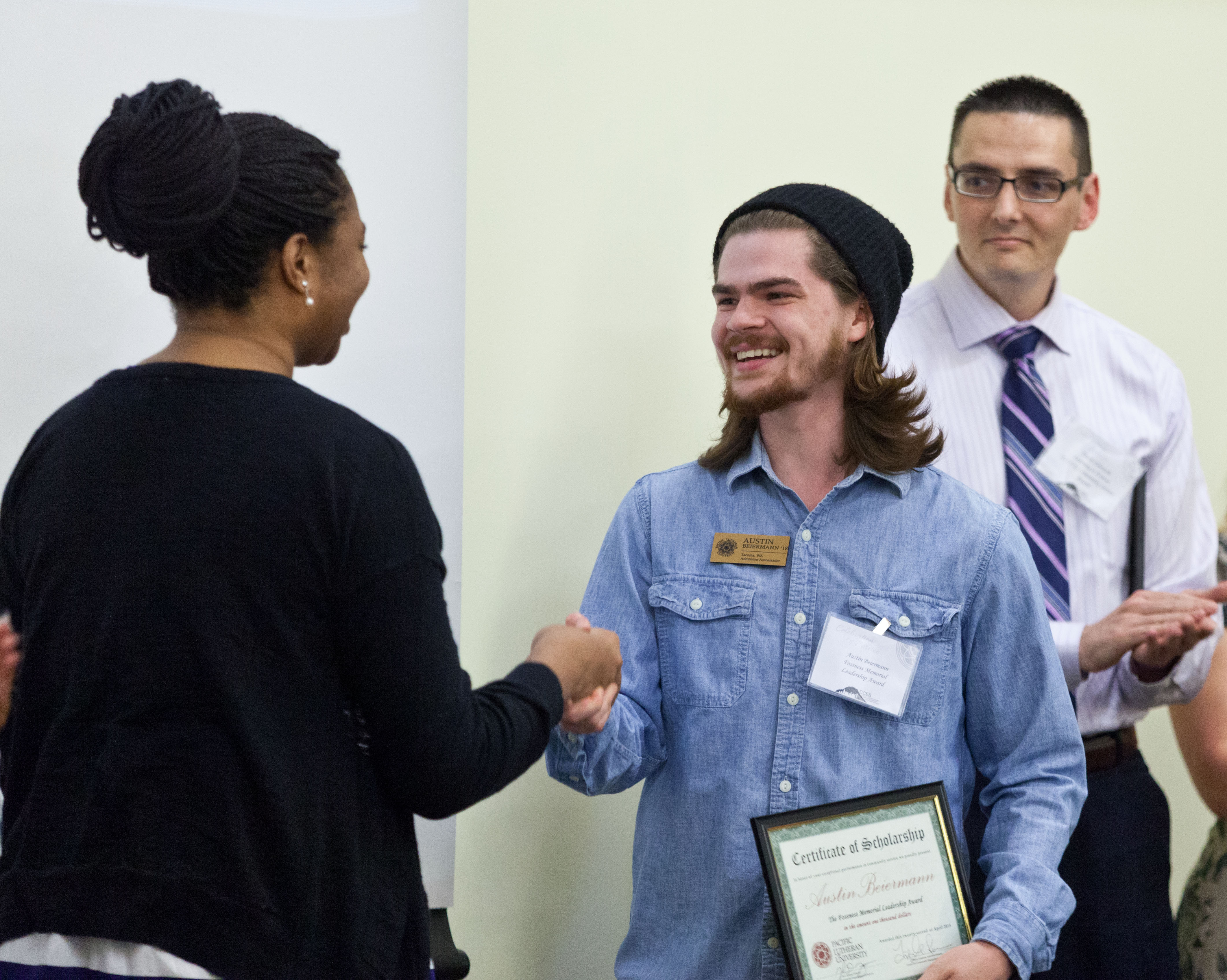 The Fossness Memorial Leadership Award is awarded to a Christian student from Washington who performs exceptional community service through leadership in his school, community or church ($1,000). It was awarded to Austin Beiermann '17, who contributed to College Bound, Diversity Center, Big Buddies and KMS Visit Day. He's also a member of the Emerging Leader program, Act Six Leadership training, RHC Vice president (Stuen Hall), Tunnel of Oppression docent and a member of the bias incident report team.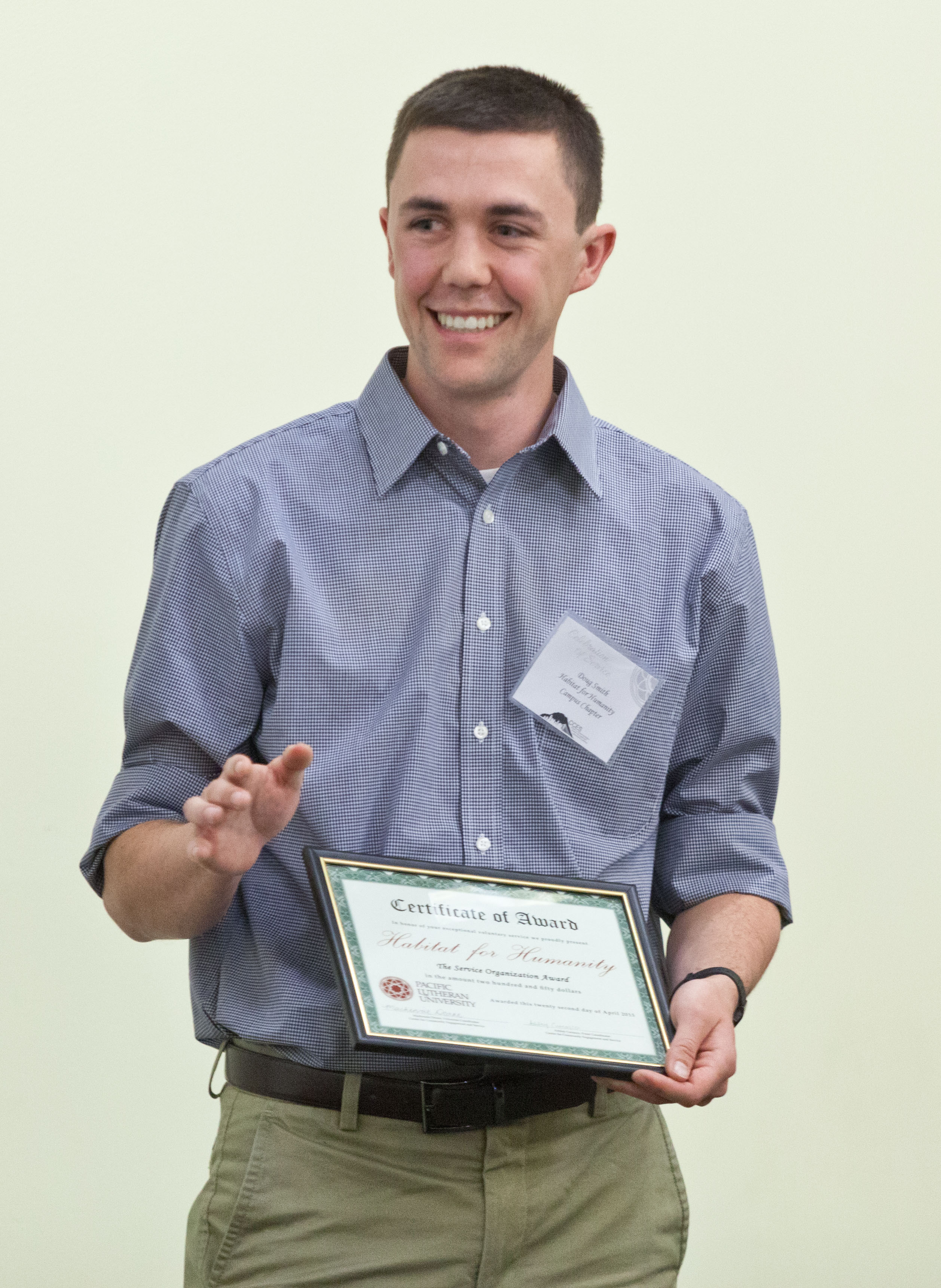 The Student Service Organization Award honors one organization or club that engaged with the community in a unique and powerful way. Doug Smith and Emily Steelquist accepted the award for Habitat for Humanity-PLU Campus Chapter for demonstrating a commitment to ongoing and sustained service through maintaining community partnerships and designing opportunities for PLU students and community members to join in monthly build days. Other nominees included Chem Club, The Student Athlete Advisory Committee (SAAC), Circle K International and Habitat Restoration.
The 2015 David T. Alger Student Service Award and the 2015 David T. Alger Faculty/Administrator/Staff Service Award, named in honor of the longtime Pierce County leader, acknowledge a staff or faculty member and student who have exemplified an extraordinary commitment to service; sustained engagement; and collaborative leadership with agencies, programs and community leaders that serve the public good.
The student service award was presented to Nicholaus Townsend Falck, who combined his dual passions for music and business into a nonprofit that provides an after-school program at Brookdale Elementary and three one-week summer music camps for at-risk kids.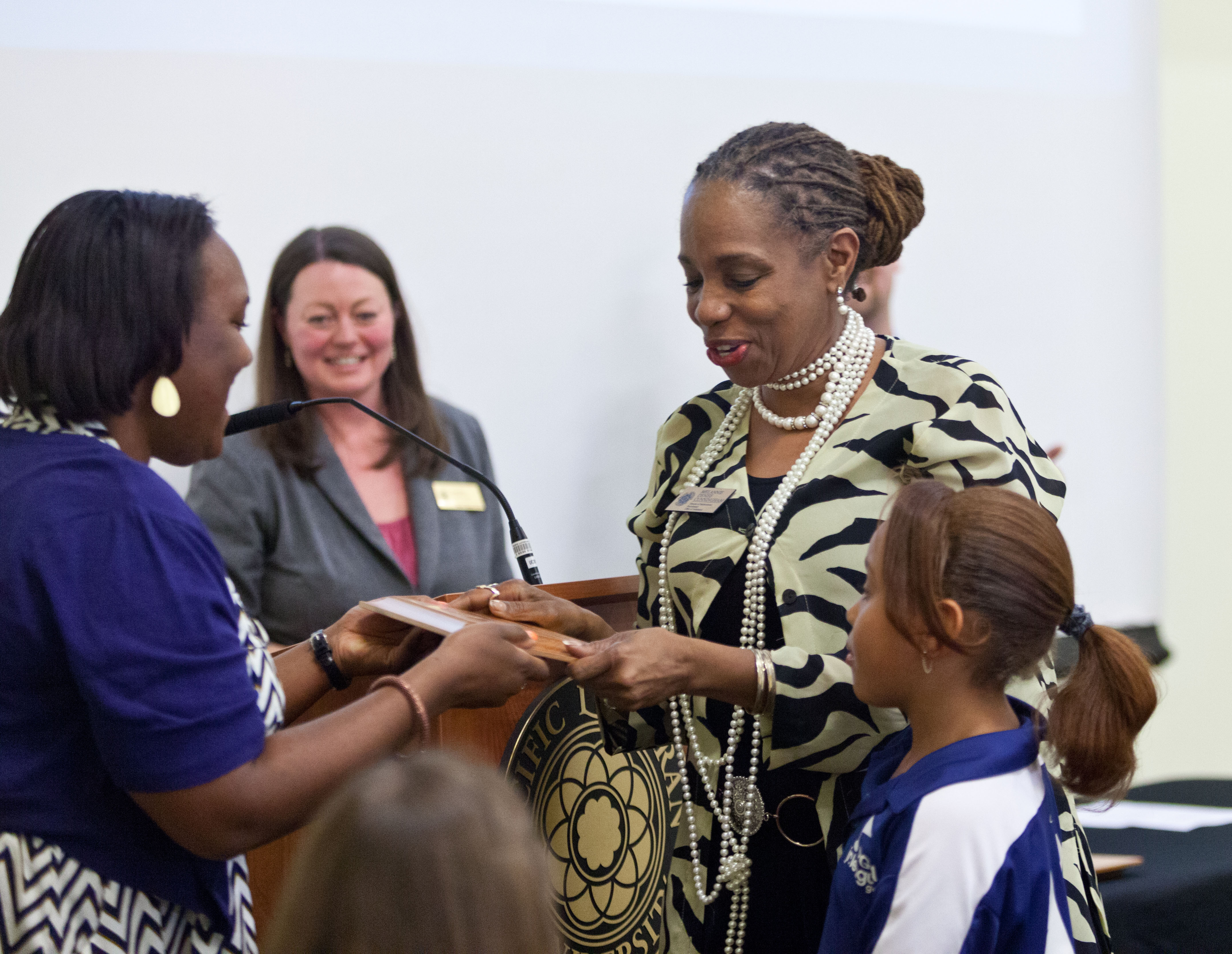 Director of Multicultural Recruitment Melannie Denise Cunningham received the administrator award for her relentless advocacy for higher education and commitment to helping young people access college. Other nominees were Nicole Jordan, Jonathan Adams, Joanne Lisosky, Ginger Peck, JoDee Keller and Marianne Taylor.
The Ron Pierre Vignec Community Partner Award, named in honor of "Pastor Ron," a campus pastor in the 1980s who also ministered in the Salishan community on Tacoma's Eastside, honors an outstanding organization or individual that partners with PLU, lifts up the voices of those on the margins and works to educate the broader community about the work that needs to be done. The award was presented to Salishan Community Health Advocates, members of the Salishan community who mobilize their neighbors to become healthy, contributing members of their own community. Other nominees were Act Six, United Way, the Tacoma Fire Department and Keithley Middle School.