Currently Reading:
PLU Ranks in Top 4% of America's Best Master's Universities
PLU Ranks in Top 4% of America's Best Master's Universities

August 24, 2015
The Washington Monthly Also Names PLU a 'Best Bang for the Buck' Institution
By Sandy Deneau Dunham
PLU Marketing & Communications
TACOMA, Wash. (Aug. 24, 2015)—Pacific Lutheran University ranks number 25 in the Best Master's Universities category of the national 2015 Washington Monthly College Rankings released Aug. 24.
That's PLU's best ranking in years, and places the university among the top 4 percent of the country's more than 700 master's universities.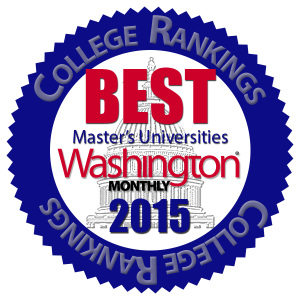 "We at PLU are pleased to be recognized for the high quality of our programs and outcomes," said PLU President Thomas W. Krise. "The key thing to note in any ranking is what goes into the formula; Washington Monthly focuses on social mobility, research and service, and our faculty, staff and students care about all these and more."
In rating institutions based on their contributions to the public good, Washington Monthly defines those three categories further:
Social Mobility: recruiting and graduating low-income students;
Research: producing cutting-edge scholarship and Ph.D.s; and
Service: encouraging students to give something back to their country.
The Washington Monthly also named PLU a "Best Bang for the Buck" university, meaning that a PLU education offers the best value for the money based on "net" (not sticker) price, how well PLU graduates the students it admits and whether those students go on to earn at least enough to pay off their loans.
Founded in 1969, Washington Monthly is a bimonthly nonprofit magazine covering politics, government, culture and the media.