Currently Reading:
Dr. Gregory Youtz: A Front-Row Seat (Almost Literally!) to the Chinese President's Tacoma Visit
Dr. Gregory Youtz: A Front-Row Seat (Almost Literally!) to the Chinese President's Tacoma Visit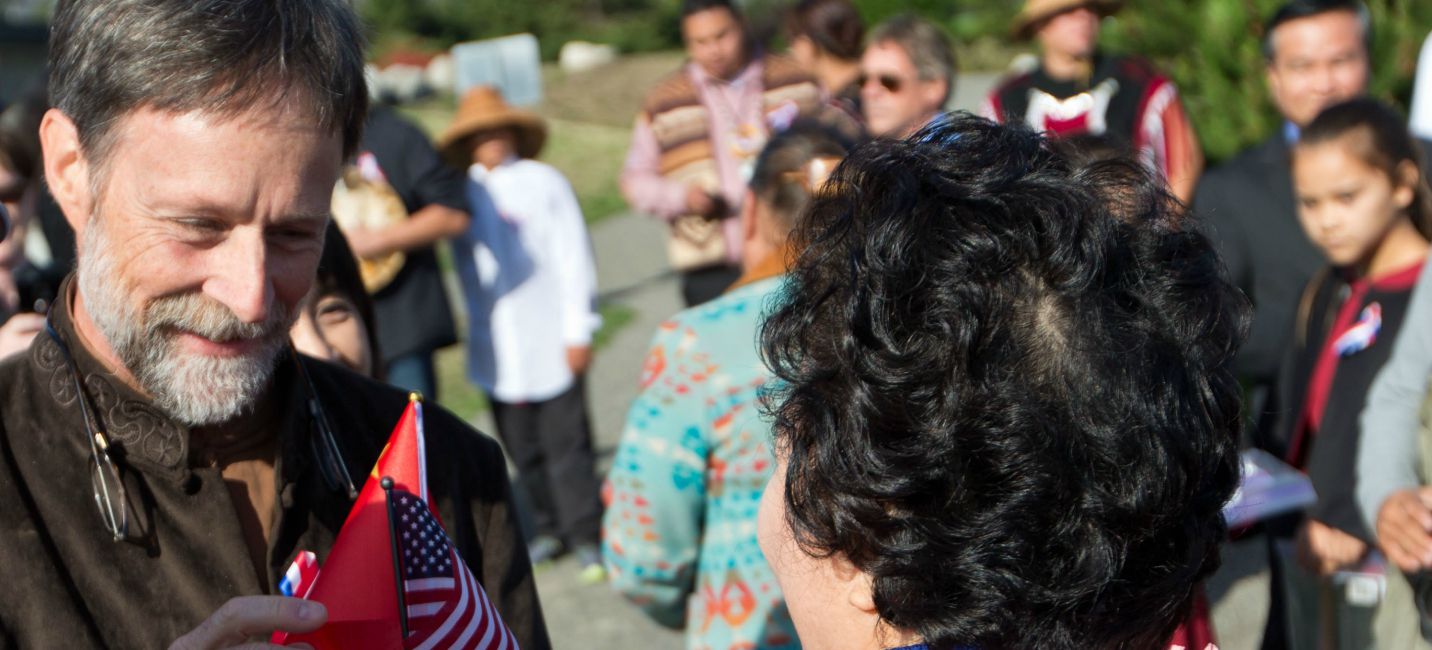 September 29, 2015
Where can a liberal arts degree in Music Composition lead you? In my case it has led to a life of travel, study, program development, tour-guiding, international relations and eventually a handshake with the President of China. Here's the tale.
By Dr. Gregory Youtz
PLU Professor of Music and Composer
TACOMA, Wash. (Sept. 29, 2015)—The late September sun was hot as we crowded in through a narrow door into a lobby full of metal detectors and federal security agents. Behind us Vietnamese and Falun Gong protesters waved flags and signs. Police were everywhere, as the whole neighborhood around Lincoln High School had been blocked off, as had all of Interstate 5 between Seattle and Tacoma.
Then finally we were inside, looking for assigned seats with our names on them. We all knew how lucky we were to have been chosen—and that many obvious invitees had not made the final cut. Many of us were looking at two nametags written on small yellow pieces of paper and posted to the back of two seats in the front row—two very famous names. Chinese international students from local high schools were having their pictures taken, pointing at the names and looking astonished and thrilled. Then we were asked to take our assigned seats, mine just two rows directly behind the ones with the famous names.
A hush fell over the crowd as we looked toward the lower left auditorium door. A hand signal was given, and the Lincoln High School Drumline on stage burst into a deafening staccato rhythm of celebratory welcome as the President of the People's Republic of China entered the room, followed by his wife, Peng Liyuan—a famous singer in China.
President Xi Jinping and Peng were warmly welcomed by Lincoln High School Principal Pat Erwin and Tacoma Mayor Marilyn Strickland, who are, coincidentally, husband and wife.
While we were waiting, President Xi had met with a Lincoln teacher and class and with the football team in the gym. President Xi was presented with a custom jersey with the team's name, "Abes," on it and the number 1. After he joined us in the elegant 1913-style auditorium, the choir sang an American song and a Chinese song (in Chinese!), joined by five students from Lincoln's partner school in our Chinese Sister City of Fuzhou. A film began, featuring a number of us involved with Tacoma-Chinese affairs speaking to the importance of our many relationships with China.
President Xi was the tip of the iceberg of perhaps 1000 Chinese dignitaries and journalists visiting the United States last week. Here in Tacoma, I also participated in numerous meetings or events with the delegation from Fuzhou, our Sister City. They were here because President Xi had worked with them for 18 years as an official in their city and province, and they were eager to gain publicity for their beautiful city, just as Tacoma was basking in the same international spotlight. As Chair of the Tacoma-Fuzhou Sister City Committee, I gave a speech on the steps of the downtown post office, where the Fuzhou delegation had mounted a major exhibition on the history of the 21-year relationship. The most exciting photos on display showed then-local Party Secretary Xi Jinping signing the founding document of this Sister City relationship back in 1994 and the document itself with his signature!
When people ask, "Why did President Xi come to Tacoma?" it is delightful to reply that he had visited before—in 1993—and that he had helped found our Sister City relationship, and had remained interested in its growth into economic, cultural and educational exchanges over the years. When he was looking for a good "small place" to visit—between visits with Bill Gates and President Barack Obama—he chose his old Sister City, and the high school in Tacoma that had created an exchange with a high school in Fuzhou.
When people ask why I was invited to be part of the audience at Lincoln that historic day, it is delightful to tell people that I have been part of building bridges between Americans and Chinese for 25 years in Tacoma, and that I just happened to be in the right role as Chair at the right time to welcome the president of China.
It is nice to know that, after 25 years of studying a country and civilization, I actually have learned some things and put them to good use in the world. It is also proof that learning does not end with graduation from college—many things are learned beyond college and can turn into second careers. My only concern, and I will take this up with the cosmic accountants, is that this not be my only "15 minutes of fame." I would like to reserve another 15 minutes as a composer of music, please!
Music Professor in the Media
In context with Chinese President Xi Jinping's visit to Tacoma, PLU Professor Gregory Youtz appeared in the following media:
KING 5 News (twice)
Wall Street Journal
Southern Metropolis Daily in Guangzhou, China
as part of a panel on Northwest Now with Tacoma's mayor, the executive director of the World Trade Center Tacoma and an Economics professor from the University of Washington-Tacoma.