Currently Reading:
Media Student Serves and Learns Simultaneously
Media Student Serves and Learns Simultaneously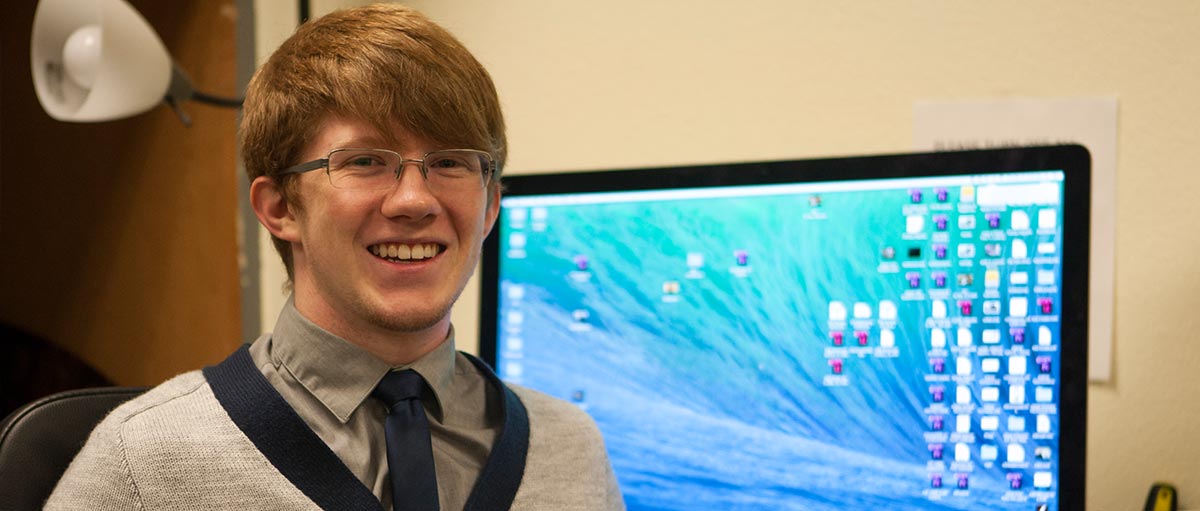 December 12, 2015
By Matthew Salzano '18
PLU Marketing & Communications
TACOMA, Wash. (Dec. 11, 2015)—Communication major Chris Boettcher '17 is living out the deeply held commitment of Pacific Lutheran University to civic engagement — all while continuing his education.
When Cathy Nguyen, Tacoma poet laureate, reached out to PLU looking for a videographer to tell the story of youth homelessness in Tacoma through documentary, Chris knew he was right for the job.
Through his co-curricular work with the award-winning on-campus media production group, Media Lab, Chris was able to produce a high-quality product, serve his community and learn about documentary film along the way.
What is True Grit? 
True Grit is a collection of interviews entailing the stories and experiences of young people who are currently (or recently were) homeless. The video ended up being used as a passive facilitation guide to inform community members of the struggles young homeless people face and how they can be supported to overcome these struggles.
How did you get involved with True Grit?
I got involved with True Grit through an outreach email in the Diversity Center looking for a student with videography and editing capabilities to help capture the stories of homeless youth. Hearing about this, I was very excited, as a career goal I have is to do advocacy work, and this seemed like a perfect start. I replied to the email and passed it on to my adviser, Rob M. Wells, who agreed to let Media Lab take on the project, where I filmed and edited.
How did this project enrich your academic experience?
True Grit was a project that confirmed my vocation for doing advocacy work. Every student should get involved in a project bigger than themselves to challenge perspectives and seek out their vocation.
How did these stories make you feel?
The stories shared with me were not tear-jerkers — they were stories of empowerment and optimism. Stories of hope. It reminded me that life hits everyone in different ways. I learned that homelessness comes in many different ways. Lack of social support, financial instability, legal issues. I felt a sense of being uplifted because the stories, while hard to hear at times, always ended in a way that had a silver lining or a positive takeaway.
Has your perspective on youth homelessness changed through this project?
My perspective on youth homelessness was shaped by this project. Like the possibility of young people being homeless existed, but was never something I really saw or thought of as a major issue. Working on this project I learned that it is a very real thing and that the systems in place are helpful, but are hard to access and navigate.
Why is it important that students get to do work like this?
This type of work is important for students because it helps challenge student views on topics and challenges them to ask the big enough questions. Work of this nature also allows students to test the waters and see if this is what they want to do, allowing them to seek and find their vocation.