Currently Reading:
Choir of the West Director Richard Nance discusses his recent leadership award and the origins of "St. Matthew Passion"
Choir of the West Director Richard Nance discusses his recent leadership award and the origins of "St. Matthew Passion"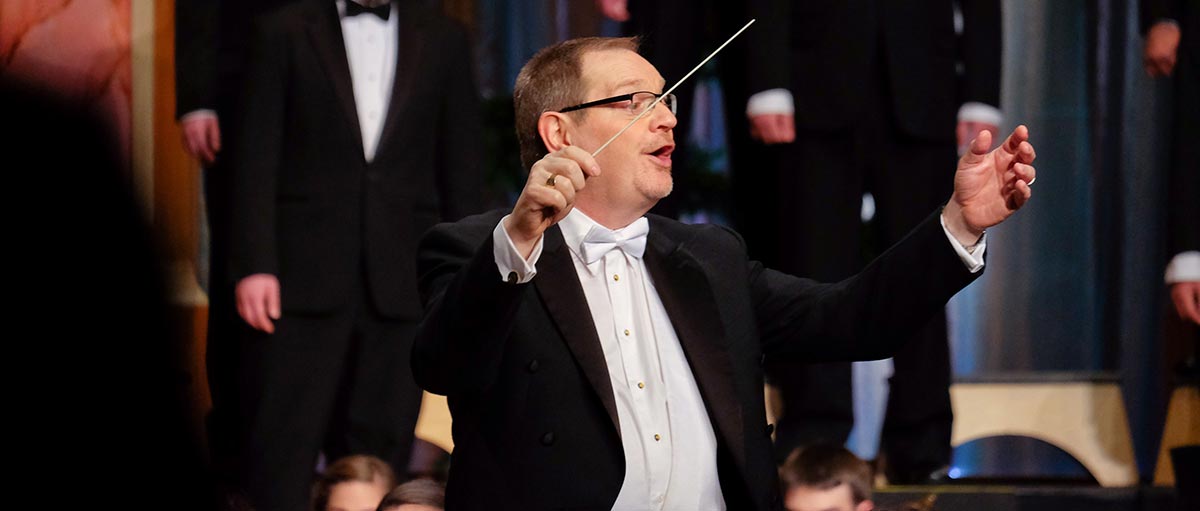 March 21, 2016
By Mandi LeCompte
PLU School of Arts + Communication Outreach Coordinator, special to PLU News
TACOMA, WASH. (Jan. 21, 2016)- Pacific Lutheran University Director of Choral Studies Dr. Richard Nance was recently the recipient of the Northwest American Choral Directors Association Leadership award.
Nance, who was awarded the "American Prize" for Choral Conducting in 2011 and 2013, has been a member of the music faculty at PLU since 1992, where he serves as director of choral activities and conducts the Choir of the West and Choral Union.
Nance is currently preparing Choir of the West, Choral Union and the University Symphony Orchestra to perform the North American premiere of the "St. Matthew Passion" by Sven-David Sandström, one of the world's best-known composers, on Tuesday, March 22 and Wednesday, March 23 at 8 p.m. in PLU's Lagerquist Concert Hall.
How did it feel to receive the 2016 Northwest ‪ACDA‬ Leadership Award?
It was a huge honor! I have such respect and admiration for my colleagues in ACDA circles, many of whom are also very close friends. To be singled out as a leader among them is humbling and wonderful.
What would you say are the secrets to being a great leader in the choral world?
I don't know if there are any great secrets–for me it just involves staying connected to and genuinely caring for others in the profession, and also working as hard as I can to be at the top of my game as a collegiate choral conductor. I take a lot of pride in what I do, and push myself to always be better. I try to be humble about it, go about my business and lead by example.
You're working on a very large project right now, "St. Matthew Passion," what inspired you to take on this piece in the way that you did?
I was on sabbatical in 2014-2015, and as part of that I went on a three-week trip to Scandinavia and the Baltics. The purpose of the trip was to hear great choirs, meet their conductors and also meet composers. While in Sweden I met with conductor Stefan Parkman, who was working on the Swedish premiere of the Sandström "St. Matthew Passion." I had sent Stefan recordings of my choirs as a way of introducing myself, and he invited me to attend rehearsals for the Passion. While having coffee prior to rehearsal, Stefan asked if I would like to do the U.S. premiere of this piece at PLU. Of course I said yes! The chance to bring this wonderful new work to my singers and also have them work with Stefan and the composer was something I just couldn't pass up!
There's been a lot of collaboration involved in the Passion Week with community organizations, alumni and PLU programs. What has that been like?
The collaboration has been very fulfilling! In the simplest terms, Geoffrey Boers, a PLU alumnus who conducts the University of Washington Chamber Singers, as well as the Tacoma Symphony Chorus, realized that all our performances of three very different Passions were bunched together within a 10-day span, and he approached me about tying the events together into a larger, more regional event. In this way we could pool our resources, hopefully reach and feed off of each other's audience, and bring something truly significant to the Tacoma arts scene. I think we've done that!
We have had great newspaper coverage of the greater Tacoma event, KING FM did an hour-long broadcast about it, and our event was announced at the TSO concert. The performances of the Arvo Pärt Passio by UW and Tan Dun's Water Passion by the Tacoma Symphony Chorus were just stunning–great successes. And now we are about to present Sandström's St. Matthew for two performances with an all-star cast of PLU alumni as the soloists (including Angela Meade), our own students in the role of the Evangelist (coached by chair of vocal studies Jim Brown), Choral Union and Choir of the West (which I have prepared), the University Symphony Orchestra (prepared by Jeffrey Bell Hanson), with a guest conductor from Sweden and the composer in attendance. PLU multimedia services and stage services have played a big role in making the event happen. Percussion professor Miho Takekawa helped out by finding the very specialized tuned gongs that are used in the orchestration. The SOAC office, in particular Mandi LeCompte, took the lead to put together publicity for all these events.
It's been amazing to work with so many dedicated people. I think the secret to doing this sort of thing is communication and planning, and probably just as important is following through to be sure things get done.
A lot of guest artists are involved in the concert, how valuable has it been to work with them on this project?
It has been a joy to work with the guest artists. First of course is Stefan Parkman, one of Europe's best known choral conductors, and also one of the nicest people on the planet. Stefan is so positive, so giving, and he genuinely cares about the project and everyone involved. Having our alumni serve as the soloists has been great. We wanted to showcase our vocal program, so we brought back our biggest star, Angela Meade, and also Anthony Webb (who sings professionally in New York), Ben Harris (who has sung in the MET chorus), and recent alumni Annie Herzog and Eric Olson. But the greatest opportunity in my eyes is for the students who comprise the Evangelist quartet–the biggest role in the drama. They have been expertly coached by Jim Brown and they are fantastic. To give them an opportunity to sing as equals with the other professional soloists is a big deal to me and I am very proud of them.
What do you think are the benefits to students involved with this production?
They get to be the first artists to perform an important new work of repertoire in North America. They get to work with one of the world's best-known conductors and one of the best-known composers of modern repertoire. There is great value in learning to collaborate on such a large scale and in such a visible setting. And I believe ultimately all the performers will be moved by the music and its connection to the story.
The SOAC focus this year is on storytelling. What do you think this concert has to say about the art of communicating?
We're telling the story of Christ's passion, the "greatest story every heard." And hopefully, with this great new work, we will communicate it to our audience in a way that will be profoundly moving.