Currently Reading:
Elite rower, PLU alumna continues showing up, competing on world stage with goal of achieving Paralympics gold
Elite rower, PLU alumna continues showing up, competing on world stage with goal of achieving Paralympics gold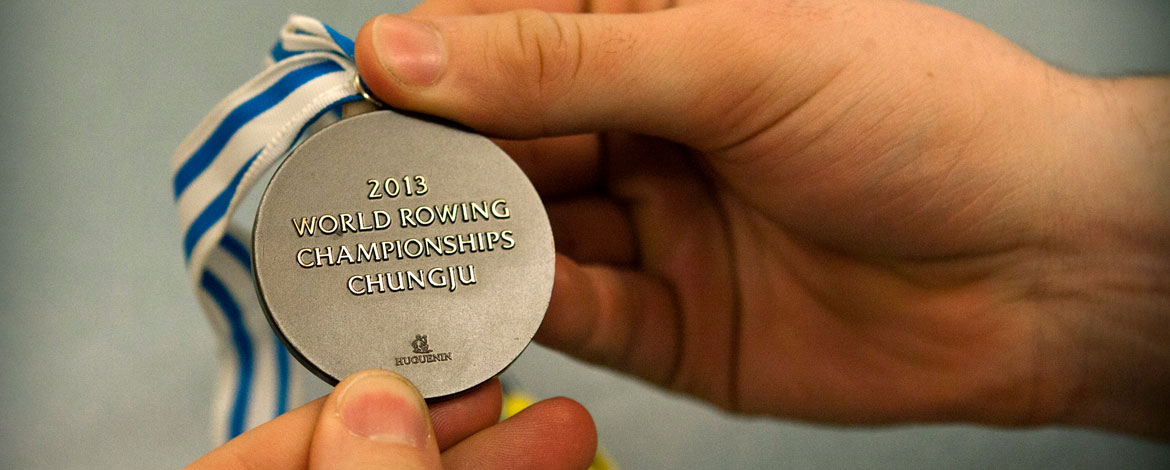 March 24, 2016
By Kari Plog '11
PLU Marketing & Communications
TACOMA, WASH. (March 24, 2016)- Natalie McCarthy '09 lost her vision when she was a child, but that hasn't stopped her from showing up. And she's continued to show up all the way to the world stage.
McCarthy spent the evening and afternoon of March 15 and 16 — her birthday and the day after — at Pacific Lutheran University talking to students about the importance of always showing up.
"That's half the battle," she said.
The athlete-at-heart has maintained a deep passion for rowing that took her from the PLU crew team all the way to the world championships.
McCarthy, a member of the varsity crew team from 2005-09 and recipient of the Frosty Westering Inspirational Award her senior year, has so many elite para-rowing honors that it's hard to keep track of them all.
She's a three-time gold medalist at the Crash B Indoor Rowing Championship, three-time gold medalist and course record holder at the Head of the Charles Regatta, two-time national team member, and bronze medalist in the 2013 World Rowing Championships in Chungju, South Korea, among other accomplishments.
McCarthy stood at the head of Dr. Colleen Hacker's class this month and told students about classification requirements in the Paralympics, exhaustive nonstop training and her experience serving as a representative on the Athletes' Advisory Council, which broadens communication between the U.S. Olympic Committee and active athletes competing in the games.
But mostly she talked about using failure as a catalyst for success.
"It's never been an option for me to quit," she said.
Success hasn't come easy. McCarthy was "rejected" — as she describes it in her own words — the first year she attended selection camp for the U.S. Paralympics rowing team. That didn't drive her away.
"I didn't feel dejected," she said. "I walked away feeling like it really lit a fire under me.
"I wasn't going to quit."
That fire is still burning, and McCarthy is working as hard as ever to qualify for the Summer Paralympics in Rio later this year. It took a lot of hard work to get there. She has been rejected six times from the national team. At one point, she worked a part-time job to give herself the time needed for intense training. Then a pivotal moment took McCarthy's dedication to the next level — just 0.2 seconds separated her from the 2012 Paralympic games in London.
"I was chasing that top-notch success," she said. "I was going to go until I didn't love it anymore."
So, she quit her job, left her family behind and moved to Oklahoma City to train full time with the country's best coaches at top-caliber facilities.
"I ate, slept and breathed rowing for almost a year," McCarthy said. During that time, she often talked on the phone with Hacker, a repeat Olympics coach herself and professor of kinesiology at PLU. The pair talked through the mental challenges facing McCarthy.
"It paid off," she said. "Standing on the podium and getting that medal, it's worth it."
Hacker said McCarthy is a close friend and an elite athlete. McCarthy's passion is very evident, Hacker told her former student in front of a class of current Lutes.
"I can see it in you," Hacker said. "It's your life. It keeps you going."
McCarthy said she talks almost every day about what she learned in her sports psychology class at PLU, taught by Hacker. She said it is where she learned how to deal with both successes and failures.
"Natalie has all of my esteem and respect," Hacker said.
Moving forward, the rower is still set on the ultimate goal: getting to the Rio Paralympics, and hopefully taking home the gold.
"I'm keeping my fingers crossed," she said, following a deep sigh of cautious optimism. "It's been a very long road."