Currently Reading:
Students create Munch-inspired art in conjunction with PLU-sponsored exhibit at Tacoma Art Museum
Students create Munch-inspired art in conjunction with PLU-sponsored exhibit at Tacoma Art Museum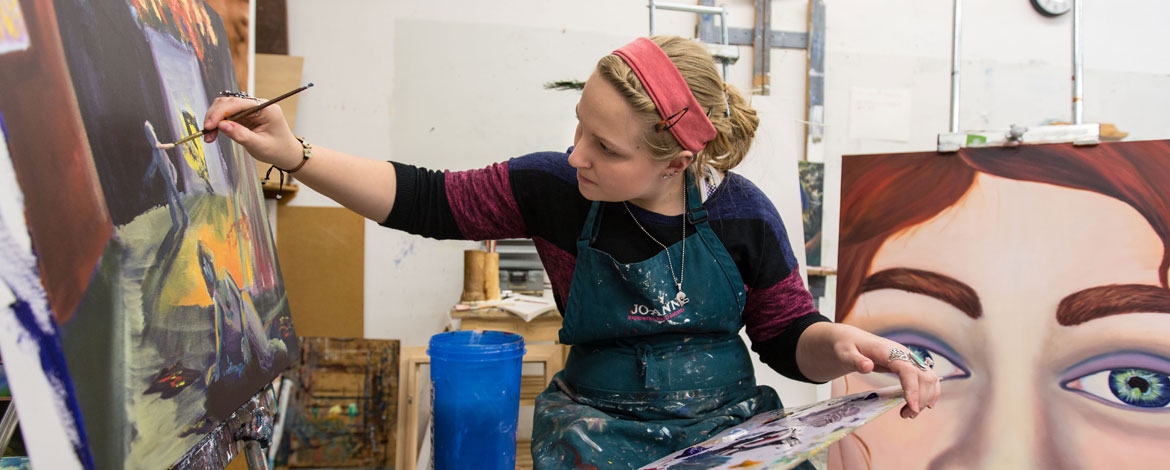 April 15, 2016
By Kari Plog '11
PLU Marketing & Communications
TACOMA, WASH. (April 15, 2016)- Art makes people feel. Art offers a window into the hearts and minds of those who create it, and invokes emotion for those who view and admire it. For Edvard Munch, those feelings were complicated and, often times, dark.
"Munch's work focuses on people, but people in dramatic settings," said Heather Mathews, associate professor of art criticism and curation at Pacific Lutheran University. "He was very interested in communicating human emotion and it really comes through."
Still, the artist had a positive emotional side, also expressing joy, love and renewal in his pieces.
Thanks to PLU's connection to an avid Munch art collector and a featured exhibit at Tacoma Art Museum, students, faculty and staff as well as the greater Tacoma community have the opportunity to intimately experience all those emotions.   
TAM debuted its exhibit, Edvard Munch and the Sea, April 9. It will be on view through July 17. Munch's powerful works are rarely exhibited in the Pacific Northwest. The exhibition features 26 prints, two drawings and an important landscape painting. Students get free admission to the exhibit with their PLU identification card and Pierce Transit Route 1 takes them straight to TAM.
On campus, in conjunction with the museum's exhibit, PLU student artists will participate in a student juried exhibit opening April 23 at 4 p.m. in the Scandinavian Cultural Center.
Munch, a Norwegian artist, is best known for the famous painting "The Scream," but much of his art encompasses the same approach. The artist focused on love, relationships, anxiety and other deeply emotional themes that resonate in the names of the pieces, in addition to the art itself: Lovers at the Seaside, Alpha's Despair, Separation II, Angst, Two Human Beings: The Lonely Ones and more.
The exhibit at TAM focuses on Munch's relationship with the sea and its symbolism in his works. "His fascination with the sea has not been explored before," said Stephanie Stebich, executive director of TAM.
The museum brought the dynamic pieces to Tacoma from major institutions across the country, including the National Gallery of Art, the Metropolitan Museum of Art, Museum of Modern Art, deYoung Museum, Los Angeles County Museum of Art and from private collectors.
The core of the exhibit at TAM is thanks to Sarah G. Epstein, whose family foundation owns the largest collection of Munch prints outside the Munch Museum in Oslo, Norway. Epstein's connections to PLU made the relationship with Tacoma's downtown museum possible.
PLU students are busy preparing their Munch-inspired pieces for the student juried exhibit. Art major Soren Iverson '18 said his identity as an artist mirrors that of Munch. Iverson works with charcoal and dark themes, and strives to convey strong emotions as the famous Norwegian artist did.
"A lot of my art already fits the bill," he said. Iverson said his participation in the student exhibit ignited a curiosity to dive deeper into Munch's background beyond "The Scream."
"You get an immediate visceral, emotional reaction," he said of Munch's art. "It punches forward."
Iverson's work is emotional, but more complex — drawing on lots of details to evoke feeling. "I tried to pare it down to make it more simplistic," he said. He is submitting two pieces, one he previously finished and another he is still working on. The works are meant to convey grief. One is monochromatic, an oil painting with gray tones. The other is made from charcoal.
Fellow art major Emily White '17 said she's always admired Munch, but didn't know much about his life. After reading about some of Munch's tragedies — the death of his mother and sister, and his personal experiences with mental illness, to name a few — it made her reflect on how her own emotions could help create powerful images.
"I try to take from personal experiences," she said. "I try to think of what I've felt."
White is submitting two pieces, both done with acrylics. One is based on a dark beachscape she captured on a trip to Hawaii; dark clouds hovering over the beach, with a female figure standing in front of the ocean looking on. It expresses a feeling of emptiness, White said.
The other painting shows building structures on fire, with a crying figure in front of them. The piece exemplifies loss, White said. She hopes people will see her art and understand that there's more to people's emotions than meets the eye.
"There's a lot of things about people you don't know," she said. "Art is a way to express that."
Mathews said Munch's works in TAM's exhibit often feature abstracted or simplified figures, and both human figures and landscape elements are composed using a very active, curvy line with lots of movement.
"There are seascapes and images of people together and alone at the seaside," she said. "The sea reflects the emotional charge he sees in human relationships."
Mathews said people shouldn't miss the emotional experience that comes with viewing Munch's work.
"Munch's art gives us a chance to reflect on our own emotional state," Mathews said, "and these works in particular, because they're all about the sea in some way, encourage us to consider how nature fits into our own understanding about ourselves."