Currently Reading:
Hands-on conservation program launched by PLU's military outreach director helps connect students to the earth
Hands-on conservation program launched by PLU's military outreach director helps connect students to the earth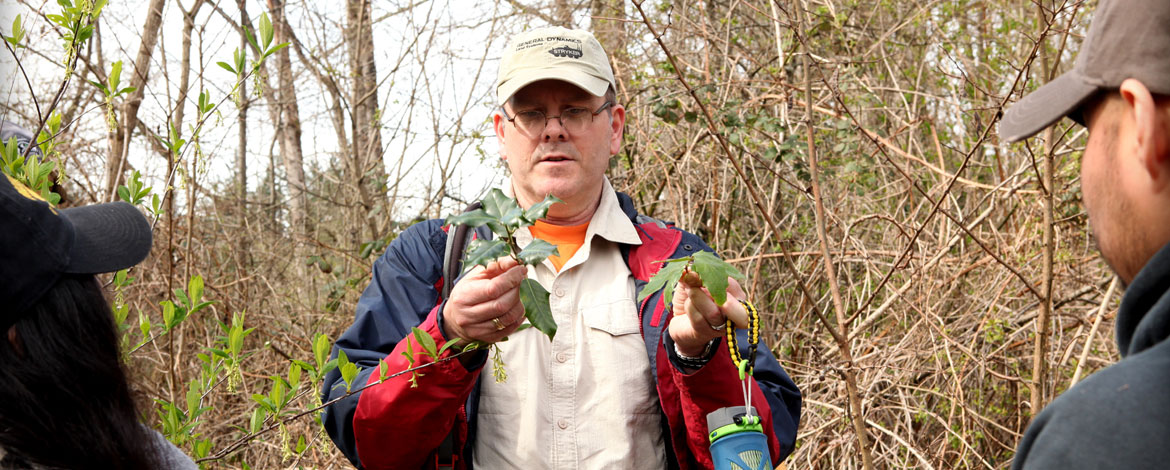 April 27, 2016
By Samantha Lund '16
PLU Marketing & Communications
TACOMA, WASH. (April 27, 2016)- Michael Farnum, director of military outreach at Pacific Lutheran University, is an advocate for connecting with the earth after he realized how it can help save lives.
He was inspired by John Beal, a military veteran who was given six months to live after being diagnosed with a terminal illness. Beal wanted to make a difference before he died, so he got involved with land conservation.
"It really gave him something to live for," Farnum said. "He lived for another 26 years. That really shows you something."
Farnum promotes similar ecotherapy with the veteran students he works with every day. He started a unique land conservation program that any student can get involved with, create connections and see a project from start to finish. "My favorite part of this has been connecting people to the environment," he said. "I love the plants, species and sharing all of those things."
This year, Farnum and 12 PLU students worked on a piece of land called the Clover Creek Reserve. During the program, students worked on the land and learned about the native plant species.
"We want students to get experience on their résumés by following an environmental restoration project from start to finish," Farnum said. "We also bring in guest speakers and give them a chance to do some networking." This year, those speakers included Rich Carlson, a biologist for the U.S. Fish and Wildlife Service, as well as Dick and Paula Hopkins of Hopkins Forestry, a private company respected by natural resources professionals across the nation.
Even though Farnum specializes in veteran relations, students from all over campus are invited to join the program and he encourages environmental studies majors and minors to get involved.
"I did the project for many reasons," said Ron Berg '18, one of this year's participants. "To hopefully connect a bit with some Lutes out of the classroom and more importantly, to give back to the environment and instead of just talking green, do something green."
Most recently, Farnum partnered with some environmental studies classes at PLU to bring students in, collect data and document the species on the land.
The Clover Creek Reserve plot of land is owned by Forterra, which is a Tacoma-based nonprofit that purchases land to preserve regionally. Farnum first got involved as a volunteer land steward with Forterra. He's in charge of keeping the plot clean, well maintained and documented.
Next spring, Farnum will have a similar project at the Parkland Reserve and is already inviting students to come along and talk to him if they'd like to join.