Currently Reading:
93-year-old Lute, former softball player to throw first pitch at PLU Night at the Rainiers
93-year-old Lute, former softball player to throw first pitch at PLU Night at the Rainiers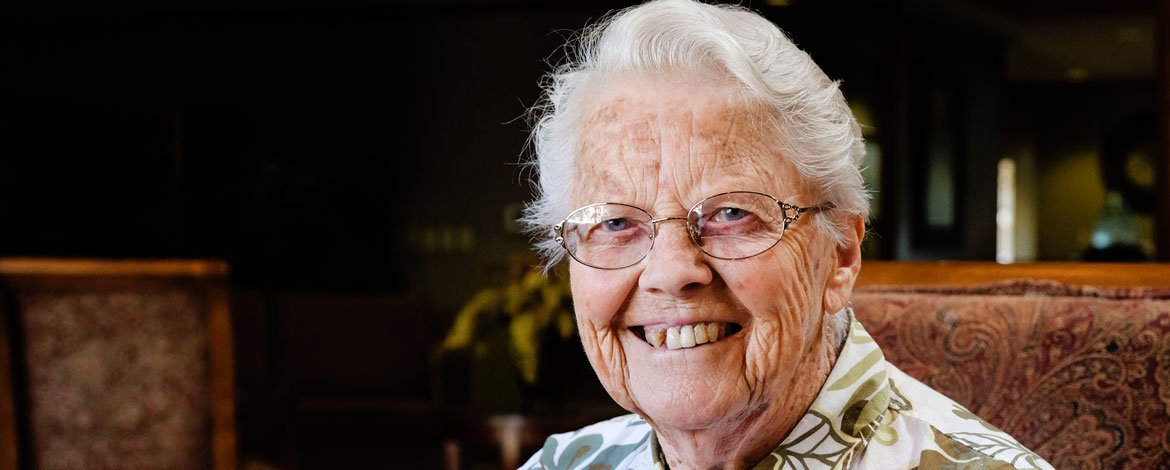 July 27, 2016
By Kari Plog '11
PLU Marketing & Communications
TACOMA, WASH. (July 27, 2016)- Gloria Perry repeated "I'll be darned" over and over upon hearing the news that she'll step onto the mound at Cheney Stadium to represent Pacific Lutheran University and throw out the ceremonial first pitch at the Tacoma Rainiers game Aug. 20, kicking off the annual PLU Night.
Lutes will take over the ballpark and celebrate with fellow students, staff, faculty and alumni.
Tickets are $12.50 and include a hot dog, bottled water and chips. Guests will also have a chance to run the bases and take a PLU group photo in center field immediately following the game.
Holding up a "Proud Alum" pin and a small "Lutes" flag (that she plans to hang on the front of her walker), 93-year-old Perry beamed with nostalgia.
"That brings back many, many, many memories," she said.
Perry and her twin sister, Helen Jansen, played softball together at PLU in the early 1940s. They joined the team after years of playing together as kids. "That's how we got so good," she recalled.
Perry played left field. Her sister, who died in April, played shortstop. Perry was also an active chorus member on campus. The twins both studied physical education.
The Edgewood native, who currently lives in a retirement home in Milton, said she wishes her sister could stand alongside her for the culminating moment. But, Perry said, she knows her twin will be there in spirit.
"We were so close all our lives," she said. "She would be proud, I imagine. It's a shame she can't be a part of it."
Perry said she's thrilled to be a part of PLU Night at the Rainiers game. She loves the name recognition that PLU has in the region, and the feeling of pride one gets when talking about the university.
"When you say PLU, it brings back something to you. It makes you feel important," she said. "When you say you went to PLU, everybody knows what it is."
Perry could hardly contain her excitement about trying her hand at pitching in front of a big crowd of Lutes. Riana Williams, program coordinator at Perry's retirement home, didn't want her to contain it.
"How do you feel?" Williams asked.
"I feel important," Perry said with a big smile.
Sherry Hulse, Perry's daughter, questioned if her mother could handle the pressure.
"Oh, I can still throw the ball," Perry insisted. But, she added, "I gotta practice." Williams said they'll play catch in the coming weeks to warm up.
"I can't get over this," Perry said.
Lutes who want to watch Perry pitch and visit with fellow alumni may purchase tickets online.