Currently Reading:
Grit City All-Access: PLU's new TIES program to immerse students in the City of Destiny
Grit City All-Access: PLU's new TIES program to immerse students in the City of Destiny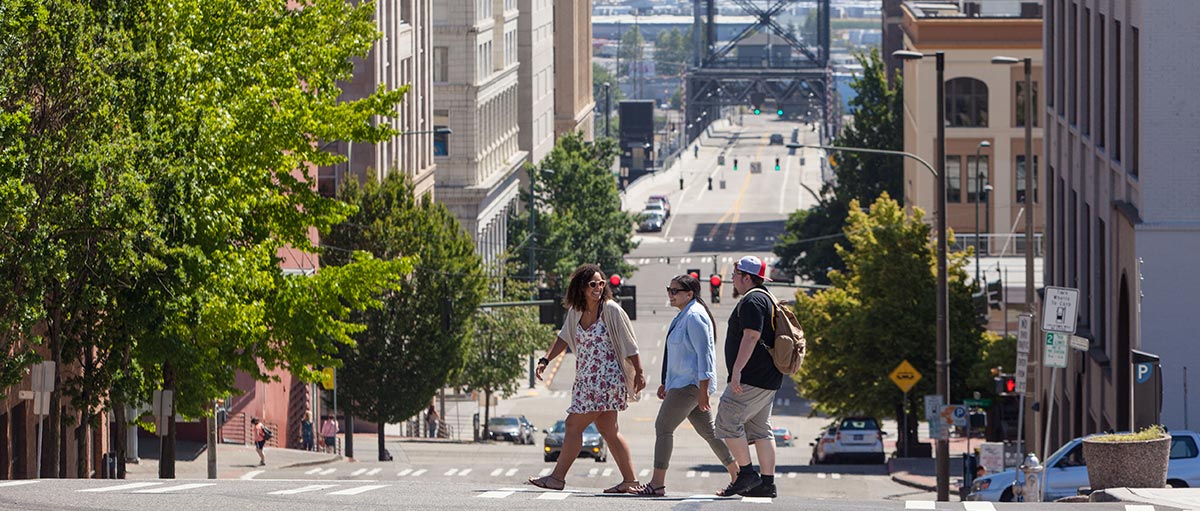 October 17, 2016
By Matthew Salzano '18
PLU Marketing & Communications
TACOMA, Wash (October 17, 2016) – Pacific Lutheran University prides itself on global education—it was the first university with a Study Away student on every continent at once, and nearly 50 percent of students study away, compared to the national average of 10 percent—but its newest semester-long Study Away program puts students just a few miles away.
The Tacoma Immersion Experience Semester (T.I.E.S.), offered for the first time in spring 2017, aims to "promote a deep and nuanced understanding of how thoughtful inquiry, service, leadership and care foster collaborative engagement" toward a more "diverse, just and sustainable community."
"(T.I.E.S.) provides an opportunity for students to dive deeper into the local community with the same focus, interest and love that they have for places around the world," said PLU Associate Professor of Art and Design and T.I.E.S. Program Director JP Avila.
Joel Zylstra, Director of the Center for Community Engagement and Service at PLU, helped plan and launch T.I.E.S. He says the program connects "global influence with local concerns and opportunities."
"Tacoma offers an incredible window in seeing how globalization continues to influence how local communities function," Zylstra said. "While PLU's international Gateway programs continue to thrive, we are at a place where we can craft a local experience that challenges students to learn in contexts that they may be unfamiliar with."
In the inaugural program, six students will live in a house in the Hilltop neighborhood, take classes and work in the community through volunteering and internships with public services (like community organizations, government/public institutions and businesses).
The 16-credit program includes a foundational course on Tacoma, an internship or research project tailored to each student's major or vocational interests, and general education courses offered in a unique downtown setting with community engagement and study tours:
Tacoma: The Power of Place and Identity – GLST 301 (A – 4 credits) – Tacoma 101 with opportunities to learn from community members about the history and current realities of our globally connected city.
Business Ethics – Dr. Sergia Hay – PHIL 225 (PH – 4 credits) Students will examine competing conceptions of corporate social responsibility, truth in advertising, meaningful work, and environmental protection.
Multicultural Perspectives in the Classroom – Dr. Vidya Thirumurthy – EDUC 205 (A – 4 credits) Issues such as ethnicity, gender, disability, racism, and poverty examined through field experiences in Tacoma public schools.
Writing Tacoma – Dr. Jason Skipper – ENG 385 (WR – 4 credits) Creative nonfiction writing course featuring place-based writing methods.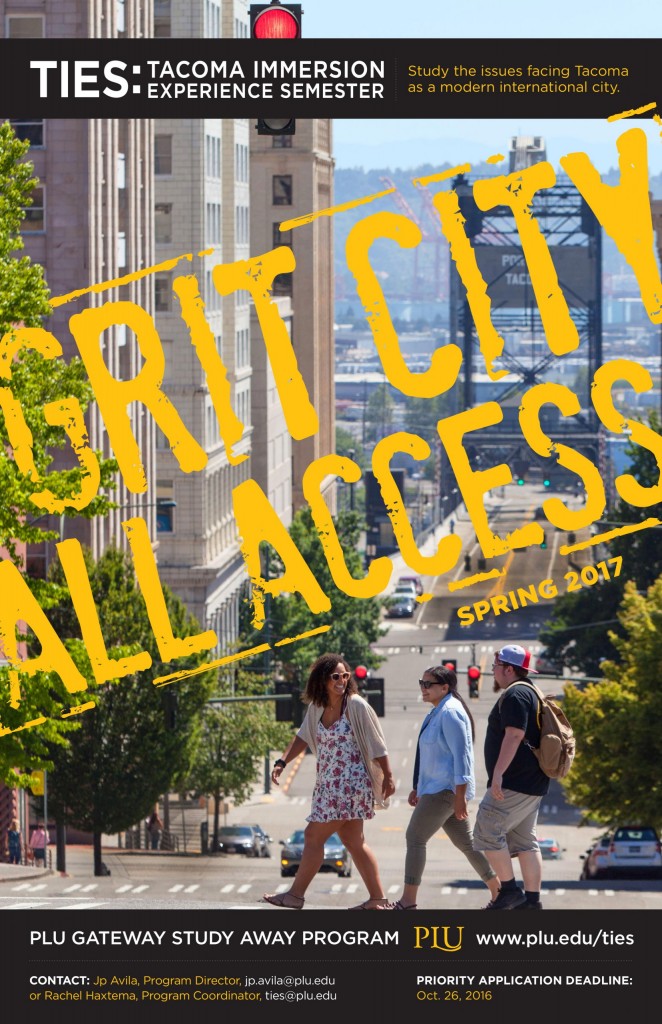 "We anticipate students falling in love with Tacoma and wanting to stay engaged in the city after they graduate," Zylstra said. "That being said, the goal is not only for students to immerse themselves in Tacoma, but also to learn to participate in and navigate whatever communities they find themselves in beyond their time at PLU."
Avila is looking forward to how the T.I.E.S. program may grow.
"This program can become an incubator for students to gain amazing contacts throughout the city and find their vocation in civic service, nonprofit support or many of the businesses that make up the City of Destiny," he said.
The Spring 2017 applications will be submitted online and the priority deadline is October 26, 2016.

Editor's note: This article was originally published Sept. 29, 2015. It was re-published in Oct. 17, 2016, due to the program's inaugural cohort being deferred from spring 2016 to spring 2017.