Currently Reading:
Newest MediaLab documentary film, set to premiere Nov. 12, warns PLU community and beyond about troubled waters
Newest MediaLab documentary film, set to premiere Nov. 12, warns PLU community and beyond about troubled waters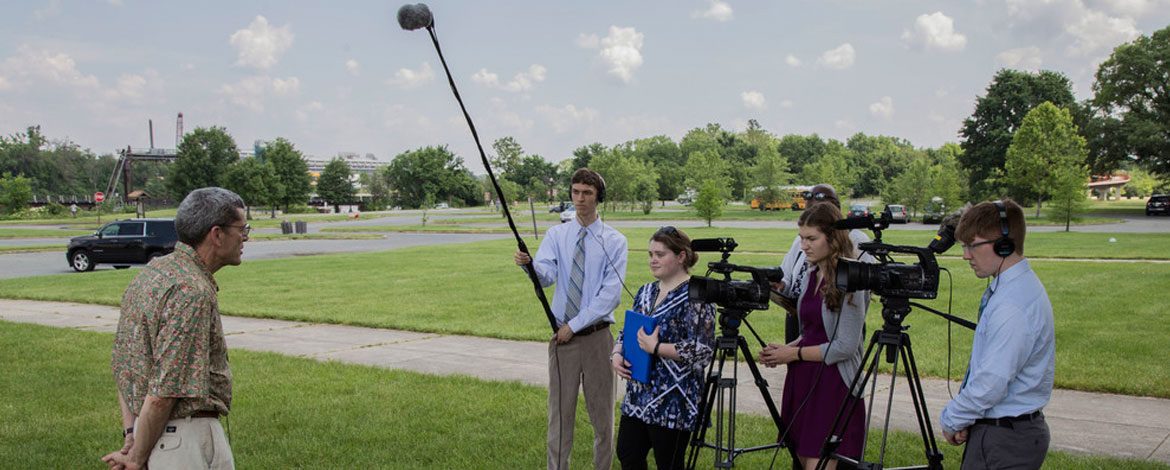 October 24, 2016
By Michelle McGrath '17
Contributing writer for Marketing & Communications
TACOMA, WASH. (Oct. 24, 2016)- In the U.S. and around the world, rivers represent primary sources for the water we need to live. But PLU digital media major Rachel Lovrovich '18 did not become aware that many major water sources are in serious trouble until she started working on MediaLab's upcoming documentary film.
"More than half of our rivers and important waterways in the United States are highly polluted," Lovrovich said, "and in most instances, it's people that have caused these problems. We need to start taking responsibility for our actions."
"Changing Currents: Protecting North America's Rivers" marks the 13th documentary film produced by MediaLab, the applied research and media production and services organization, now celebrating its 10th anniversary.
The film, which debuts at downtown Tacoma's Theatre on the Square at 4 p.m. Nov. 12, reports that more than half of 250,000 rivers in the U.S. are too polluted for swimming, fishing or drinking. North American waterways considered threatened or endangered include the Mississippi River, the St. Lawrence River, the Ohio River, the Columbia River and the Green River, which supplies water to many people who live and work in the South Puget Sound region.
"Changing Currents" also explores some of the compelling restoration efforts occurring in communities across this continent. The film was shot over the past 14 months in and around Tacoma, as well as on location in Portland, Washington, D.C., upstate New York, Ontario, Massachusetts, Virginia, Ohio, Vancouver, B.C., and elsewhere.
In addition to Lovrovich, who served as creative director and also serves as MediaLab's general manager, the "Changing Currents" research and film production team includes business major John Struzenberg '16, director of photography and chief editor; communication major Chris Boettcher '17, social media associate; art and graphic design major Kelly Lavelle '18, publicity designer and photographer; and communication major Joshua Wiersma '17, assistant editor.
Lavelle, who took photographs and helped brand the film, said individuals can help prevent pollution through simple tasks such as picking up trash, being careful about the products they buy and getting more involved in community activities.
"The film aims to raise awareness about ecological issues that face our waterways," Lavelle said. "We can all help solve the problems."
"Changing Currents" premiere is free and open to the public, though reservations are encouraged to secure seats. Visit www.changingcurrentsdoc.com/rsvp for more information about the film and to RSVP for the event.
Michelle McGrath '17 is a senior PLU communication major and a member of MediaLab.
About MediaLab at PLU:
MediaLab is an award–winning, applied research and media production organization housed within the Center for Media Studies at Pacific Lutheran University's School of Arts and Communication. MediaLab students work on projects across the media spectrum, including market research, photography, graphic design, web design, writing, video, public relations, event planning, filmmaking and more.