Currently Reading:
Lutes come full circle as they return to PLU campus to film pilot for TV series where indie-film sensation 'The Gamers' began
Lutes come full circle as they return to PLU campus to film pilot for TV series where indie-film sensation 'The Gamers' began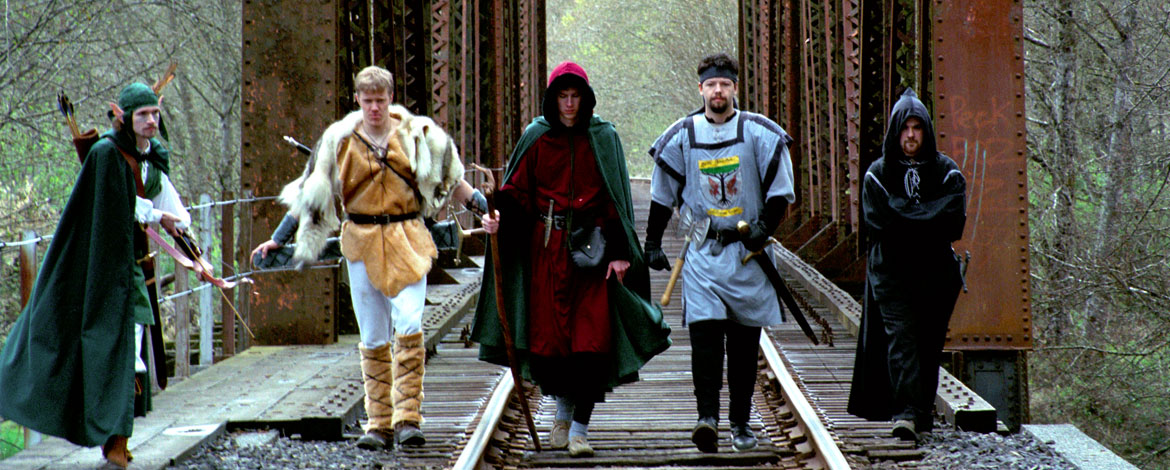 October 26, 2016
By Kari Plog '11
PLU Marketing & Communications
TACOMA, WASH. (Oct. 27, 2016)- The scene: a cramped room somewhere in a Pacific Lutheran University residence hall at the beginning of the millennium. The characters: five nerdy dudes, each with a handful of dice and plenty of junk food.
This is "The Gamers," a film produced by a bunch of Lutes that started as a fun side project and turned into a viral movement and lifelong vocation. It follows the group as they work their way through the latest round of a role-playing fantasy game during their time as students at the university.
Now, following a handful of sequels and YouTube views that continue growing by the thousands, a crowdfunded effort is bringing "The Gamers" back to PLU — and current students are invited to participate as extras.
Warning — movie spoilers ahead.
The pilot for the new TV series picks up more than a decade later, after the gamers (mistaken for sorcerers) were killed by their fantasy characters. Once the band of otherworldly characters overcame an ambush, stormed a castle and defeated an ogre, their world collided with the real one through a secret door, leading to the massacre.
Fast-forward 15 years and "The Gamers" series follows the elf, barbarian and company as they try to find a portal back to their own reality while simultaneously navigating the foreign one in which they're trapped. Hilarity ensues.
Ben Dobyns '01, executive producer, said the show has broad appeal while also catering to a subculture of gaming — humor about nerds who are the heroes, not the butt of the jokes.
"This is the antithesis of 'The Big Bang Theory,'" he said. "Showing people who feel real and grounded who you can identify with."
Dobyns said "The Gamers" isn't the first film about gaming culture, but it treats nerds as people as opposed to stereotypes. "We really work hard to create projects that you don't have to feel guilty about laughing at," he said of his production company, Zombie Orpheus Entertainment. "We're not punching down."  
That approach directly relates to Dobyns' activism, which started during his time as a student at PLU. He was heavily involved with Harmony, an advocacy group for the LGBTQ community at the time. He said using media to bring people together is a natural progression.
"This is a silly comedy about gaming, but we are also making a show that addresses meaningful values," Dobyns said. "We're not hitting people over the head."
He added that other shows he's produced — including the wildly popular "JourneyQuest" series — have addressed transgender rights, sexism in gaming, the Black Lives Matter movement and more. The shows are designed to emphasize challenging issues within our society as opposed to pushing them away, Dobyns said.
In addition to Zombie Orpheus, "The Gamers" also owes its creation to Dead Gentlemen Productions, which originated at PLU. "We're an independent film company that is primarily focused on geek entertainment," said Don Early, who runs Dead Gentlemen and graduated from PLU in 2000.
"We're very excited about the idea of coming back and showing off the campus," Early said of the newest project, "to play at our old stomping grounds."
The crew is filming on campus the first two weekends of November, and they need roughly 80 extras total throughout that time. They're inviting students to fill those spots.
"The reason they are choosing PLU is because they want to come back," said Aaron Jacobs, a producer for the show and another PLU graduate from 2000. "The cast wants to meet students."
Jacobs said the upcoming on-campus filming brings this group of Lutes full circle. The gang would get together in the late 1990s and game, he said, and after finishing their first PLU Film Society movie, "Demon Hunters," they went around campus collecting money to fund more advanced equipment for future projects. Jacobs calls it "the original crowdsourcing."
"PLU gave a lot to us," he said. "The journey started there."
"This is a silly comedy about gaming, but we are also making a show that addresses meaningful values. We're not hitting people over the head."
- Ben Dobyns '01
Dobyns, who Jacobs calls the "center of gravity" for the group, said he and his friends didn't anticipate the fame that followed "The Gamers." After the film was finished, they set up screenings at various gaming conventions.
When they traveled to Gen Con, a convention in Indianapolis, the room screening their film was packed full. "That is when we knew it had really hit a nerve," Dobyns said.
That popularity is responsible for the fully fan-funded TV series in the works today. The pilot, Jacobs said, should be finished by early 2017.
While Early and Dobyns run their entertainment companies, many of the other cast and crew members squeeze the creative work in between family time, day jobs and other commitments.
"They all still make it work," Jacobs said.
At its core, the movie doesn't have an exclusive audience — similar to the gaming culture it emulates, Dobyns said. "This hobby is for everybody," he said.
"People felt a great sense of inclusiveness," Early said of the original film. He said the TV series is more of the same. "It's very much for everybody, regardless of race, religion, sexual orientation."
But more importantly, Early and Dobyns both say, it will make you laugh.
"It's as simple as that," Dobyns said. "You will have a good time."
"The Gamers" film that started it all. (Viewers be advised, some PG-13 language ahead.)