Currently Reading:
Decorated veteran and PLU staff member Steve Shumaker on PLU's upcoming Veterans Day Celebration
Decorated veteran and PLU staff member Steve Shumaker on PLU's upcoming Veterans Day Celebration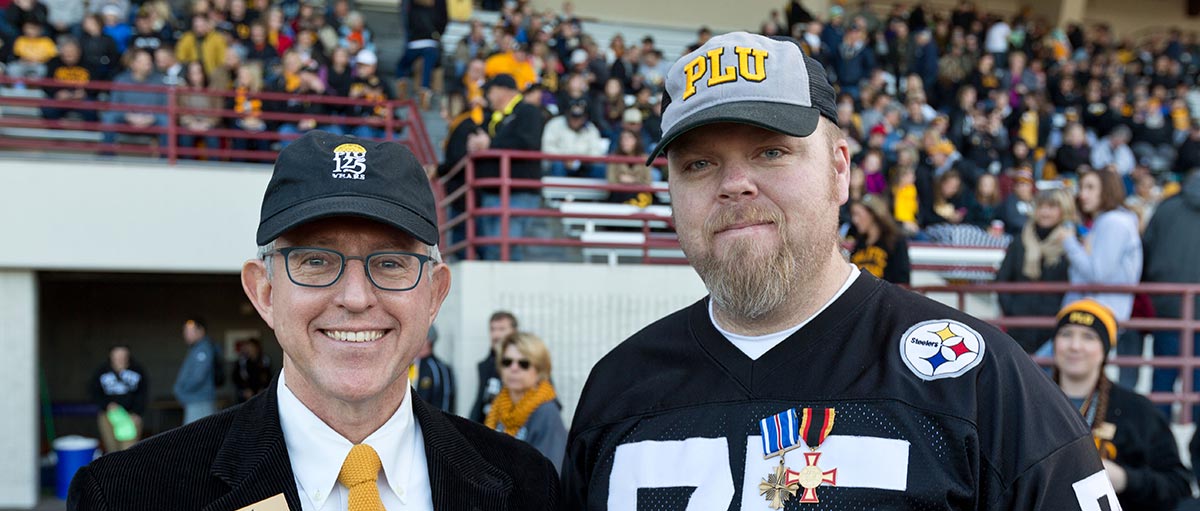 October 31, 2016
By Zach Powers '10
PLU Marketing & Communications
TACOMA, WASH. (Oct. 31, 2016)- Retired U.S. Army Sgt. Steve Shumaker '16 spent 12 years in the military, serving as a crew chief for Black Hawk helicopter mechanics. He now works at Pacific Lutheran University as the Vet Corps Navigator, connecting military-affiliated students with on- and off-campus military resources.
During his time in the military, Shumaker was deployed four times: twice to Afghanistan and twice to Iraq. He flew 1,800 hours in combat and received two distinguished combat medals: the U.S. Army Distinguished Flying Cross, awarded when one distinguishes himself in support of operations by "heroism or extraordinary achievement while participating in an aerial flight," and the Gold Cross of Honour, Germany's equivalent of the Medal of Honor.
Shumaker, who majored in politics and government at PLU, is part of the committee of PLU staff and faculty members planning the university's annual Veterans Day Celebration on Nov. 11.
What does Veterans Day mean to you, personally, and what is the day like for you, emotionally?
For me as a veteran, it's not different than any other day. All day, every day there are soldiers I served with whose names and faces I remember. That's just a constant for me, but Veterans Day is the day everyone else remembers them. That means something to me, that it's not just me remembering my people, it's everybody. I feel much more supported on a day like Veterans Day where people will go out of their way to say something nice or offer a handshake. Those are small gestures that make this burden easier to carry.
What is unique about PLU's Veterans Day Celebration?
I appreciate that PLU, as an institution, has created a time and a place that we can honor the service of veterans to our country. Logistically, I know something like that isn't easy, and I know it's really important to me as a veteran that the university has chosen to do that. It's like they are investing time and effort in me as a veteran, so I feel more loyal to the university because of it.
Is this an event that individuals who aren't affiliated with PLU are going to feel comfortable and included in if they attend?
Absolutely, we welcome the entire community to come and see our way of showing appreciation to all veterans who served. PLU has strong ties with the Parkland community and we look forward to sharing this day and this event with them.
Capt. Alan Schrader, Naval Base Kitsap commanding officer, will be the special guest at the celebration and give a short talk. What does a captain coming to campus mean to the military community at PLU?
In a lot of ways when you think about someone who is a commander of an entire installation, they are like, at the very least, the mayor of a town. They deal with the aspects of life on base that affect every single person who serves at that base and their families. So, Capt. Schrader will have a very unique perspective to offer and he'll have great insights about partnerships, working together and serving together, and those are things we like to highlight (on Veterans Day).
In addition to the Veterans Day Celebration, the annual PLU Military Appreciation Football Game is this Saturday, Nov. 5. Why are events like this important to service members?
In the military we work hard and we train hard. It's a very serious job and often times lives are at stake. You build a bond that's as close as family. Some of the best times are when you get to play hard with that family. The PLU Military Appreciation Football Game is a perfect opportunity for that.