Currently Reading:
PLU Choral Union concert an opportunity to move "Beyond Walls"
PLU Choral Union concert an opportunity to move "Beyond Walls"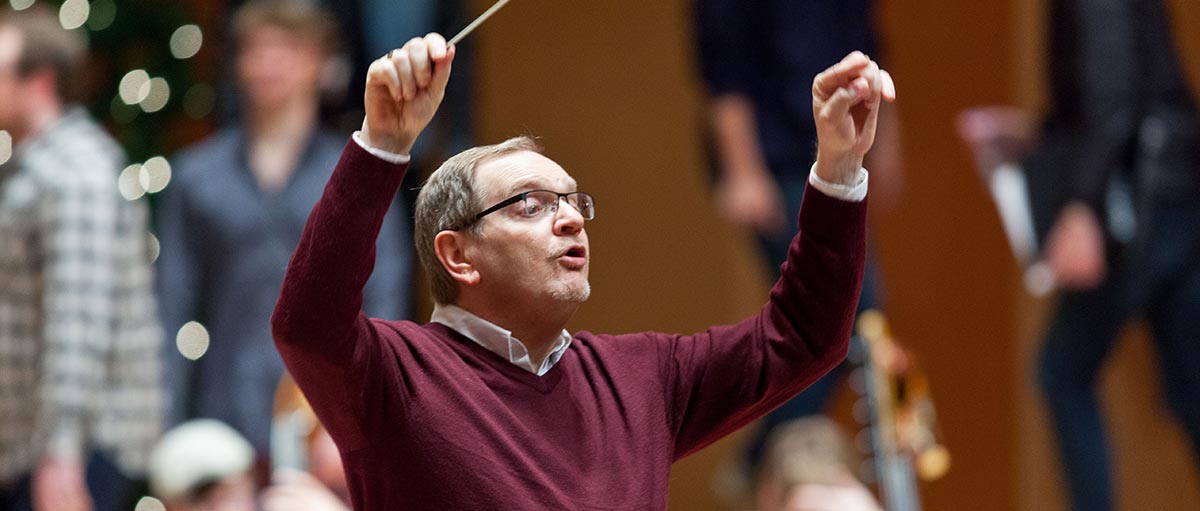 November 10, 2016
By Zach Powers '10
PLU Marketing & Communications
TACOMA, WASH. (Nov. 10, 2016)- On Sunday, Nov. 13, the Pacific Lutheran University Choral Union, which is comprised of alumni of the PLU choral program, will be performing ``Beyond Walls,`` a program consisting of music and texts dedicated to peace and reconciliation.
PLU Director of Choral Activities Richard Nance says the concert, at 3 p.m. in Lagerquist Concert Hall, is an opportunity for PLU community members to continue to process the results of the 2016 election and reflect on the social conflicts that currently divide the United States.
Music is often turned to in times of heightened emotion. What qualities of music, and perhaps especially the experience of music performed live, makes it so cathartic?
Music speaks to the heart in a way almost nothing else can. Listening to it or performing it puts a person in a state where a powerful aesthetic response can occur, and for every individual, it's different. Choral music, with its link to texts, can help the listener interpret the words with deeper emotion.
What do the music and texts that will comprise this Sunday's "Beyond Walls" concert have to do with the current social divisions in America and the feelings that many are processing following the election?
The music and texts were all chosen because they speak to the breaking down of barriers between people. Arvo Pärt's Berliner Messe was written in response to the fall of the Berlin Wall, the three large unaccompanied works the choir will sing all have texts that speak about the need for love, understanding, and unity among all people on the earth. And the poetry links all this together — each musical element was chosen to respond to one of the readings.
The third reading in the program is a piece by Brazilian writer Paulo Coelho that reads:
"but love is much like a dam:
if you allow a tiny crack to form
through which only a trickle of water can pass,
that trickle will quickly bring down the whole structure,
and soon no one will be able to control the force of the current.
For when those walls come down,
the love takes over,
and it no longer matters what is possible or impossible;"
How is this piece perhaps applicable to what many in the PLU community are feeling this week?
It speaks to the fact that all of us must make our own contribution to this effort of listening and understanding if anything is ever to change. All voices have to be heard. Another of the texts in this concert is "A Drop in the Ocean" by Mother Theresa. She wrote:
"My work is but a drop in the ocean, but if I did not put that drop, the ocean would be one drop the less."
We all must do our part, this horribly divisive election — no matter the result — has fractured and pointed out flaws in our humanness that just cannot be tolerated.
Much of the concert will center on themes of peace and reconciliation. What sort of feelings and emotions do you hope attendees will have throughout the program and when it is over?
We're doing this program without applause until the end, and really, if no one were to even applaud, that would be OK. My hope is that it will cause people to think and reflect on their feelings, and that they will leave with the desire to be more open and understanding of all people. If we finish the last note and everyone just turns, shakes a hand or hugs a person they don't know, looks them in the eye as if to say I value you as a fellow brother or sister, then that would be perfect.