Currently Reading:
PLU student recounts election-night experience in TV newsroom
PLU student recounts election-night experience in TV newsroom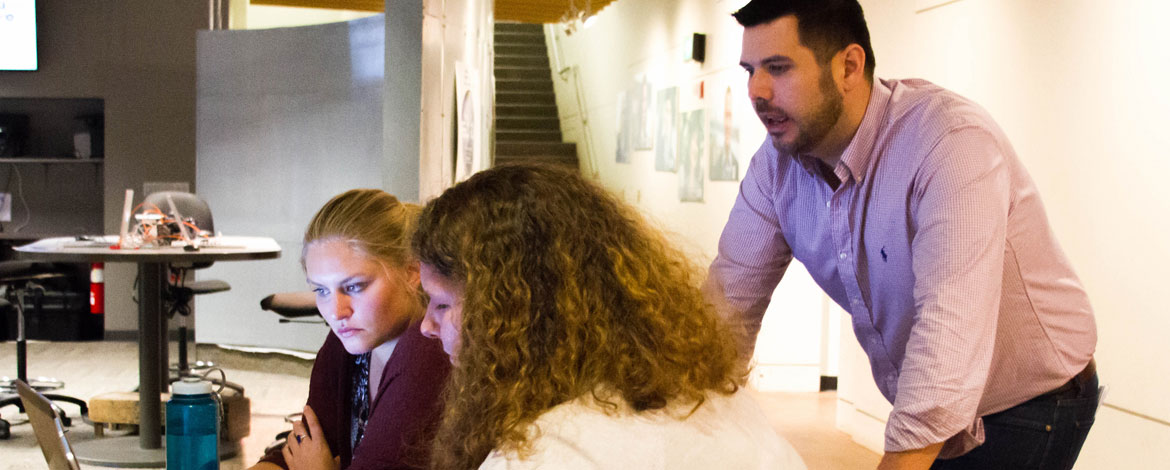 November 17, 2016
By Lucas Schaumberg '17
Contributing writer
TACOMA, WASH. (Nov. 17, 2016)- Editor's note: A group of Pacific Lutheran University students volunteered in a TV newsroom on election night, as they have for every election in newsrooms across the region since the early 2000s. Here is a first-hand, real-time account from one of those students, Lucas Schaumberg.
Nov. 8, 2016
Pacific Lutheran University has a hidden tradition on Election Day. Tonight, nine communication students and I join a select group who've experienced elections at KCPQ-TV, a Seattle-based news station. We dress in our best professional attire and cram ourselves into a van, the close proximity amplifying our shared nervous energy.
No one knows what to expect — from the election or the experience itself. I remember hearing in the past that this night could be painfully boring if we're not given anything to do, or if the election turns into an early sweep for the predicted victor.
Before arriving in the newsroom, The New York Times has a 96 percent chance of a Hillary Clinton victory. But as one of my fellow group members points out, England didn't think Brexit — the United Kingdom's withdrawal from the European Union by referendum vote — would happen either.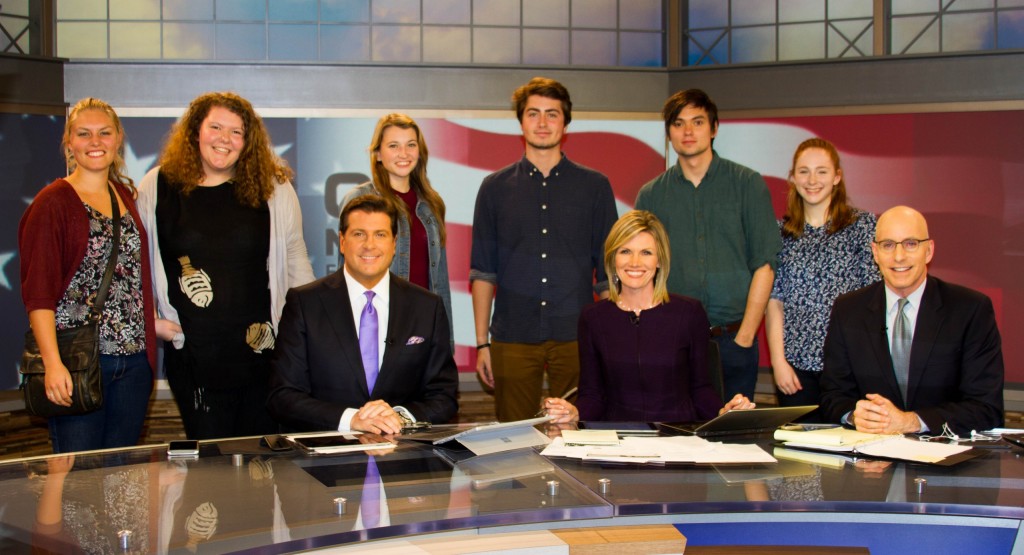 Feeling nervous, I read my notes on how this partnership got started. Communication Professor Joanne Lisosky and Erika Hill, the station's news director, served together on the regional board of the National Academy of Television Arts and Sciences. They quickly hit it off.
Hill mentioned that she needed extra assistance with election-night data entry, and Lisosky jumped on the opportunity to give students the experience of working in a newsroom.  Every election cycle since, prospective journalists have experienced one of the most tumultuous nights for anyone in the journalism field.
By 8:30 on this election night, the group gathers in a newsroom office. The election is already closer than expected, and major swing states start to fall into place. The office, staffed with about 20 journalists, is uncharacteristically quiet. I start writing this first-hand account at 8:37, constantly refreshing The New York Times website alongside 37 other people.
Every piece of Florida data that lurches adds to the growing suspicion that this will be a long and uncertain night. I told my team during the car ride to the station that there's a strong chance Clinton could win the election. The Times' forecasting tool predicting a President-elect Clinton has fallen from its initial 92 percent to about 77, as of the latest Florida and Ohio returns at 8:48.
I know what I plan to write for a Clinton victory — I'll ask women in the office about the historical significance, what they told their daughters, or texted their moms. I'll write about how untenable Republican-party gains are if the xenophobia label sticks to them. Nobody on my team has suggestions on covering a Donald Trump win. I don't know what to write.
The needle dips again; 52 percent in favor of Clinton. I leave thinking about the feeling of uncertainty, trapped in the traffic of the present moment.
Our role for the night is to enter local returns into the computer, before finding out this process is now completely automated, an apparent trend in newsmaking. I walk into the anchors' set, expecting makeup artists dusting faces. I'm surprised to find only three broadcasters, who are quickly identifiable by perfect Hollywood smiles.
I step out to talk to a technician, who tells me the show is automated by a computer and describes the process using technical language. I nod and pretend to understand, watching a woman enter numbers into spreadsheets between sips of a large espresso. I tell him I'm amazed at the number of people drinking caffeine this late. Coffee and cigarettes, he tells me, are "the lubricant that keeps this engine running."
"I suddenly know how to write about a Trump win, about the need for accurate, humane reporting. Knowledge and truth will perhaps no longer sound old fashioned, at least for me."
- Lucas Schaumberg '17
It's 9:21. I close my eyes to gather myself, hearing chirpy voices of CNN anchors blasting from countless TVs. Trump's chances have grown again, this time to about 62 percent. It shouldn't be hard to guess the political affiliations in a Seattle newsroom or a liberal arts college in Washington state. I talk to the reporter next to me about election-data entry becoming obsolete. "You know," he says, "automation will replace 35 percent jobs in America. We're lucky as journalists that computers won't come for us until later." I spend the next 20 minutes nervously chewing on stale pizza.
Amid the results, one of my team members says her mom is despondent, talking about moving back to her homeland of Ireland. Another shows me a picture of a man at a Trump rally wearing a T-shirt with the words "Rope. Tree. Journalist. Some assembly required." I wince.
Two first-year team members are tentatively feeling out careers as journalists, and I'm worried that this election might disenchant them, or maybe just society as a whole. I still don't know what angle I'll write about a Trump win. I pull up a Word document, but words fail me.
Hill, the news director, practically leaps into the center of the room. "How's everyone doing tonight?" she asks. "We're doing our jobs — we're journalists first, everyone. Let's put on a professional and fair show!" Everyone here, myself included, needed to hear that.
I walk into her office and ask for any words before we go. It's not confirmed if Trump will be the next president, but chances aren't looking good for Clinton. My team wants to get back to campus and call friends and family, and I resolve to keep things quick. I ask Hill how to keep up the mood in a time like this.
"It's really my role and responsibility to keep to what our jobs are. We are journalists first," she says. "That means we have to recognize what our own personal biases are, and ensure that we're being fair and as accurate as possible." She looks out at the office and smiles. "You can have those moments, I get that. But we're here to do a job and it's not about us tonight, it's about our viewers."
I thank her for her time and leave her office. A CNN anchor on the TV says results are "unpredictable even now. There's no knowing what's going to happen tonight, even at this moment."
I suddenly know how to write about a Trump win, about the need for accurate, humane reporting. Knowledge and truth will perhaps no longer sound old fashioned, at least for me.
It's a silent ride back.