Currently Reading:
Lutes to teach English abroad through Fulbright Program
Lutes to teach English abroad through Fulbright Program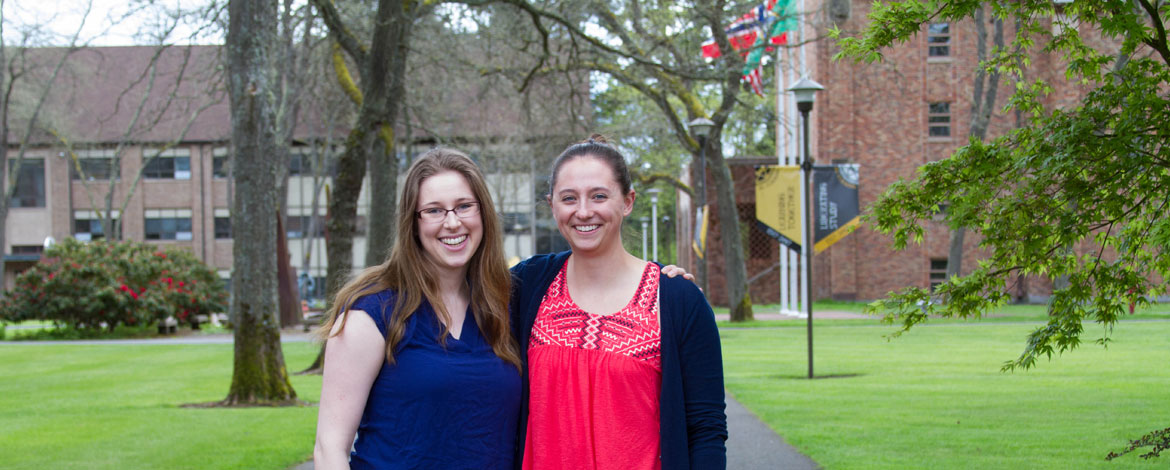 May 8, 2017
By Genny Boots '18
PLU Marketing & Communications
TACOMA, WASH. (May 8, 2017)- Two Lutes were accepted into the prestigious Fulbright Program and will serve as English teaching assistants around the world. A third Pacific Lutheran University student was recognized as an alternate.
Sydney Otey '17 and Alexandra Dreher '17 were awarded full-service positions in Mexico and Germany, while Ellie Lapp '17 was selected as an alternate for a Fulbright in Spain.
PLU has produced more than 100 Fulbright recipients since 1975, and was named a top producer of scholars accepted into the program in 2014-15 by The Chronicle of Higher Education.
For Otey, a sociology and Hispanic studies double major from Billings, Montana, the Fulbright award came as a huge surprise. She said it was a rare opportunity she couldn't pass up, and the challenging nature of the application alone provided room for growth.
"Even if it didn't work out," Otey said, "I would still learn a lot in the process."
Fulbright applicants face a rigorous application process that lasts several months. Students must fill out personal statements that move through a panel of PLU faculty and staff. The application starts in August and decisions were made in March the following year. Placements in the host country will not be announced until the summer.
Otey will be an English teaching assistant in Mexico, where she spent a semester abroad in Oaxaca through a PLU Gateway program. Otey's time there sparked her interest in education and cultural exchange.
"I think I left Oaxaca with a lot more questions about social justice, diversity and culture that I thought would be cool to keep exploring," Otey said.
Otey — who also has rowed all four years at PLU, nabbing two conference titles during her time — is ready for the next step as her senior year draws to a close.
"I'm just excited," Otey said. "I had a lot of support from a lot of people throughout the process."
Dreher also will be spending her first year post graduation teaching English abroad, but her journey will bring her across the Atlantic.
Dreher is a vocal performance and German double major who will teach in Germany starting this fall. Originally from Snohomish, Washington, Dreher has spent her time at PLU involved in University Chorale and the PLU Opera program. Beyond teaching, Dreher is excited to dive into the European music scene.
"That's my job," Dreher said, "but the activities I have planned around my stay there are community engagement with music and also networking within the country."

After Germany, Dreher plans to attend graduate school for vocal performance or early music, a discipline that focuses on music dated before 1750. In the meantime, she is most looking forward to the cultural immersion in her year abroad.
"I saw this as a great opportunity to get me over to Europe without costing a fortune," she said.
Lapp also was chosen as an alternate for the Fulbright Program in Spain. She is a global studies and anthropology double major, with a minor in Hispanic studies, from Kalispell, Montana. Although she won't be serving abroad, she is honored to have made it so far in the process. "Being selected as an alternate has been really encouraging," she said.
Previously, Lapp was selected for the competitive Peace Scholars Program. She also served as president for Associated Students of PLU (ASPLU) for the 2016-17 academic year. She will spend the fall in Washington, D.C., working on immigration and refugee resettlement advocacy.
For future Fulbrighters, the process is about to begin again, with intent to apply forms due May 12. Visit www.plu.edu/provost/scholarships-and-fellowships-national-and-international for more information.