Currently Reading:
Commencement 2017: Lutes prepare for life after college
Commencement 2017: Lutes prepare for life after college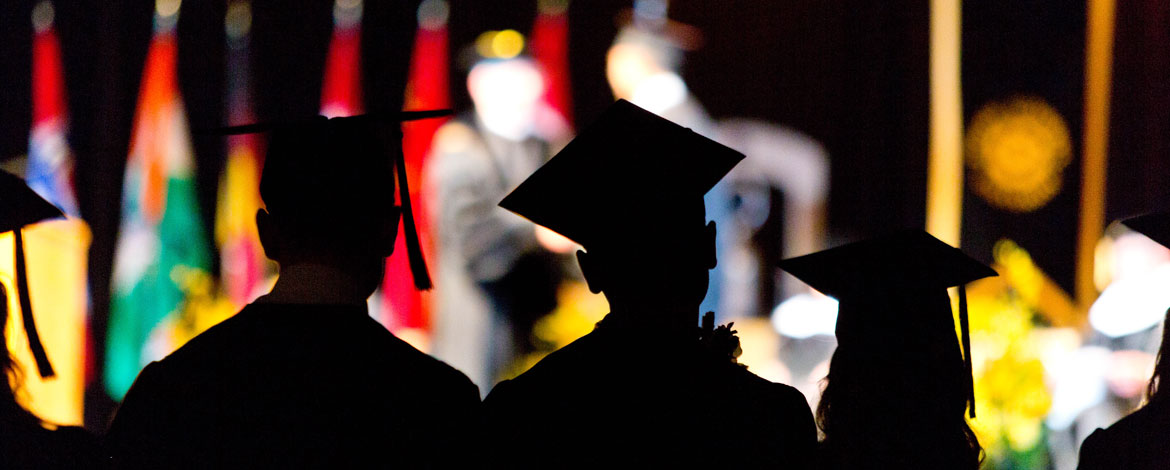 May 15, 2017
By Staff writers
PLU Marketing & Communications
TACOMA, WASH. (May 15, 2017)- Classes are over, tests are on the horizon and therapy dogs are waiting in the wings. It's the end of spring semester, and for several hundred Lutes that means life after college beckons.
Pacific Lutheran University students are fast approaching Commencement 2017, a ceremony that will mark the culmination of their academic journey filled with inquiry, challenges and the pursuit of vocation — grounded in the values of Lutheran higher education. But the learning won't end when graduates walk across the stage the night of May 25.
Roughly 700 students will gather to celebrate their achievements, and more importantly the next step in their lives of service and leadership, as they embark on new careers, graduate school and volunteer opportunities.
Outgoing Lutes will carry the university's mission with them into their post-graduate lives and will remain connected through the strong community fabric that is ever present for all alumni who come through PLU during their college years.
Below are four individual stories of students who will soon join that alumni class (Alaa Alshaibani, Theo Hofrenning, Takara Mitsui and Thomas Horn). They reflect upon their experiences with study away, music performances, social justice efforts and rigorous academics at PLU, and look ahead to the exciting experiences that await.
By Genny Boots '18
When Alaa Alshaibani was a sophomore at PLU she seriously considered dropping out. She was lost after realizing her lifelong dream to be a doctor, wasn't what she truly loved.
"I realized that it was not my vocation," Alshaibani said. "And that is one of my favorite PLU vocab words."
It was thanks to her professors that she got through her existential crisis — and found a home in psychology and social work.
"I went to office hours and I talked to both chem and psych professors and they helped me figure out what I needed," she said.
Alshaibani, who is from University Place, is graduating May 25 with a degree psychology, with minors in social work and French. The Rieke scholar, founder of the Muslim Student Association and mental health advocate was chosen as the student speaker for Commencement 2017, and will address the rest of her class at the Thursday night ceremony.
"It's been one heck of a journey," Alshaibani said, reflecting on her four years as a Lute.
"It's been one heck of a journey."
- Alaa Alshaibani
Alshaibani didn't initially want to attend PLU — she only applied because her dad liked its proximity to home. But after a visit to campus, she was hooked.
"The staff was amazing, my admission counselor Hannah Middlebrook was awesome, the students were warm and inviting, and I was just so mad that I liked it," she quipped.
And here she is, poised to stand on stage in front of hundreds of fellow graduates and send them off. While at PLU, Alshaibani has served as president of Active Minds — a club that advocates for mental health services on campus. She also has volunteered with America Reads through the Center for Community Engagement, where she met a Pierce County school social worker that sparked her interest in the field.
"I knew I didn't want to be a teacher and I liked the school social worker there," Alshaibani said. "I loved what she was doing."
Now, Alshaibani is waiting to hear on scholarship funding for her next step: graduate school at Columbia University School of Social Work. It's yet to be decided whether she will defer for a year and work, or be in New York in the fall, but until then she's wrapping up her senior year with capstone and, of course, a pretty big speech.
"My sophomore year I was sure I was pre-med, and then I was sure that I wasn't," Alshaibani said. "And then I didn't know what was happening and I was on the verge of dropping out and here I am, about to be commencement speaker."
By Brooke Thames '18
Theo Hofrenning grew up talking politics at the dinner table, so deciding to earn a politics and government degree from Pacific Lutheran University felt only natural. He said it's practical to his everyday life.
"I think it's a good area of study because it's just applied philosophy," Hofrenning said. "I read the newspaper, I'm able to understand what's going on and adjust my life accordingly."
However, Hofrenning's post-graduate plans span further than mere governance. Hofrenning aims to combine his degree with his religion and Hispanic studies minors to contribute to progressive peacebuilding in Colombia.
"(I want to look) at what opportunities come out of the political landscape down there right now," Hofrenning said, "and to use what I learned from Hispanic studies to insert myself and start working in Hispanic politics."
Hofrenning was born in Colombia and adopted by parents in Northfield, Minnesota. He said he gravitated toward Hispanic studies as a way to study his native culture. His religion minor is a nod to his mother's career as a Lutheran pastor. The latter, he believes, can act as a force for progressive action.
"I just think religion is a really important part of my theory of social change," he said. "I had to understand the theology of different religions and how they play out in terms of liberating people."
"Stepping back from academia and letting go of this community is definitely a process."
- Theo Hofrenning
Hofrenning, who was looking to leave the Midwest for college, chose PLU because of his father's close ties to Lutheran education as a professor at St. Olaf College. "Washington is like Minnesota's cooler younger brother," he said. "It was a pretty good cultural transition."
Hofrenning said his most memorable experiences at PLU have come through his participation in music, notably choir and PLUtonic, one of the university's a capella groups. Singing at Seattle's Benaroya Hall and traveling with PLUtonic for a West Coast tour were some of his favorite memories, he recalled.
For the past two years, Hofrenning has been heavily involved with the student activist group The Collective, which advocates for social justice on campus. Hofrenning described The Collective as one of the most constructive activities he's participated in during college.
"No single group has made me more confident in myself and made me realize I have so much to learn," Hofrenning said. "I can't overestimate my role in the movement, but I can't underestimate it either."
Through his involvement in The Collective, Hofrenning has worked closely with Nicole Juliano and Angie Hambrick — assistant director of the Diversity Center and assistant vice president of diversity, justice and sustainability, respectively. Both of them, Hofrenning said, helped him learn the value of navigating within PLU's political system to build "authentic relationships" and advocate for change.
Hofrenning said the most challenging part of his time at PLU will be stepping away from the community he's been so grounded in the past several years.
"Stepping back from academia and letting go of this community is definitely a process," Hofrenning said. "You can make such deep connections here, meaningful and important relationships. How do you close those up?"
By Brooke Thames '18
"Balance" takes on a whole new meaning for Takara Mitsui, who spent her college years scheduling friends between soccer practice and nursing classes. Reflecting on her journey to graduation, the busy student athlete said the heavy load challenged her for the better.
"It taught me how to stay dedicated to what I do," Mitsui said, "and how to persevere and work hard through the challenging schedule I had to balance."
Mitsui came to Pacific Lutheran University because of its reputable nursing school. She didn't have a guaranteed spot upon arrival in 2013, so she worked hard her first year to make sure she got into the rigorous program. Therefore, Mitsui spent most of her first year studying when she wasn't in class or practicing with the soccer team.
She said finding time to socialize was tough, but she eventually got the hang of it.
"I learned how to balance having a social life, still hanging out with my friends and enjoying the community here at PLU instead of just isolating myself to study all the time," Mitsui said.
As she progressed through the nursing program, Mitsui found the relationships with her classmates to be extremely helpful. One of Mitsui's favorite aspects of the nursing program is the tight-knit community of her cohort, the 40 students with whom she takes a majority of her courses.
"It's almost like I had two families while I was here. Just building those relationships with my teammates and my classmates has been the most memorable."
- Takara Mitsui
"The teamwork, helping each other out and wanting each other to succeed," Mitsui said, "it's really nice to have that support."
Mitsui's support system was twofold: encouragement from her cohort and her soccer teammates. Mitsui played soccer for all four years at PLU, providing the opportunity for her to forge even more strong relationships through sports.
"It's almost like I had two families while I was here," she said. "Just building those relationships with my teammates and my classmates has been the most memorable."
Post graduation Mitsui plans on moving back home to Lynnwood, while starting a nursing position at Virginia Mason Hospital in Seattle, working the day shift on a surgical procedural floor. Mitsui loves kids and aims to work in pediatrics. Mitsui said she's considered working to become a nurse practitioner in the next five years.
"I think it's really important to set goals in my career," she said. "You're able to do a lot more and it would just be another opportunity to help me grow as a nurse."
By Kiana Norman-Slack '17
Thomas Horn, a sociology major from Enumclaw, has deep roots planted in Pacific Lutheran University's community. His brother graduated two years ago. His mother works in Career Connections. Now, he's a couple weeks away from joining the alumni community.
"I thought it would be fitting," Horn said of attending PLU.
Horn spent the bulk of his time at the university performing with the Jazz Ensemble. Under the direction of Professor David Deacon-Joyner, he was the band's drummer for the past four years. Horn says he will always think fondly of his experiences with both the band and his director.
"It's been an exceptional journey," he said, adding that he's learned a lot from Deacon-Joyner, "musically and in segways to life."
Horn combined his interest in music with his major through his capstone project — an analysis of the subculture of band kids. He's focusing his analysis on the interaction of band kids and deviance.
"There's a huge range of deviance, and the topic of high school band has always given me motivation," Horn said. "I thought analyzing that subculture through qualitative interviews with the kids would be cool."
In addition to his studies, Horn seized multiple opportunities to study away during his time at PLU. He participated in an alternative spring break program, traveling to Nicaragua to help build a water well. "(It) was a really powerful experience in itself, seeing a new culture," he said of the trip.
"Maybe the most challenging thing hasn't come yet."
- Thomas Horn
Horn also traveled to Holden Village in central Washington for a J-Term philosophy course. "There was no technology and 300 inches of snow on the ground," he said. "Taking a class in that environment was pretty phenomenal."
Horn recently interviewed with AmeriCorps, a nonprofit organization focused on engaging adults in acts of public service. If accepted, he will be working in Seattle with the program College Access Now, helping to coach, mentor and prepare high school students for college. Horn expects to hear back about the opportunity by May 20.
In the future, Horn sees himself becoming a teacher. At the moment, his end goal is to teach English and find a way to incorporate literature and film in the classroom. 
While his time at PLU challenged him, Horn suspects it's only the beginning. He anticipates leaving the PLU community will be an adjustment post graduation, but he's ready.
"Maybe the most challenging thing hasn't come yet," he said.