Currently Reading:
PLU alumna spreads joy as Spokanasaurus Rex
PLU alumna spreads joy as Spokanasaurus Rex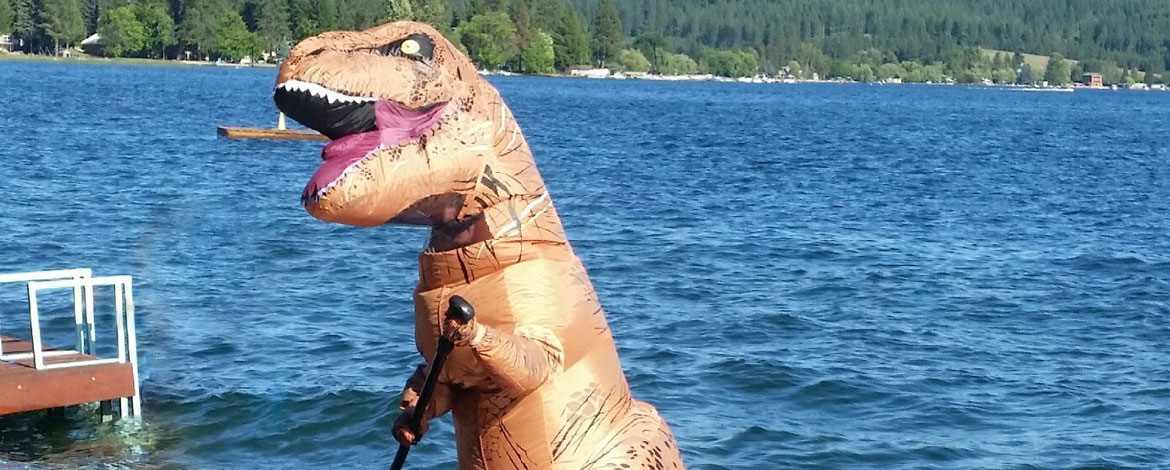 July 20, 2017
By Genny Boots '18
PLU Marketing & Communications
TACOMA, WASH. (July 20, 2017)- Sarah (Allen) Caprye '01 is a busy mother of five, with a part-time job as a dinosaur. You might know her by her alter-ego, Spokanasaurus Rex.
Yes, you read that right.
In addition to parenting her daughters, all younger than 12, Caprye spends time in Spokane, Washington, parks, playgrounds and even lakes in a human sized, inflatable Tyrannosaurus rex costume.
"I think it's fun to give people a crazy experience that makes them smile and kind of bonds people together," Caprye said. "Because everybody who is there is like 'did you just see that?'"
Caprye started Spokanasaurus Rex in April. She brings the suit when she's out with her daughters and occasionally attends private events.
"T-rexing comes in if we're going to do something that would be really fun to do as a T-rex and I bring the costume with me," Caprye said. "It usually just takes a few minutes to add that in to whatever we are doing anyway."

Although Spokanasaurus Rex is a patron of silliness, joy and maybe befuddlement, the character originated during a dark time in Caprye's life. She and her husband, Aaron Caprye '00, went from expecting their sixth child to grieving a miscarriage.
"I was very sad for quite a while after that," Caprye said.
But one night, while surfing Facebook, she came across a viral video of two people in T-rex costumes engaged in a snowball fight. Caprye cracked up.
"I was at the point where I was actively seeking out joy again," Caprye said. "I don't know if I was even aware of that until I started laughing that hard and I realized just how much I had missed smiling and laughing."
Caprye jokingly remarked, "I need one of those suits." Her best friend, not so jokingly, agreed. After some donations from friends, Caprye's transformation into Spokanasaurus Rex began.
"I think one of my favorite times in the suit was when I first put it on," Caprye said. "I'm not someone who thinks of myself as being particularly funny. So to go out and just be silly and have people enjoy it felt really good."
T-rexing has also helped Caprye send her kids to summer camp. She mentioned it on her personal Facebook page as a way to crowdfund camp costs. In exchange for donating, Caprye would show up in the T-rex suit. The money she raised paid for her children, as well as a few other kids who couldn't afford to go to camp otherwise.
While at PLU, Caprye was a double major in religion and psychology. She was involved in campus ministry groups and worked for Campus Safety.
"I'm trying to imagine what I would have thought if I was on campus as a campus safety officer and there was someone running around in a dinosaur suit doing random things," Caprye said. "I'm not so sure what my college self would have thought about that."
PLU was a time of spiritual discovery for Caprye. She became very involved in campus faith organizations and worked in a ministry capacity after graduating.
"My college experience more reflects the studious, introspective period of my life so it feels a little distant from the super silly dinosaur part of my life," Caprye said. "I can take myself a little too seriously sometimes and life a little too seriously, so maybe I needed a really drastic way to embrace silliness and laughter."
And that is what Caprye wants to continue. There is no extinction in the cards for this dinosaur, only more laughs and goofiness.
"For me, it's really all about what can I give and how can I give joy by doing this really silly thing," she said.
Sarah (Allen) Caprye '01, in character as Spokanasaurus Rex, being towed behind a boat on Independence Day. (Video courtesy of Caprye's Spokanasaurus Rex Facebook page)