Currently Reading:
Admission counselor earns Rising Star Award
Admission counselor earns Rising Star Award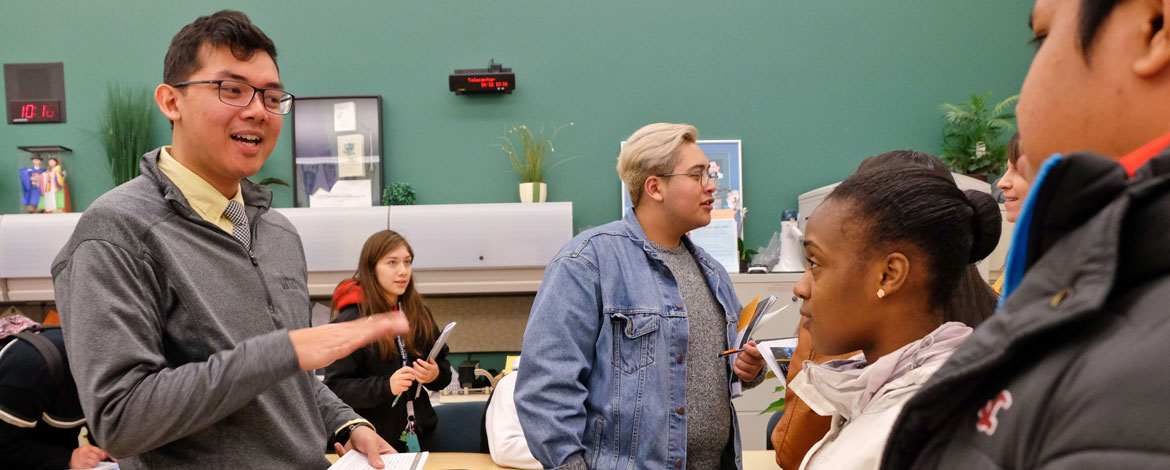 July 10, 2017
By Brooke Thames '18
PLU Marketing & Communications
TACOMA, WASH. (July 10, 2017)- Pacific Lutheran University's Office of Admission is home to a rising star. Julian Franco was recently honored at the Pacific Northwest Association for College Admission Counseling (PNACAC) conference in Boise, Idaho.
The Rising Star Award honors individuals and programs that exemplify excellence and dedication to serving the needs of students in the transition from high school to college.
It encourages affiliates of the National Association for College Admission Counseling (NACAC) to identify and nurture new members and programs, as well as continue professional development of organization members.
NACAC is an organization of nearly 16,000 professionals dedicated to serving students as they make choices about pursuing higher education. Its regional arm serves the states of Alaska, Idaho, Montana, Oregon and Washington.
After earning the Rising Star Award for the Pacific Northwest region, Franco took time to answer some questions about his approach to college counseling and his personal experience with the transition to college as a first-generation student at Gonzaga University.
What is the Rising Star Award, and how did it feel receiving it?
The Rising Star Award is an award given through the Pacific Northwest Association of College Admission Counselors. It's essentially for rising professionals that have been in the career from one to five years — to those who show promise within the profession and go out of their way to do the best they can. Earning the award was very much a surprise, but I felt super honored and blessed to get it. It reassures me that all the work I put into my job is somehow being noticed. It's just nice to be recognized by my supervisors, my mentors and even my students, who wrote me letters of recommendation.
What is your favorite thing about being an Admission Counselor?
It is the students I get to meet, honestly — especially because I get to recruit in my hometown area. I'm originally from Federal Way, Washington. I'm a huge proponent of college access, being a first-generation student and navigating the college process myself. It was definitely tough. The high school I attended is not the most college-minded culture, so going back lets me show that I got a bachelor's degree, and say to other students, 'Hey, you can do this.'" Being able to be one of my only friends who came back to serve the Federal Way community that I got so much from fulfils me every day.
What is it like to watch the students you help admit grow through their PLU experience?
It's great when we can find students that we know are awesome fits for PLU and will do such great work on campus who aren't hesitant their first year, because we were pushing them to make an impact. It's a campus where, if you take advantage of the opportunities, you can be a big person on campus in whatever facet you want. Two of the students I worked very closely with my first year as a counselor are now both tour guides in the office of Admission. Hearing how much they've grown in the six months they were in the office, how much they love the community and how much they can articulate our mission brings so much pride to my work, knowing I was the liaison for finding such an amazing place for them.
What special PLU experience has stayed with you throughout your years here?
I think I wouldn't be so happy if there was only one definitive experience. I would say one of the best parts of our job is move-in day, because students are finally a part of the campus. When they're actually on campus seeing their friends, parents, guardians and mentors passing them along into their next journey in life, it is impeccable. We also get to lead them into Convocation, and it's a cool handoff from our work to the PLU community.
How would you describe the transition from high school to Gonzaga University?
I'm totally a first-generation student. I didn't even know you could go on campus tours. I was lucky to just be driven enough in high school to want to get a college education. I just thought of that as my next step. Once I got there, the transition was honestly extremely tough. I was the only person from my high school that year to attend Gonzaga. The community of my undergrad didn't reflect the community of my high school demographically, financially and economically. But I met great people, and there was so much to learn from that. I just gained so much from my four years and working through it that there was just something that really compelled me to come back to higher education and assist others going through that journey. It wasn't all roses and daisies being a first-generation student, but I got through it. I hope to help other people get through it.
What particular experiences as a first-generation student impacted the way you counsel your students?
Breaking things down is definitely important. There shouldn't be any assumptions about any aspect of the college admission process when I'm working with students. Because I repeat myself over and over again, sometimes I think it's obvious that the FAFSA is free, and you need to submit your letters of recommendation and take the SAT your junior and senior year. But then I realize students aren't always getting that advising in high school. Sometimes I didn't even get that advising in high school. So, I break down the little things and assure students that there is no dumb question about college.
What struggles outside of the transition did you face that shaped your college experience?
My brother passed away in December of my freshman year, so it was really rough. I was struggling with that and struggling with going back to school. Right after it happened, I actually called Gonzaga and withdrew from school because I didn't think I wanted to go back. I had thought I was called to stay at home. Two days later, I figured out that I couldn't use my brother as the reason why I didn't get my bachelor's degree. He wouldn't want that laid on him. So, I called back and asked if I could get back into my classes. Transitioning back to school after that happened was tough, but I felt so supported by my community at school. That was a larger obstacle that most college students don't have to go through, but now there's a greater purpose.
What advice do you have for students who are in the admission process now or looking to go college in the future?
I applaud them for looking at going to college. I think that's an awesome step to be moving toward. When you come to college, say yes to everything because you don't know what you're going to like. But also feel very comfortable owning the fact that you can say no afterward. Saying yes means trying new clubs and meeting new friends, but if you know you're losing your balance then say, "I need to walk away from this." I really struggled with that in college. I became very involved, and then my senior year I was dismissing my friends, certain clubs I was in, and one of my jobs. I'm a such a "yes" person, and that's something I struggle with. So, I want students to know that saying no is okay.