Currently Reading:
Lute receives endowed scholarship honoring her Native American heritage
Lute receives endowed scholarship honoring her Native American heritage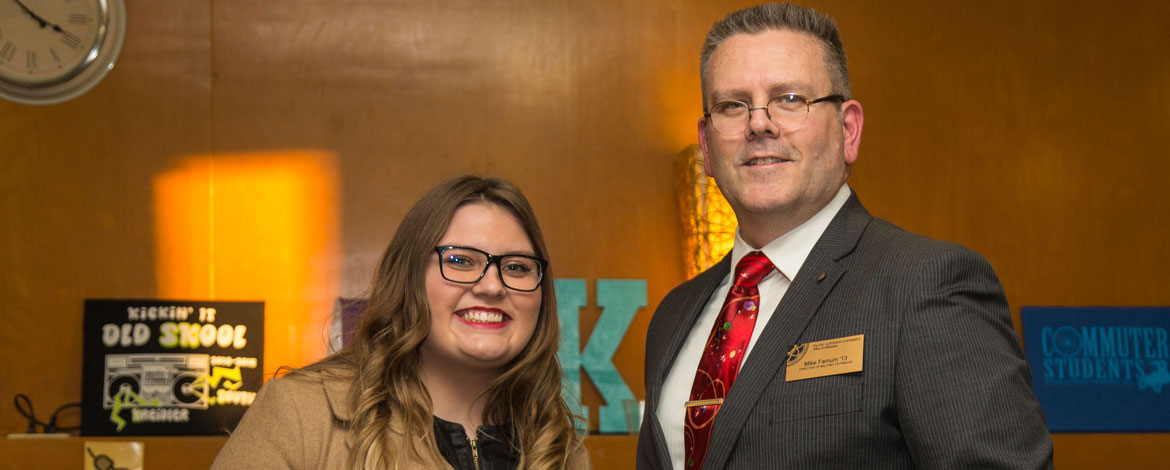 December 11, 2017
By Genny Boots '18
PLU Marketing & Communications
TACOMA, WASH. (Dec. 11, 2017)- Katie Dean '21 acknowledges that she takes after her Norwegian mother, at first glance. Still, Dean says her father's Native American heritage is an important part of who she is, something she is most proud of.
"That's part of my life mission," Dean said, "is to say I'm native."
Her pride in her heritage makes Dean an outstanding candidate for Pacific Lutheran University's Red Feather Endowed Scholarship, which was initially established in 2014. It's awarded to first-year Native American students who demonstrate the most potential for affecting positive change and leadership in academic and co-curricular life on campus. It began with Director of Military Outreach Michael Farnum, an Army veteran who set up the endowment to honor the wishes of his late father-in-law, Sgt. 1st Class Eugene C. Price.
Dean is a member of the Snohomish tribe, which is a small tribe associated with the Tulalip Tribes of Washington, a Native American community in the mid-Puget Sound area. She is the first recipient of the scholarship.
"He had been impressed by and enamored with Native American culture," Farnum said of Price. "And he wanted to try to help support a Native American student who might have had some funding gaps."
And for Dean, this annual $1,500 award was the difference between coming back to PLU for her second year and leaving the university.
"It's amazing that I got this scholarship," Dean said. "It means that I can go to school next year."
Before Price died in August 2015, he was named an honorary member of the Red Feather Warrior Society by a Oglala Lakota medicine man and tribal leader. The honor is bestowed on soldiers who have fought in war. Both Price and Farnum were honored as members and given a carved buffalo leg bone, shaped into a feather and painted in red ochre.
"He was very touched by that," Farnum said of his father-in-law. "He lived up in Skagit Valley so he knew a lot of Native Americans who were just great people and they really influenced him a lot in positive ways."
"It's amazing that I got this scholarship. It means that I can go to school next year."
- Katie Dean '21
For Price, one of the most important qualities of future recipients of the endowment he dreamed up was a sense of pride for their tribal history.
"He wanted this student to be proud of their heritage and uplift it," Farnum said, noting that natives and their culture have been historically oppressed.
Dean certainly is proud of her heritage, and is thankful the institution is honoring it. Opportunities for financial support on the basis of her individual tribal roots are significantly limited, Dean stressed, so she is especially grateful for PLU's scholarship for native students.
The intended nursing student applied to PLU on a whim, but has fallen in love since coming to campus.
"I love how small the campus is and I love that the class sizes are so small," Dean said. "You get to really engage with the professors and the people that you are with."
Dean is hoping to start an indigenous peoples club at PLU and is looking forward to a potential indigenous studies minor.
"Being Native American is a big part of my life," Dean said. "I might not look it to other people, but I feel it in here."
Learn more
If you are interested in learning more about the Red Feather Scholarship, contact Director of Military Outreach Michael Farnum at farnumms@plu.edu.