Currently Reading:
PLU honors retirement of 53-year archivist, longest-serving employee with well deserved 'hullabaloo'
PLU honors retirement of 53-year archivist, longest-serving employee with well deserved 'hullabaloo'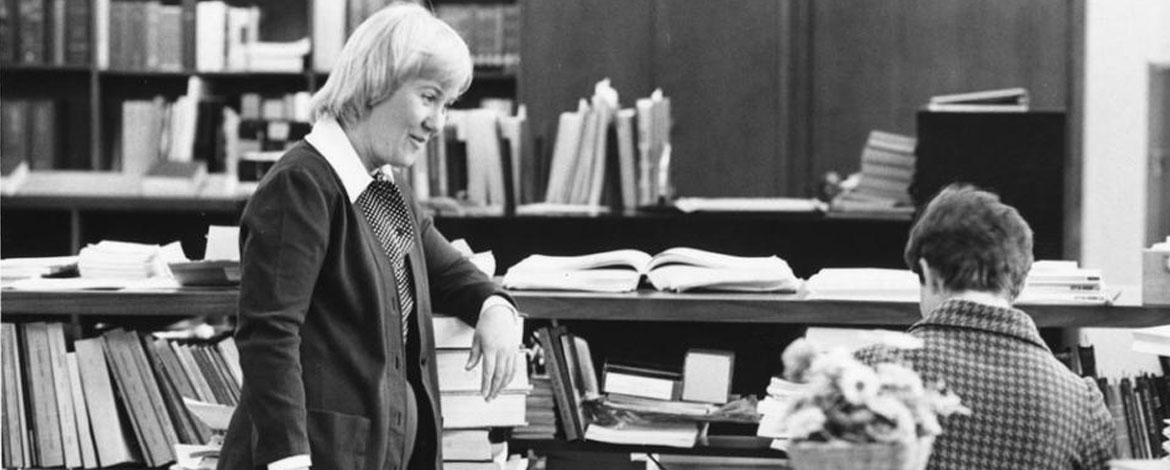 February 20, 2018
By Genny Boots '18
PLU Marketing & Communications
TACOMA, WASH. (Feb. 20, 2018)- The last time Pacific Lutheran University welcomed a new president, Kerstin "Kris" Ringdahl was one of the first people to meet him on Day One.
"I was there at 9 o'clock in the morning and talked to him about PLU's history," said Ringdahl, the longest-serving university employee who retires this month after 53 years. "And then after that he met with his President's Council."
And Thomas Krise, who served PLU 2012-17, had good reason to prioritize facetime with Ringdahl. As archivist and curator of PLU's Special Collections, she is a university icon — who is finally ready to embrace retirement at 82 years old.
"Honestly, it's kind a of boring time right now," Ringdahl said, with a laugh.
Ringdahl has either been on campus for major events, or knows all about them. Everything from early Board of Regents meetings (which were handwritten in Norwegian) to student protests opposing the Vietnam War.  
"All finals were canceled just so people could get together and talk about the war," she recalled of the tense time. "It's the only time that finals have ever been canceled."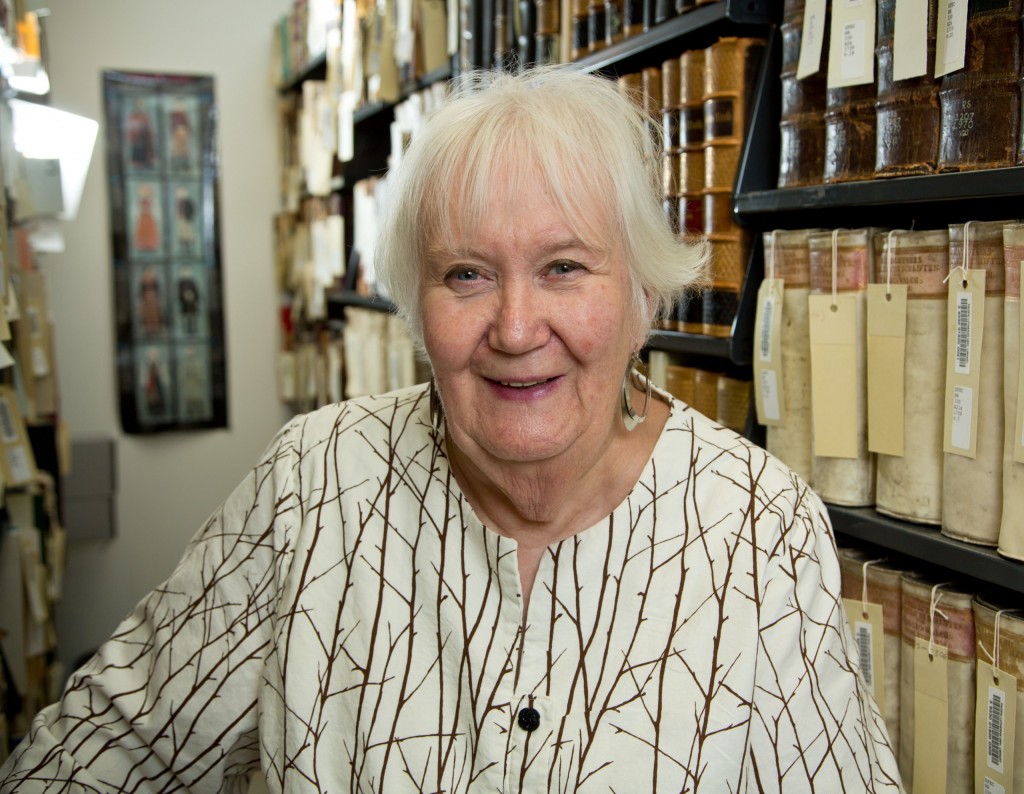 She was on campus when stars such as Ray Charles, Tina Turner, Bob Hope and The Carpenters performed.
"There wasn't the Tacoma Dome or any kind of big venues anywhere," she said. "So they came to PLU and played down at memorial gymnasium and Olson gym at the time."
And she watched the renowned Joffrey Ballet perform — twice — in Eastvold Auditorium (now the Karen Hille Phillips Center for the Performing Arts) during the group's few summer residencies at the university.
Ringdahl also has been around for some important university changes, including when women were finally allowed to wear pants to work.
"It had to be a pantsuit," she noted, "but we were just happy we could wear pants."
A younger Rindahl was known to ride her bike to work, from her nearby home. She still lives close to the university, and until recently would coast to the library every day, reporting for work on the third floor.
"Everyone knew, 'oh that's Kris going to work,'" said Gina Hames, associate professor of history.
Now, a bad back and foot limit her morning commute to her car — which dons a license plate outlined with a "Swedish-American" decal — alongside Bella, her canine co-captain.
THE START OF A STORIED CAREER
Ringdahl has a special reputation on campus, as the woman who has seen the university grow and change through the years.
Her presence on campus began after her husband at the time was transferred to Joint Base Lewis-McChord. She answered an ad in The News Tribune in Tacoma, calling for a library assistant who could "project a Scandinavian image in the new library." As a native Swede, she fit the bill.
"There were two important interview questions," Ringdahl recounted: "will you promise to stay blonde?" and "will you promise to use your accent?"
Luckily, Ringdahl could do both. Her Swedish accent is still strong, but she divorced her husband when she realized "I liked my job better than I liked him."
Ringdahl was working at Pierce County's bookmobile when PLU hired her. She received her undergraduate degree in Scandinavian studies from PLU in 1982. Then, she eventually earned a master's degree in archives and record management from the University of Washington in 1987.
In her time as archivist, Ringdahl was responsible for massive amounts of cataloguing and collecting university history. She started the Scandinavian Immigrant Collection, which includes pictures, artifacts and interviews from 280 Scandinavian immigrants. Ringdahl also was an early member of Northwest Digital Archives, partnering PLU with larger state universities: University of Washington, Washington State, University of Oregon, Oregon State.
"I thought, 'I'm going to be on this,'" Ringdahl said. "I'm not a great intellectual but I am pretty practical, which I think is useful in a job like this."
Ringdahl also often hosted classes in the archives, from publishing and printing courses, to religion and history classes. Hames says that's one of the many examples of Ringdahl's "larger than life personality" and dedication to her vocation.
"Kris is really one of the most special people in the world. Every day I learn something from her."
- Stacy Thompson Schuck '96, who worked for Ringdahl from 1992-96 and briefly lived with her.
"She is so much more than the archivist at PLU," Hames said.
Some of the people closest to Ringdahl are her student workers. She usually has three each year, many who keep in contact with her well after their time at PLU.
Stacy Thompson Schuck '96 worked for Ringdahl from 1992-96, and briefly lived with her.
"She is really one of the most pivotal people in my life," Schuck said.
During her PLU years, the two often took coffee breaks in the middle of the work day, chatting over Swedish ginger cookies.
"From her I learned you can do anything," Schuck said. She recalls one summer when Ringdahl suggested she sharpen the blades on her old lawn mower instead of buying a new one.
"I found a book and I sharpened all the blades on that thing and then it cut like a dream," Schuck said. "Figuring it out for yourself is a totally different thing and learning that skill kind of opened a lot of mental doors, which I am really grateful to her for."
Their relationship is so special to Schuck that her second daughter is named Elisabeth, Ringahl's middle name.
"Kris is really one of the most special people in the world," Schuck said. "Every day I learn something from her."
EMBRACING THE NEXT CHAPTER
Retirement is not new to Ringdahl. In fact, she's been a part-time employee for nearly 30 years, after she took an early retirement package in the 1980s.
"But I'm going to be 83 years old this summer and I think I'm getting old," she said. "I need to kind of retire and take it easy for while."
But taking it easy may not be in her DNA.
"I want to do something different," she said. "First I want to do nothing, but then I want to go through my papers. I have my own immigrant collection."
She also has plans to clean out her house, digitize photos, take care of her garden, maybe sell her house, visit friends and train her schnoodle (poodle/schnauzer/shih tzu mix), Bella, to be a therapy dog.
But first, she has to finish up some ongoing projects in the archives — and attend a retirement party honoring her, something she says feels weird.
"I thought, 'god I'm just me,'" Ringdahl said. "I always thought of myself as a little speck around here. Now all of a sudden all of this hullabaloo."
But after 53 years serving the university, the hullabaloo is well deserved.