Currently Reading:
Commencement 2018: Lutes wrap up the lasts, look to the firsts as they prepare for life after graduation
Commencement 2018: Lutes wrap up the lasts, look to the firsts as they prepare for life after graduation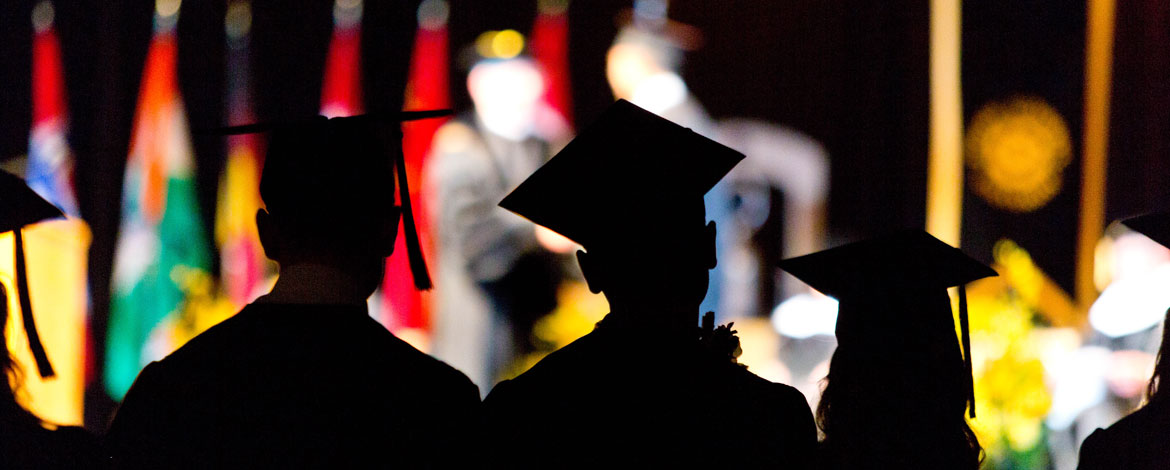 May 22, 2018
By staff writers
PLU Marketing & Communications
TACOMA, WASH. (May 22, 2018) — It's official. The Class of 2018 at Pacific Lutheran University is wrapping up the final list of "lasts."
There are the lasts that students (soon to be alumni) are likely happy to bid farewell: the last final, the last presentation, the last tuition payment. And then there are the not-so-easy lasts: the last Dining Dollars purge with your friends at Old Main Market, the last hammock or Foss Field lounge session with your roommate, the last pre-finals therapy-dog (and goat) session in Red Square.
But with Commencement 2018 right around the corner on May 26, many firsts await, too. Haley Bridgewater — the student speaker for this year's ceremony — is ready to honor the past and the future.
"In writing my speech, I did my best to encapsulate a typical experience at PLU," Bridgewater said. "I am excited to reflect and reminisce with my peers."
Bridgewater, who is joining the Peace Corps and traveling to Guinea in July, is one of several speakers scheduled to address the crowd at the Tacoma Dome at 2:30 p.m. Saturday. She will join Freeman Hrabowski III, the keynote speaker and longtime president of University of Maryland, Baltimore County (yes, that UMBC).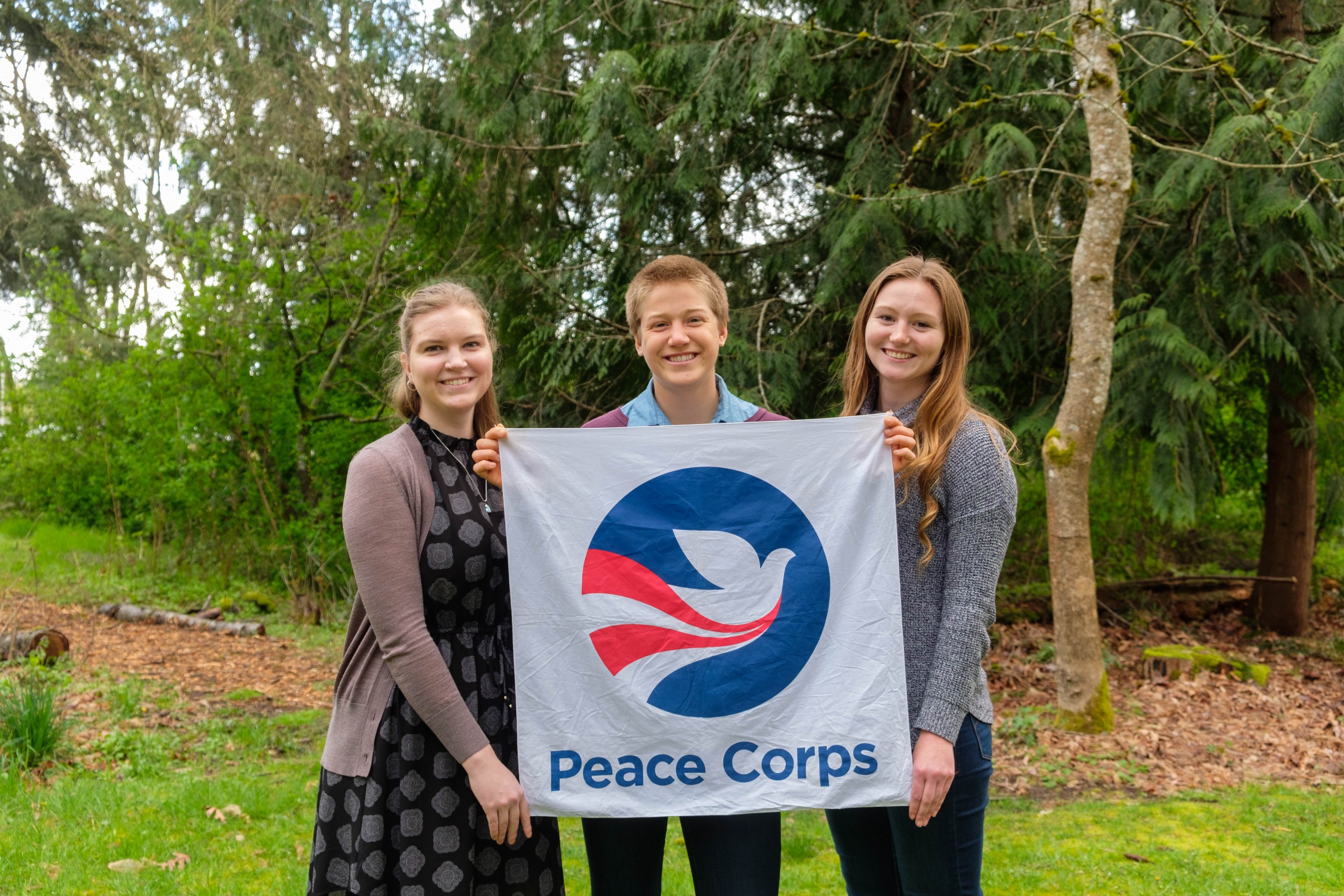 Hrabowski is a renowned civil rights activist, who marched alongside the Rev. Martin Luther King, Jr. during the Birmingham Children's Crusade. He's also a determined advocate for equity and access in higher education — President Obama appointed him to chair the President's Advisory Commission on Educational Excellence for African Americans in 2012, among his many other accomplishments.
Hrabowski's speech is sure to underscore PLU's mission of critical thought and care, two ideals Bridgewater says she'll take with her long after she walks across the stage this weekend.
"PLU has taught me to approach challenging situations with an open mind and has given me the skills to equitably discuss divided topics," she said.
But that's not all Bridgewater is taking with her as she starts on her path to firsts: "My biggest highlight from my time here at PLU is that I am leaving with lifelong friends."
Bridgewater's advice for her fellow Lutes who have yet to order caps and gowns: make the most of the time you have left.
"While we are here to learn, it is also important to build relationships and experiences," she said.
Below is a collection of experiences built by other Lutes who say goodbye to PLU this week.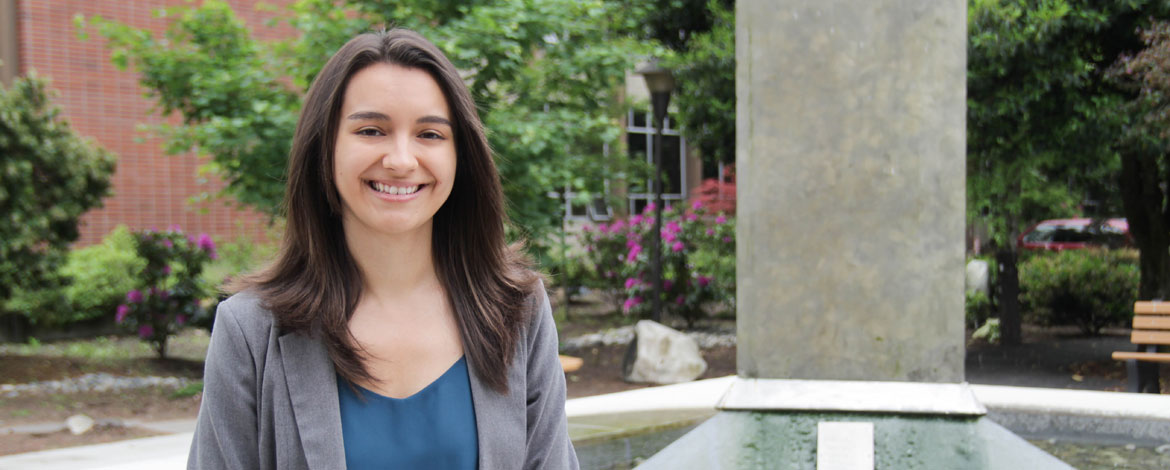 By Helen Smith '19
Tori Sullivan first found her passion for juvenile law in a "Juvenile Delinquency" class with Kate Luther, associate professor and chair of sociology.
"I never thought about it much before that, but I fell in love with the class and the content, even though it was really difficult for me," Sullivan said. "I think that it sparked something that I was passionate about."
Sullivan carried that passion throughout her years at PLU. Although she initially wasn't sure about law school, Donna Miller, director of Career Connections at PLU, inspired her to pursue law in the hopes of changing the juvenile justice system from the inside.
"I went back and forth trying to decide what the best (form of) advocacy was," Sullivan said, "because ultimately my goal was to help youth and other underrepresented populations who wind up in the justice system."
She discovered the best path to advocacy was Seattle University's law school, where she was offered the Scholar for Justice Award — a full-ride scholarship for students with interests in public service and pro-bono work. 
"I was kind of surprised when I got it just because it's kind of a rare occurrence. A scholarship, especially to law school, is pretty difficult to obtain," Sullivan said. "I'm still coming to terms with that, I'm like 'wow I'm going to school for free.'"
Sullivan plans to take the pro-bono pledge at Seattle U Law, promising more than 100 hours of pro-bono work over the course of her time at the school.
Although Sullivan knows the work is difficult, she's excited to get started. She already works at a nonprofit for struggling youth, and she volunteers at Remann Hall, the juvenile detention center in Tacoma.
"I do have really hard cases that are kind of disheartening and that can be really tricky," Sullivan said. "Even though you're not always going to win every single case, if you can have an outcome that's better than what their circumstance was before, I see that as a positive."
Upon starting law school, Sullivan hopes to continue her work with juvenile justice at the Access to Justice Institute, a Seattle U program that connects law students to public service organizations. Sullivan wants to work with Team Child, in particular, which advocates for youth in the justice system.
Charles Brass, kinesiology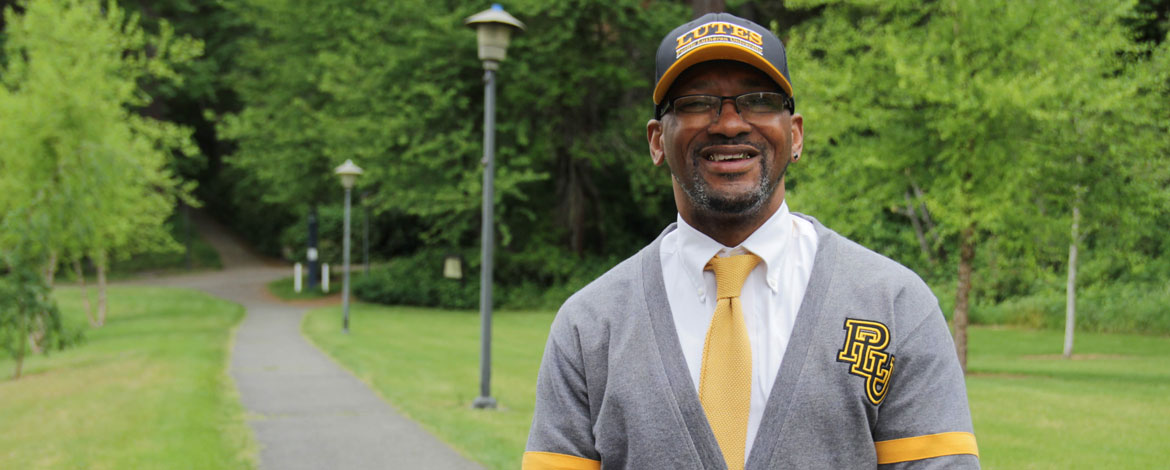 By Genny Boots '18
After Charles Brass' first semester at PLU, he wasn't sure if he could persist. Brass served in the U.S. Army for 22 years, retiring sergeant first-class. And at 55 years old, with three children and five grandchildren, his undergraduate degree was a new kind challenge.
"I felt overwhelmed. And I really questioned myself," Brass said. "'Is this for me? Can I do this?' But the military instilled the will to achieve."
Brass said that first semester felt like basic training: shock and awe. But he persevered — he graduates Saturday, earning a degree in kinesiology, health and fitness promotion.
"I'm ecstatic," Brass said. "It's hard to conceive I am graduating with a bachelor's degree."
Brass did two tours during Operation Desert Storm, two tours in Mogadishu, Somalia, and two tours during Operation Iraqi Freedom. He was diagnosed with post-traumatic stress disorder from his military service, but PLU was a saving grace.
"I'm ecstatic. It's hard to conceive I am graduating with a bachelor's degree."
- Charles Brass
"This school helped managed my PTSD because I am not able to really focus on the things that happened during my deployments," Brass said. "I would recommend that any veteran to help combat PTSD should go to school."
Brass retired from the military in 2008, and came to PLU to continue his education that started with a physical therapy assistant degree. At PLU, Brass was involved with Kinesiology Club, the Diversity Center and the Special Olympics. He attended sporting events and Black Student Union events.
"I just said, 'I'm going to make this experience the best I can make it,'" Brass said. "And how else can you make it a good experience if you're not involved?"
Brass' post-graduation plans are a bit unorthodox: he'll spend a year at a temple in China studying wing-chun and shaolin style Kung Fu.
"I am mainly going for my mind, body and spirit," Brass said. "I know I'll have to push myself, exactly like I pushed myself at PLU."
One of Brass' highlights from his time at PLU was his internship — and now volunteer service — at the Puyallup Activity Center. He teaches a functional mobility class for seniors, helping them with movements that make everyday activities — such as getting in and out of cars, carrying groceries and reaching above the head — a little easier.
"I'm still doing volunteer work there and the class went from four students to 20 now," Brass said. "They just love it and I love seeing seniors being physically active and not living a sedentary lifestyle."
Brass hopes to continue to work with seniors and their mobility, perhaps opening his own business to this end.
And his advice for PLU students?
"Don't be discouraged by failing a class or quizzes. Don't be discouraged. Always be encouraged to do better," Brass said. "And then once you get to a point where you feel great, you have to reward yourself."
Brooke Thames, communication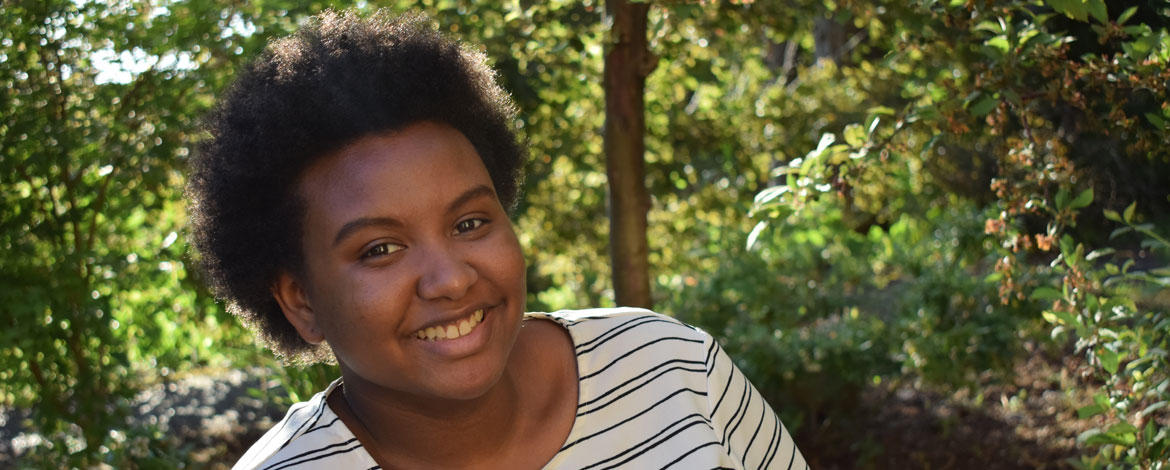 By Mackenzie Cooper '18
Equipped with a penchant for writing and desire for adventure, Brooke Thames migrated from California to Washington. Now, just four years later, she's returning home ready to begin the final leg of her collegiate journey.
After graduating May 26, the communication major and aspiring long-form writer will pursue a Master of Science in Journalism at the University of Southern California's Annenberg School. The nine-month, 36-unit program commences in July.
Thanks to her impressive list of accomplishments — editor-in-chief for Mast Media and contributing writer at The News Tribune, to name a few — Thames received a hefty stipend and full-ride tuition, influencing her decision to attend USC.
"I was accepted into every program I applied to, save for one," Thames said. "I was initially thinking New York University's Magazine Writing program, but then USC came along and offered to pay for school as well as provide living wages."
Despite her current success, Thames' journey toward graduate school has been replete with challenges. With three demanding jobs and a rigorous course load, Thames had to learn strategies for time management and self-care.
Although Netflix served as a favorite reprieve, it was the support of friends that helped Thames mitigate her propensity to overextend and succumb to stress.
"Community and friendships — mostly through The Mast — allowed me to be fully present at PLU, and find a foothold in the college experience, which was vital for me," Thames said. "I found a sense of belonging here."
With the future in mind, Thames plans to utilize her narrative voice as a proxy for diverse populations. She hopes her writing will highlight the humanity of underrepresented communities and bridge a connection between their experience and broader societal discourse.
"I want to change the way we view stories and marginalized people," Thames said.
"PLU has helped me find and solidify that purpose to touch the world positively."
As Thames reflects on her time at PLU, a wave of conflicting emotions emerge. "I am ready to graduate, but there's just something about being a Lute," she said. "The focus on care and community is something I am going to miss, but that I am thankful to be a part of."
Apropos of her experience at PLU, Thames offers these parting words to incoming and continuing students: "Do everything you can. Go to events, join the clubs, spend time in common spaces — it's important to find your community and sense of belonging in college."
Joel Earlywine, economics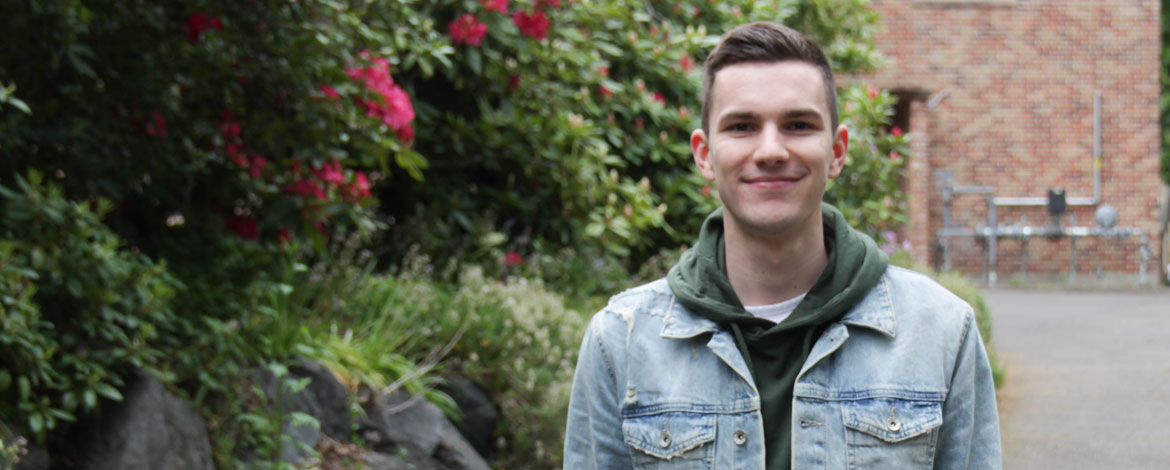 By Genny Boots '18
Joel Earlywine is the first person in his family to go to college and he isn't stopping with his undergraduate degree. He's leaving PLU for a prestigious master's program in health science at Boston University.
"I'm shooting for the stars you know," Earlywine said, "so my goal would be to keep going and get my Ph.D. there."
Earlywine is an economics major and a statistics minor from Federal Way, Washington. He will pursue a Master of Science in Health Services and Systems Research. This program will build off Earlywine's undergraduate research on the U.S. opioid epidemic.
Basically, he'll be doing a lot of health-related research that could be used by pharmaceutical companies, insurance companies or policy analysts. It's the perfect fit for Earlywine, who always wanted to be a physician but couldn't stomach blood and guts. Even though he entered PLU as an accounting major, health was always an interest.
But it wasn't until a fateful run-in with Karen Travis, associate professor and chair of economics, in a statistics class that Earlywine saw a future path — one he would eventually excel in and become passionate about.
"I think about all the professors who I don't want to leave. What do you say to them? Thanks for helping me with my life? It's crazy."
- Joel Earlywine
"She was like 'you need to come over to the econ department, take my health econ class,' and so she has been a really great mentor ever since," Earlywine said. "I've been in her office countless times."
In early April, Earlywine presented with Travis and other economics students at the National Undergraduate Research Symposium in Oklahoma. He spoke about his capstone on opioid overdose deaths in California, and if prescriptions were the biggest factor.
"Are prescriptions of opioids still a main driver of this epidemic because we've seen so much diversion into the black market?" Earlywine posited. His research shows the answer is yes — prescriptions are the main force for opioid addiction around the country.
He hopes to continue studying opioid and drug addiction into graduate school. But as the days tick down to graduation, leaving PLU is hard to reconcile.
"I think about all the professors who I don't want to leave," Earlywine said. "What do you say to them? Thanks for helping me with my life? It's crazy."
Earlywine credits his mentor Travis, economics alumna Amy Spieker, and Kelly Lauderdale in Student Financial Services for being great resources and friends.
While at PLU, Earlywine studied away to Granada, Spain. He also is president of Econ Club and a member of the economics honors society, Omicron Delta Epsilon. And Earlywine hopes that his college path will inspire his younger family members to do the same.
"I think being the first one from my family and extended family (to go to college) has really encouraged my younger cousins and even close family friends, who hear, 'do you want to go to college like Joel?'"