Currently Reading:
Going to Natties: Lute reflects on four years of Ultimate Frisbee and Reign's whirlwind trip to nationals
Going to Natties: Lute reflects on four years of Ultimate Frisbee and Reign's whirlwind trip to nationals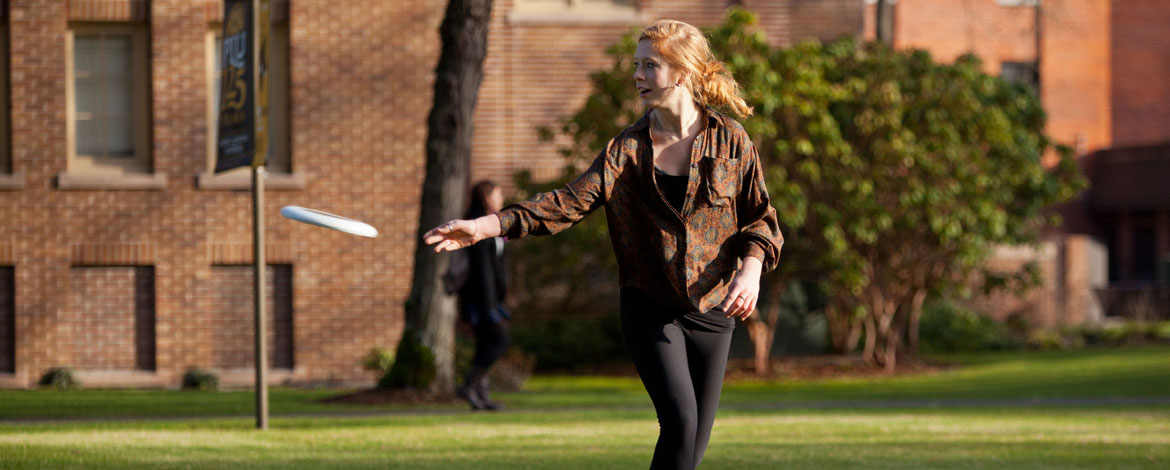 May 25, 2018
By Genny Boots '18
PLU Marketing & Communications
TACOMA, WASH. (May 25, 2018) — "What happens when you achieve your goals?" asked my teammate Margaret Chell. "I don't know," I said. "I guess we make new ones?"

My housemate and teammates — Margaret, Molly, Liz and I — were piled on our couch, exhausted. We had just won a bid to the Division III national tournament for Ultimate Frisbee, our four-year goal. We were going to Natties.
So what does happen when you achieve your goals? We all sat quietly, still in uniform and covered in sweat and dirt, deep in thought.
Really, this story started four years ago as both first-year college students at Pacific Lutheran University and first-time Ultimate Frisbee players.
"We definitely were a team that didn't have experience but we depended on our athleticism," said head coach Ryan Mitchell. "I thought 'if I have three more years with these girls, definitely we will be a threat.'"
We were athletes from other sports: volleyball, basketball, soccer, swimming. We couldn't throw a disc, but we liked being on a team. And Ultimate is a different kind of sport: costumes are encouraged, music plays loudly and there is a genuine respect for competition. And it feels counter-culture, because most times when I tell people I play Ultimate, I hear, "oh, like disc golf?"
At an average tournament I play three to four games a day, run something like 5 miles a game, jump, dive, block and throw my body around.
According to Ultimate Impact, a nonprofit for the sport, "Ultimate combines the nonstop movement, field spacing, sprinting, and athletic endurance of soccer with the aerial passing skills of football — all in a non-contact format."
I play on a college team, but there are middle school, high school, club and professional teams across the country. And yet, sometimes Ultimate still feels like a secret.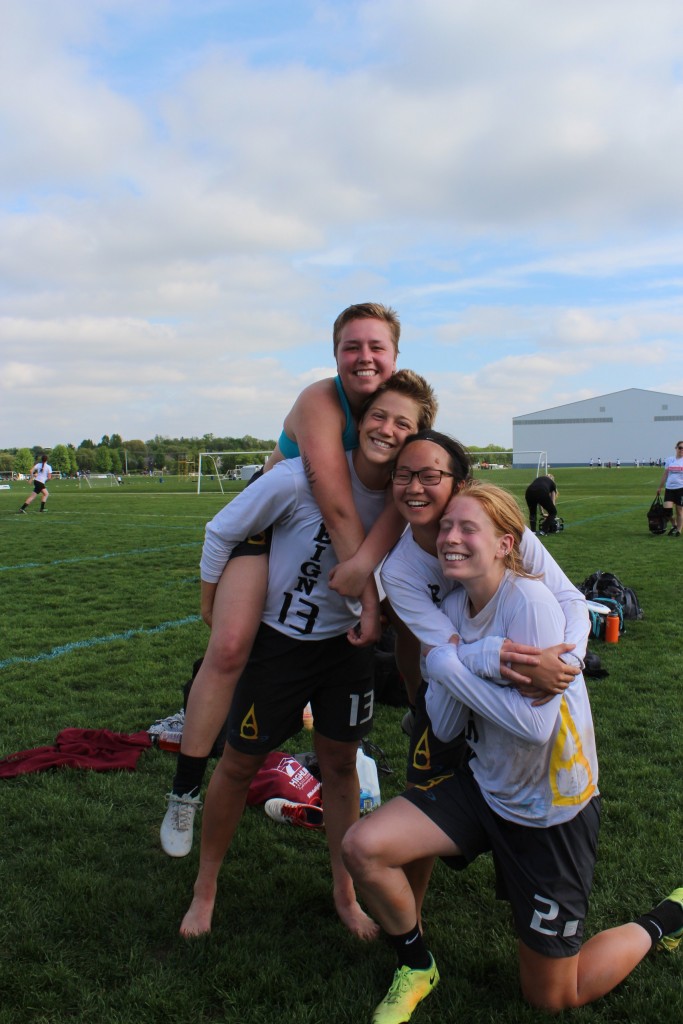 Even with the rolled ankles, shin splints, blood and blisters, Reign (our team) has been the highlight of my time at PLU. It just took four years to make my first-year dream come true.
"It was my dream as a freshman because it was our seniors' dreams," my co-captain Liz said. "And I've never let it go."
After a month of practice before nationals, we finally left Tacoma on the Thursday of dead week. Everyone had frisbees wedged between textbooks and heavy backpacks. We flew into Chicago and drove the hour to Rockford, Illinois, where the tournament was held.
After landing in Chicago and picking up our rental vans, the team headed to the popular restaurant Culver's. Our Midwest teammates were stoked, and we all munched on burgers, fries and custard.
Then to the church! To save on travel costs, we try to stay with local Lutheran churches. A cold, hard church floor is nothing new to Reign.
This church had a gym, complete with basketball hoops and dodgeballs. We made a great basketball video in our free time (check it out here).
After the last of our team arrived early in the morning Friday, we all woke up to preschoolers playing in the gym. Churches are great places to stay, but we run on their schedule. So we were up and out, and headed to the fields for a day of practice.
Next thing I knew, my Saturday-morning alarm went off. I woke up, fired up on nerves and adrenaline: game time.
So the tournament started. We played our best game against the tournament's No. 2 seed, narrowly losing by two points. We then took on the eventual champions, St. Olaf College. And we ended the day playing North Park University, falling again by two points. Not our most impressive record, but excellent games.
"I think we played really well, and given the fact that no one, including Ryan and I, had been to nationals," assistant coach Benita Ki said. "It's disappointing to lose, but we're not upset that we rose to the challenge. Because no one expected anything from us."
On Sunday, we were rained out and spent the first three hours of the day inside avoiding lightning. Ah, the Midwest.
While waiting, the team attended a small group discussion on gender equity in Ultimate, watched a frisbee game and stretched.
Finally, after the long wait, we were given our field assignments: we were playing inside. And again, we fell to Georgia College — with that, my college ultimate career was over.
And I cried. That sort of hot, ugly cry that wells up inside you and just blubbers out in waves.
I just kept thinking that this was the last time I would wear this jersey for my team, the last time my teammates and best friends would play together, the last time cheering and chanting, and my whole college career is ending. It was very dramatic.
"I think nationals represented not just hard work and determination but a culmination of your guys' dreams," Benita said. "I'm not proud of just playing well at nationals but of a season of being a winning team, growing the program, and making a name for ourselves."
And when I finally collapsed into bed early Monday morning, I turned off my light and smiled at the team picture next to my bed. It took my college career, late study nights with the team, dance parties on the weekend, and countless practices and workouts to make it here. And it was absolutely worth it.