Currently Reading:
Notes' Coffee Company: A coffee house seeking community on Garfield
Notes' Coffee Company: A coffee house seeking community on Garfield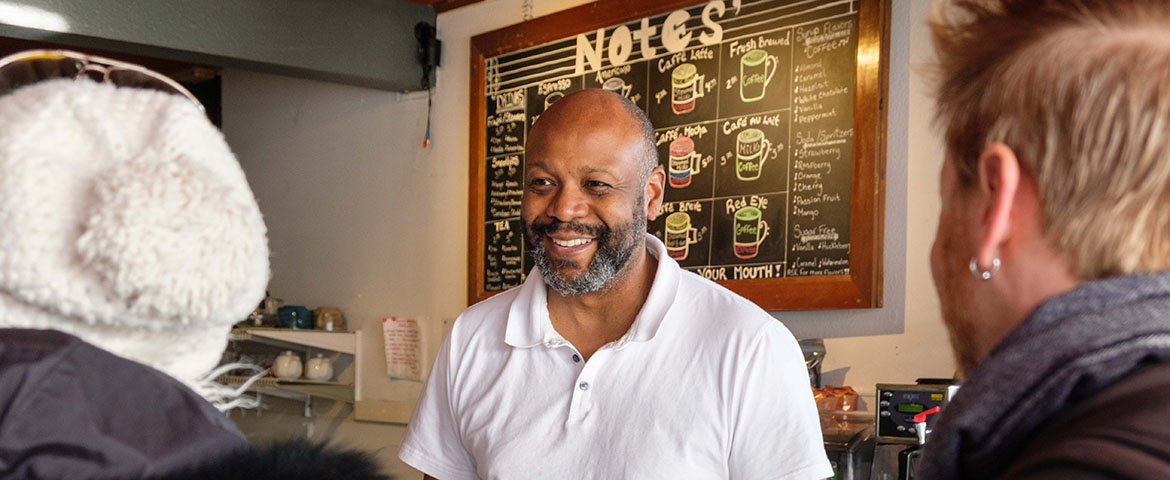 December 7, 2018
By Thomas Kyle-Milward
Marketing & Communication
TACOMA, WASH. (Dec. 7, 2018) — The familiar coffee house on the corner of Garfield and C St. is open for business once again, with a new owner and a new name: Notes' Coffee Company.
Proud new proprietor John Gore has PLU students and Parkland residents alike covered with piping hot coffee and sandwiches, and he's always ready with a smile and a story for anyone willing to linger in the shop's warm, welcoming atmosphere. But Gore has an even bigger vision: He wants to make his coffee house into a bustling cultural hub of the community.
"I want this place to become a community center, somewhere for people to share ideas and intermingle," he said. "When I bought this place, what attracted me was the woodwork. The bookshelves. This is the soul of this place, created an energy in here that attracts people. That's what I'm trying to preserve. I'm just trying to be the caretaker."
If you pass by the counter and through the tables and chairs, you'll step into an adjoining room that seems perfect for carrying out that vision. A Tiny Desk Concert-esque stage and a mic stand are on one side, and hundreds of books around the walls and comfortable furniture evoke endless possibilities for intellectual and creative expression.  
"Bringing back live music, that's something I really want to have," Gore said. "I'd like to bring in jazz bands, some hip-hop groups, some alt-rock. I like to be diverse, not focus on one music type. I love music."  
His dreams don't stop there. An avid chess player, Gore wants to host a regular game night. An open mic night is also in the cards, as are poetry readings. He'd also like to host photography outings, another hobby. Ultimately, he wants the coffee house to reflect his passions — and share those passions with the PLU students and Parkland community around him.
"I believe it's just important to do the things you love," Gore said. "If you don't love it, you won't last in it. That's been my philosophy."
Amanda Clendenen '19, a business administration major, recently stopped in at the coffee house with classmates to work on a school project and appreciated what Gore's cultivating in the space.
"We enjoyed playing chess and looking through various books we could rent out, and sinking into a comfy couch," she said. "We were able to sit down and chat over soup, pastries, freshly made sandwiches and coffee."
Gore has a entrepreneurial background, building businesses from the ground up. He's an eclectic man who's successfully tried his hand at newspapers, computers and ice cream. Now he's grinding beans and brewing espresso.  
"I've always been interested in coffee," Gore said. "I've always liked the neighborhood spots. The coffee house vibe — the type of atmosphere, the people that came in — there's always some intellectual conversation going on at a coffee house, and that really seemed cool to me."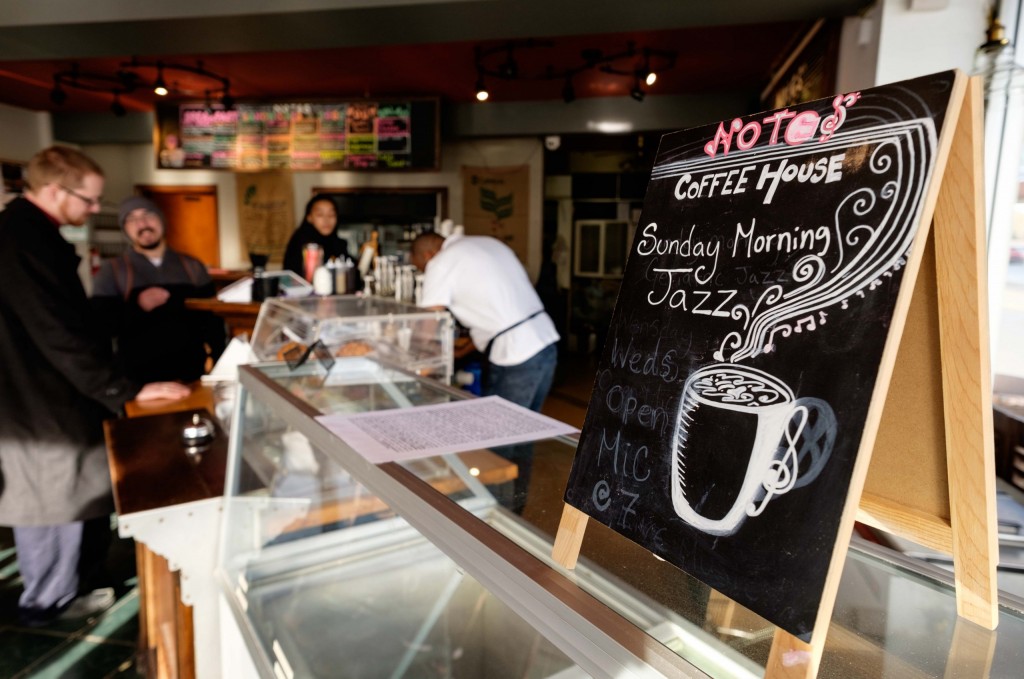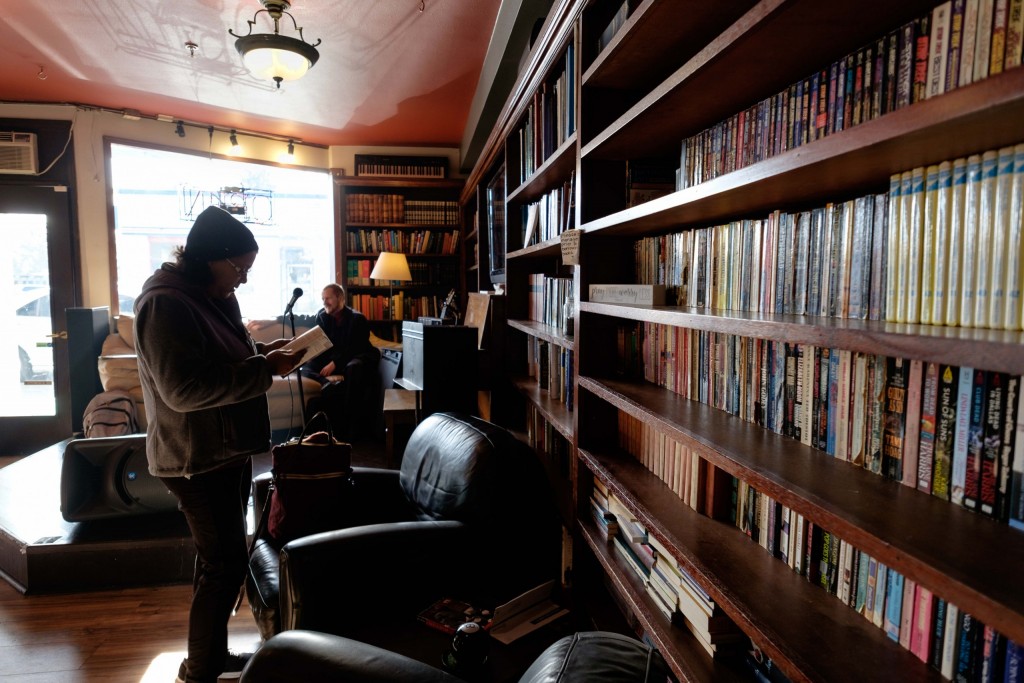 Gore grew up in Seattle, but ended up moving south in the mid-2000s when he bought a house in Tacoma and first opened his ice cream business in Parkland.
"It has its challenges, but I often compare Parkland to areas that I was familiar with in Seattle, like the Fremont District," he said. "Just this weird little area. I like it here."
However, it hasn't been the easiest of starts for Notes' Coffee Company. When Gore first purchased the shop in February, the shop was broken into and almost everything of value was stolen. Gore, who is black, has also experienced a string of racial roadblocks since opening the coffee house. A group of people with confederate flags crashed a concert he hosted in the space, causing Gore to shut down the shop for the summer. Another time, police had to be called to remove a man screaming racial slurs at Gore. Most recently, a customer made a racist remark to a barista working the counter.
"(Those incidents) really challenged me to think about whether or not I wanted to stick around," Gore said. "I thought about what it was I was trying to do and whether the community was really supportive of that.
"I had almost made a decision to let this place go. Then Melanie Morgan walked through the door."
Morgan, a newly elected State Representative for District 29, encouraged Gore to stay and pointed out that Parkland needs its black business owners. Her words came at the right time: Gore is here to stay, despite the less-than-welcome reception he's experienced so far. He's committed to turning Notes' Coffee Company into the student hangout and community partner that he dreamed it could be — remember, if you don't love it, you won't last in it.
"I want this place to be what it was designed to be," Gore said. "I want this place to be the community center it has always been. That's what I'm after. I've been disappointed (about the incidents), but I'm not a quitter. I'm not going nowhere."
Notes' Coffee House is open 8 a.m. to 3 p.m., seven days a week. Hours are subject to change.