Currently Reading:
Pacific Lutheran University's holiday event roundup
Pacific Lutheran University's holiday event roundup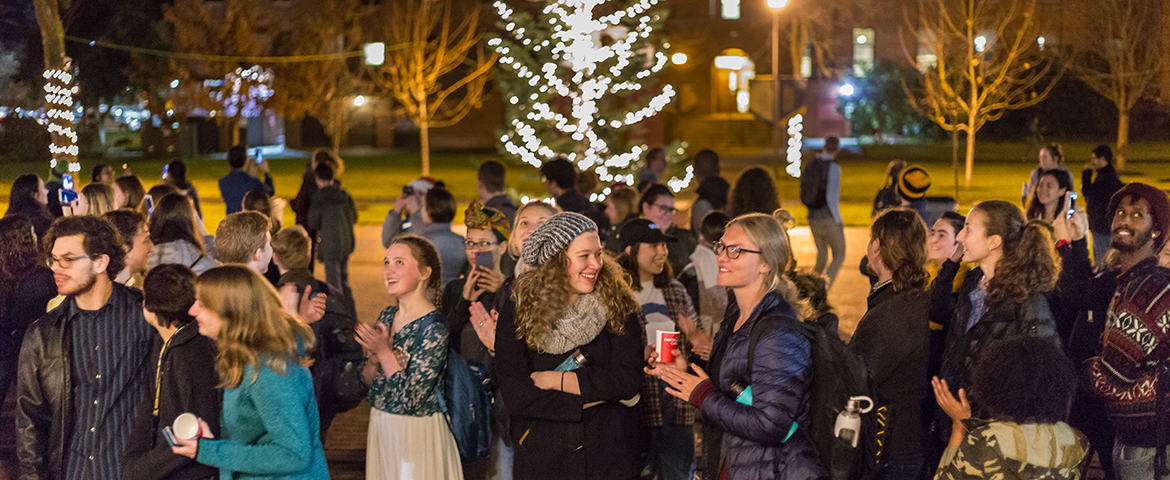 November 28, 2018
By Staff
Marketing & Communications
TACOMA, WASH. (Nov. 28, 2018) - Looking to get the festivities started early? Check out this roundup of holiday events held on campus this year.
Nov. 28: Celebration of Light
Pacific Lutheran University's annual Celebration of light, an exploration of religious and cultural aspects of the holiday followed by singing and lighting the trees around Red Square, begins at 4 p.m. Come enjoy this festive and inclusive celebration!
Dec. 3: A PLU Christmas in Seattle
Tacoma tickets for Winter Rose: A PLU Christmas Concert may have sold out, but there are still seats available for the Seattle rendition of the concert at Benaroya Hall! Come listen to the beautiful sounds of Pacific Lutheran University's The Choir of the West, University Chorale and University Symphony Orchestra as they help us celebrate the glory, hope, and peace of the Christmas season.
Tickets for the concert can be purchased through Benaroya Hall box office at 1-866-833-4747 or on the web.
Dec. 5: Advent Songs & Readings 
Come to the Ness Family Chapel for some festive songs, readings and atmosphere from 10:30 to 11 a.m.
Dec. 5: Norsk Julegudstjeneste (Norwegian Language Christmas service)
Join the SCC and Nordic Studies for a Christmas service in Norwegian! The service will be be held in the Ness Family Chapel, with a reception and traditional Norwegian pastries to follow in the Ness Family lobby. The event runs from 6:30 p.m. to 8 p.m.
Dec. 8: Nordic Christmas Banquet
Call or email the Scandinavian Cultural Center (253-535-7349 or scancntr@plu.edu) for invitations and prices to this Swedish Festival of Lights and Christmas-themed meal, starting at 5 p.m. in the SCC.
Dec. 11: Sankta Lucia
For more than 60 years Pacific Lutheran University has been celebrating Sankta Lucia. The tradition, most strongly celebrated in Sweden, honors a young woman who stood up for her beliefs and her family in the face of persecution. At PLU, the Lucia is chosen based on an essay and interview process where they show dedication, a sense of service and optimism.
This year, the celebration takes place at 6:30 p.m. in the Scandinavian Cultural Center, followed by a reception at 7:30 p.m.
Dec. 15-16: Women's basketball
PLU hosts the Pacific Northwest Tournament in mid-December, welcoming Nichols College, Cal Tech and the University of Puget Sound to Olson Gymnasium for some holiday basketball.