Currently Reading:
Shoebox Sharing: how one PLU alumna comforts those in need
Shoebox Sharing: how one PLU alumna comforts those in need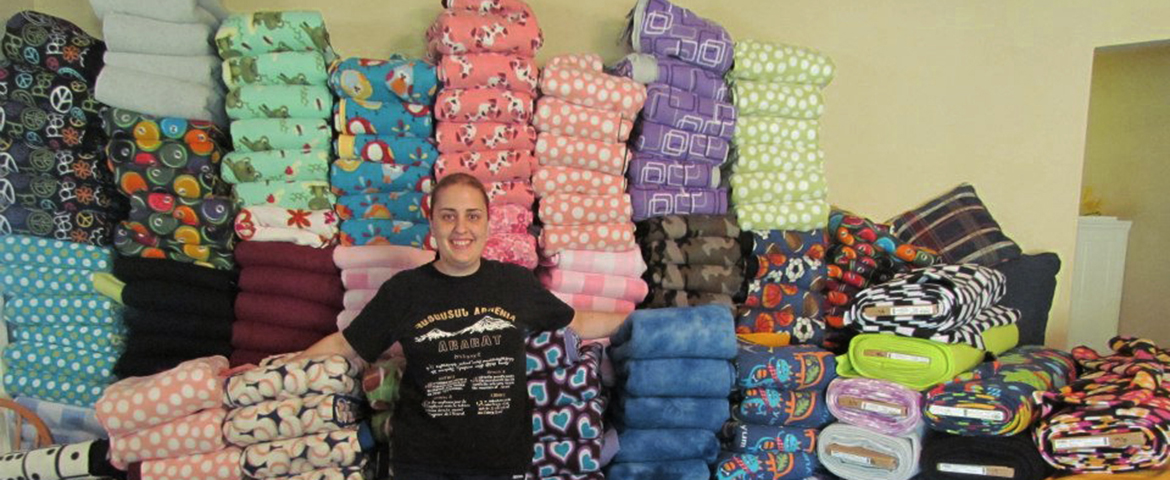 December 23, 2019
By Lora Shinn
Marketing & Communications Guest Writer
What if, by donating just an hour of your time, you could change someone's life.
Twenty years ago, while still attending her Central California high school, Kristina Garabedian heard about a pastor's intriguing invitation. The pastor asked church members to reach under the pews and fill shoeboxes stored there with donations for families in Mexico.
Garabedian thought about her recent trip to Armenia, her father's homeland, and the poverty she'd observed. For example, the Soviet-era apartment buildings in the central city only had water for one hour a day – and frequently lacked the pressure necessary to reach apartments up to 10 stories high. "People had to fill their buckets on the ground floor, then haul buckets up to fill a bathtub with water, which they'd use for drinking, bathing, cooking or toilets until the next day," she says. In winter, schools closed because there wasn't enough heat to keep kids warm.
So, at age 14, she created "Shoebox Sharing," a nonprofit 501(c)(3) that collected gallon-size containers of toys, toiletries and school supplies.
While studying as an undergrad at Pacific Lutheran University, she got hooked on a new Shoebox Sharing project: cozy, no-sew, fleece tie blankets. With fellow PLU students, she cut fleece from bolts of cloth, fringed two square pieces of fleece, then knotted them together using fringe around the perimeter. While attending PLU, she spent two to six  weeks in Armenia every summer, distributing blankets to a summer camp for children who've lost a parent or come from very low-income families.
"It's an easy project," she says. "If you can tie your shoes, you help make blankets that keep kids comfortable and warm."
At PLU, Garabedian learned skills she uses today – in speaking, organizing, communicating, managing logistics and leadership – while working as a tour guide for the Office of Admission, and with the Youth Leadership Institute. "All of those skills benefit you in the workplace," she says.
Shoebox Sharing Around the World
Today, Garabedian's organization makes over 600 fleece blankets for children annually — and next year, the organization will celebrate its 20th year.
For children in California, Mexico, Armenia, India, Romania, Rwanda and Bolivia, Shoebox Sharing's volunteer crews donated 9,000 fleece blankets, 11,000 scarves and 12,000 school supply packs. Blankets are delivered to a variety of locations, including women's shelters, foster children, NICUs, Ronald McDonald houses and children's hospitals — including the department that investigates abuse allegations, where children can choose to use blankets instead of a sheet during the exam.
Leftovers are braided into dog and cat toys, or stuffing for cat and dog beds. Garabedian is a canine fan, and shares her home with three rescues — a labradoodle, lab-great Dane, and lab-German shorthaired pointer mix.
While fleece tie blankets are made throughout the year, there's usually a big push starting on Black Friday weekend that continues through January. Garabedian uses crowdfunded and traditional donations to buy the fabric from Joann Fabrics.
Popular blankets include Disney princesses and Star Wars. "Kids overseas don't have the U.S. constructs about boy colors or girl colors, and they pick whatever they like," she says. "It doesn't matter what color you pick, because all kids love soft and cuddly."
Her mission is "children helping children to be children." So her home is often crowded with blanket-tying crews of softball teams, Boy Scouts, Girl Scouts and leadership students from a local Christian university. By December, blankets fill her living room on chairs, tables — every flat surface. "There are stacks taller than me," she says.
"I've had kids as young as 3 years old up to 92-year-old blind woman tying blankets," she says. Her Lutheran church creates piles of blankets during a post-Christmas service. Even a local Acura and Honda dealership's employees tied blankets, which were then delivered to a women and children's shelter.
Career-Volunteer Balance
At first, Garabedian thought she might work for an American business in China — she graduated from PLU with a triple major in business, global studies and Chinese studies. But she later decided to go to law school for a J.D. from San Joaquin College of Law in 2014.
To pay the bills and raise more cash for her philanthropic goals, she works as an attorney at CSAA Insurance Group. "I like helping people," she says of her work as a defense attorney.
"I want to get rich not to have a lot of things, but to give away money and help others," she says. "That's my priority."
Somehow, Garabedian has balanced work with more than 410 volunteer hours this year. In addition to time spent with her organization, she volunteers time on five other boards and two separate committees.
"Service is a big component of my life," she says. Her current employer walks the talk where volunteering is concerned, allowing employees to volunteer 24 hours for pay annually, rather than sit at a desk. "This company stresses work-life balance," she says. The usual hectic pace of a corporate lawyer might include 10-hour days plus weekends. "I might make more money at another law firm, but this fits my personality and priorities for my life."
Ultimately, Garabedian's service through ShoeBox Sharing brings her joy.
"More than just having a physical item, a blanket shows children that someone else in the world cares about them, even someone they've never met," she says. "Children are the section of the population least able to help themselves."