Currently Reading:
Kristina Walker '02 on running for office, loving Tacoma, and city council goals
Kristina Walker '02 on running for office, loving Tacoma, and city council goals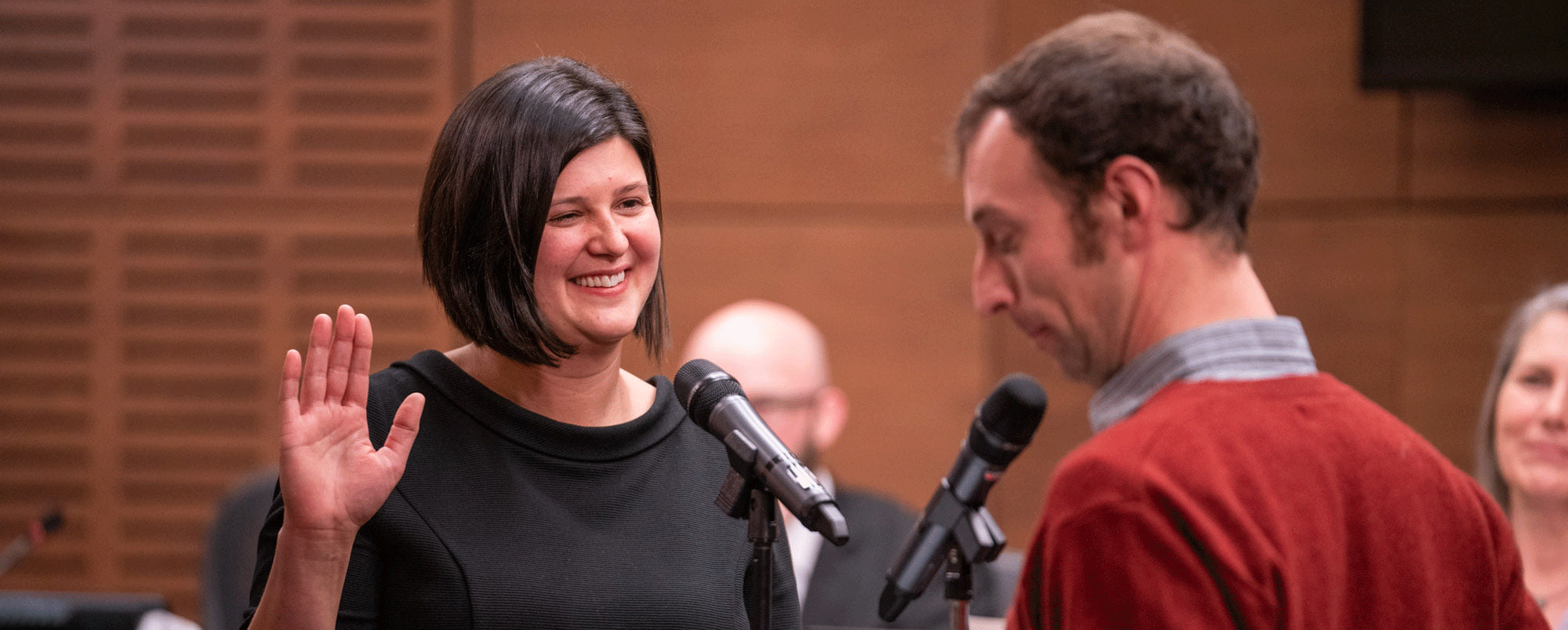 January 8, 2020
By Lisa Patterson
Guest Writer for Marketing & Communications
TACOMA, WASH. (Jan. 8, 2020) — At about this time last January, Kristina Walker '02 got The New York Times' special insert that featured all 126 women who had been sworn into Congress. It ignited a fire inside of her — it was that thing Oprah Winfrey famously coined her "aha" moment.
"These are amazing women who stepped up to serve, who have kids and other things in their lives too. And I thought, 'If they can do it, I can,' Walker reflected. 
Walker, who is executive director of Downtown on the Go, a nonprofit that advocates for transportation alternatives in and around Tacoma, ran for Tacoma City Council Position 8 and won. 
"There were a lot of things — and people — that went into my decision to run," she said. "This year, there was an open seat and a moment where I felt like my skills would be useful on the council. Like many people, I want to make change to be more inclusive and equitable in our cities and our society. Running for local office was/is my way of stepping up and working for change."
The married mom of two (her husband is Alex Walker '03) was sworn in on January 7.
We caught up with Walker to learn more about what it was like to run for public office and how PLU prepared her for this journey:
What was the experience like running for public office?
It was filled with every challenge, every emotion, and so many interesting stories — I could write a book! But overall, it was an incredible way to get to know my city and my community. Walking every inch of this city certainly made me very aware of the inequitable way that investments have been made in Tacoma and makes me want to fight for change even more. Responding to endorsement questionnaires and doing endorsement interviews was incredibly time consuming but was a great way to get to know organizations and their priorities. The forums were challenging but were a great way to get to know what some members of the community care about. And meeting people at their doors and asking what they care about took hours and hours and hours but was a great way to get to know the voters. Ultimately, I think running for office was the best practice for the job — but ask me again in a few months!
What were some moments during the campaign that stand out in your mind (good, bad or strange)?
There are elements of all three! I really enjoyed talking to people and doorbelling was such a great way to get to know the city. The hardest part was being "on" all the time and being asked to be an expert on issues that I had only just heard about. People expect candidates — especially women — to be superhuman.
How did experiences at PLU prepare you for this political journey?
I think having a liberal arts degree gave me a taste of a little bit of everything, taught me to be a good listener and a curious learner. And I certainly built my confidence as a leader in general at PLU. So much of the work of a political campaign is about listening and asking questions and genuinely caring about people, and to me that's what PLU embodies.
PLU drew you to Tacoma. What made you decide to plant your roots here and get so involved?
I love Tacoma. It originally happened accidentally, but after a year working in downtown Tacoma after graduation, I knew Tacoma was home. I grew up in a small town in Minnesota and I always knew that I wanted something bigger, but I also love the sense of community that I experienced in a small town. Tacoma is the perfect size for me. A big small town. A small big city. I've always felt like I have opportunities here that I wouldn't in a bigger city, and I want to make that possible for all people. We have the wonderful things that come with a beautifully diverse city. But we're also dealing with real-world issues that come with growth, a big economy and lots of people. I love that challenge and I have always felt called to be part of addressing those challenges.
Describe how election night felt.
A There are no polls in local races. I was confident we did all we could, reached as many people as I could, and shared my story and my platform. All we could do was wait for results, with the understanding that it was very possible that not enough votes would be counted to know the results that night. When we saw the first drop of results come in at 8:15 or so with a large enough margin to win, it was first a huge sense of relief and then a huge sense of pride … it was awesome and overwhelming hearing from so many people that night about how excited they were to work on things together. Being on the council is a team sport.

Now that you have won, you have work to do! What are some things you are most excited to accomplish in your new role?
I have a lot to learn quickly — about process and policy-making, and my new colleagues and how we're going to work together. Figuring out a work-life balance for me and my family is part of that learning curve. I want to make sure that I'm representing all Tacomans, so I want to make sure I'm still taking time to listen during the policy making like I was on the campaign trail. (Those key goals include improving walkability in neighborhoods, and building a connected network of multimodal trails; expanding opportunities for kids and opening up communication channels with them; and making it easier for people to get involved in local government so they have representation and voice.)
What advice do you have for current students and alumni who may be considering running for a public office someday?
You can and should do it! It matters that people run for office at all levels and that people serve as elected officials. Representation matters and, as you know, our elected bodies are alarmingly unrepresentative of the gender and race of our communities. I recommend volunteering for other candidates' campaigns, talking to other candidates and getting involved in local political groups. There are a lot of great trainings, particularly for women, that are a great way to learn, build a support group and meet great people. It takes a village. I couldn't have done it without an incredible campaign team, a supportive partner, my parents and sister, and many, many friends, new and old, who propped me up along the way. It was really, really important for me to have a support group of other women running to bounce ideas and frustration off of.