Currently Reading:
PLU ROTC recognized with MacArthur Award for 2019-20 excellence
PLU ROTC recognized with MacArthur Award for 2019-20 excellence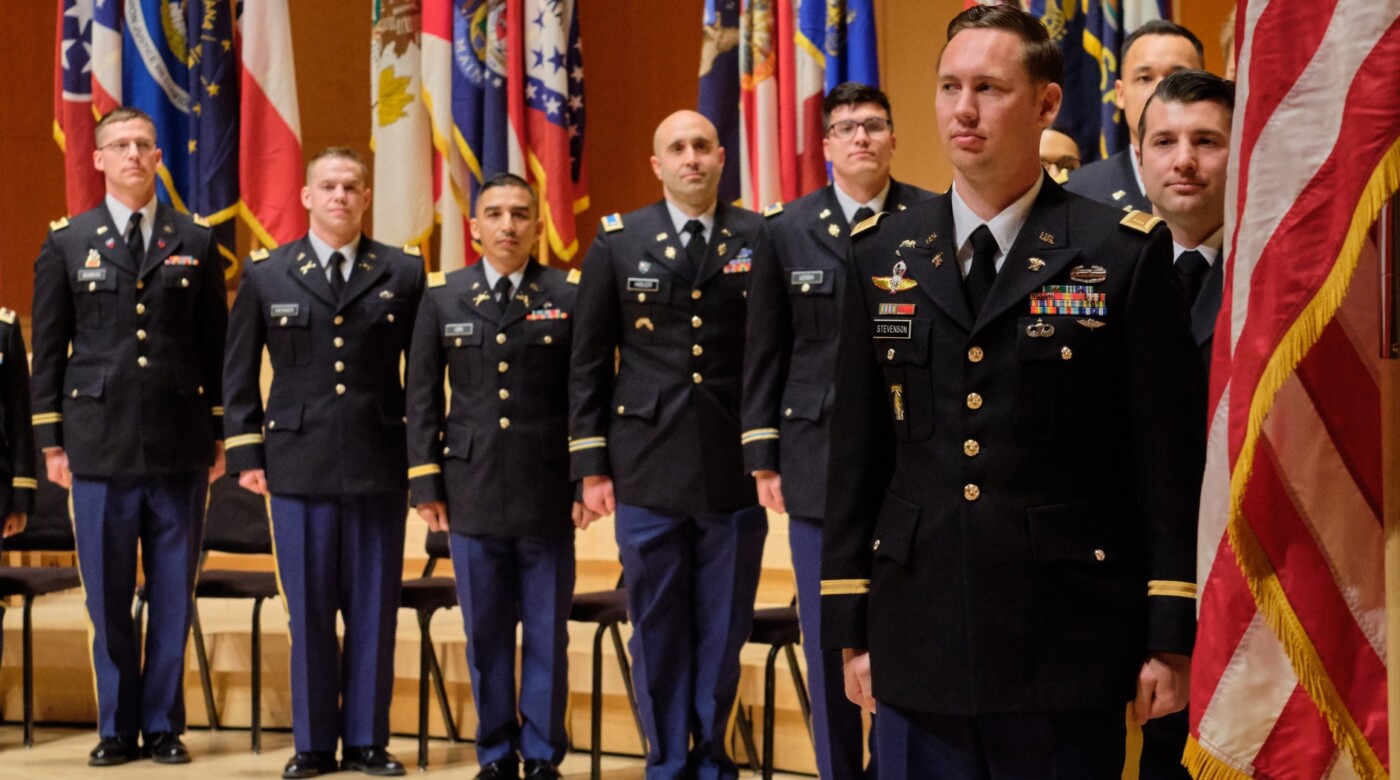 January 17, 2020
By Ernest Jasmin
Freelance for Marketing & Communication
Pacific Lutheran University's Reserve Officers' Training Corp has been named one of the best in the country. PLU is one of eight colleges to be recognized by the United States Army Cadet Command and the Gen. Douglas MacArthur Foundation with a MacArthur Award for the 2019-20 school year.
There are 274 senior Army ROTC units across the country, divided into eight brigades. PLU was named the top school in the 8th Brigade, which covers Washington, Oregon, Idaho, Alaska, Hawaii, Guam, Montana, California and Nevada.
This is PLU's fifth time receiving the award, with previous wins in 2010, 2012, 2013 and 2018.
"Winning this award five times in 10 years … makes me extremely proud," said Michael Farnum, PLU's director of military outreach. "When our ROTC cadre and staff are meeting with a prospective cadet and their family, they can confidently say to them that PLU is one of the top ROTC universities in the nation."
The MacArthur Award recognizes the ideals of "duty, honor and country," and it is based on the achievement of the school's commissioning mission, its cadets' performance and standing on the command's National Order of Merit List, and its cadet retention rate.
"Receiving this award just shows the quality of the cadets that we have here in our ROTC program,"said Nate Boling, an assistant professor of military science and Army veteran who earned his MBA from PLU in May. "I think it shows the hard work and dedication of our cadre, the ROTC professors of military science, and then our civilian staff that we have here to support us."
The prestigious award has come up frequently during surveys of why cadets chose PLU, but recruits are also drawn by the wide variety of leadership opportunities that the school provides. Senior cadets, for example, are largely responsible for training their younger peers.
"They're getting ready to graduate from school and become commissioned officers," Boling said. "So they take over the training of the younger cadets. They lead labs, which are basically training here on campus, and then we also do what's called field training exercises, where we go out to JBLM (Joint Base Lewis-McChord). The senior-level cadets are part of the backbone of the program."
The other recipients of this year's McArthur Awards are the University of North Georgia, which represents Cadet Command's 1st Brigade; Slippery Rock University, which represents the 2nd Brigade; Washington University (3rd Brigade); Georgetown University (4th Brigade); Northern Arizona University (5th Brigade); Florida State University (6th Brigade); and Austin Peay State University (7th Brigade).
The awards have been presented every year since 1989.