Currently Reading:
Amy Spieker '09 on community health advocacy, service and building relationships
Amy Spieker '09 on community health advocacy, service and building relationships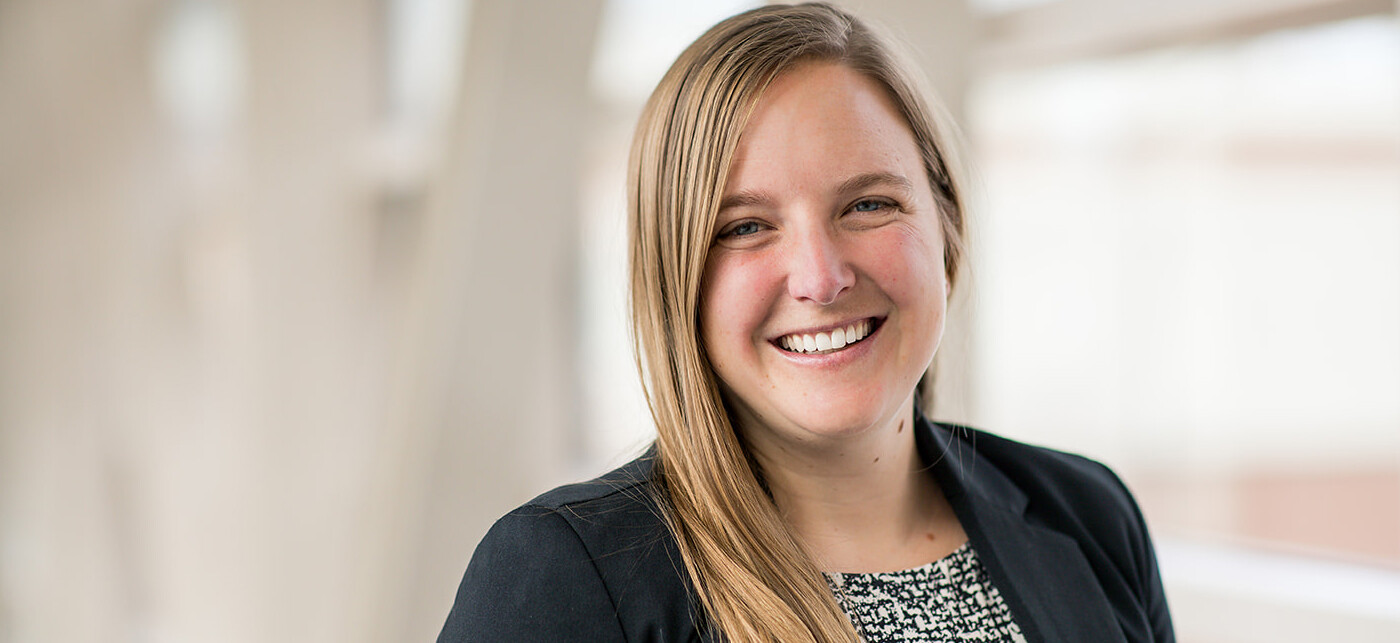 February 18, 2020
By Lisa Patterson '98
Marketing & Communications Guest Writer
TACOMA, WASH. (Feb. 18, 2020) — If you've ever wondered whether leaders are born or made, the answer is both. At least it is when you're referring to Pacific Lutheran University graduate Amy Spieker '09.
Growing up in a Navy family, Spieker moved her fair share of times, and in doing so was able to meet a lot of different people. She graduated from Central Kitsap High School in Silverdale in 2005 and excelled in basketball there, netting a scholarship to play at PLU.
It was lessons both on the court and in the classroom that shaped her for the career she has today as director of Community Health and Analysis at Cheyenne Regional Medical Center's Institute for Population Health in Wyoming. In her role, she helps build partnerships between the hospital and the community to address all kinds of health needs – from substance abuse to suicide and more.
Spieker's presentation, "From PLU to Public Health," is from 6:30-8:30 p.m. on Feb. 18 at PLU's Xavier Hall, 101.
We caught up with Spieker to talk about her career, her campus visit and the secret to her success. Hint, there is no "I" in team.
You have a big job — tell us a bit about what you do.
I love it and feel like I get to be a part of exciting work that makes a difference. I see three main parts to my work with the hospital.
The first is my role in conducting the community health needs assessment and health-improvement plan with our community partners. All nonprofit hospitals are required to do this every three years under the Affordable Care Act. This is critical work, as it brings our community together to decide what are the biggest issues impacting health in Laramie County.
Second, I get to work within the hospital to acquire grants and work with existing programs to address those identified needs.  We were awarded a Department of Justice grant this year to implement Law Enforcement Assisted Diversion (thanks for starting this program, Seattle!) here in Cheyenne to help individuals struggling with substance abuse, through a harm reduction approach, find the support they need to achieve the goals they identify for themselves.
Lastly, I get to lead the Laramie County Community Partnership.  This is a group of more than 65 community partners that include health and human service, governmental, nonprofit and faith-based groups that come together to identify ways we align our work and fill gaps to address the issues together that were identified in the needs assessment.
What is the most rewarding part about your career? 
The most rewarding parts of my work, by far, are the relationships that are built doing this work. It is incredible to see how many people believe in our community and will go above and beyond to contribute to a shared vision. I believe trusting relationships are the foundation to all the good work that we can accomplish.
What is the most challenging?
The work of public health is complex. There are few silver bullets out there to solve major problems like suicide, substance abuse and isolation. This can mean sometimes you feel like you are spinning your wheels or the interventions you are trying seem inadequate. It can also mean that sometimes the change you want to see happen has to come at a high level — that can take years. I have definitely learned to celebrate small wins against these very stubborn problems.
 You've accomplished a lot and were named "40 Under 40" in the Wyoming Business Report. How did that feel?
Honestly, I was very surprised. It was incredibly thoughtful for someone to take the time to nominate me. I also immediately thought of all the people that have supported me in this work.  Working in public health is something that you can't do alone by definition. I also think it felt really validating that the things I was trying to do were meaningful to other people in my community and that I was keeping things on track in my first year in my new role.
How did your time at PLU help prepare you for your life today?
I think PLU was the first place that I was really introduced to the idea of social justice. I remember reading about apartheid and the Palestinian-Israeli conflict and really becoming aware of the hatred and injustice in the world. Dr. (Karen) Travis introduced me to public health and showed me a way to use my skills in a field that I was passionate about. My ways of thinking were influenced by my economics classes, I often stop and think about the incentive structures that are leading people to make certain decisions, or about the economics of prevention. I also reinforced my value of teamwork.
I didn't really get to play much my first two years on the basketball team, and this really expanded my definition of what it means to contribute and build a team. It has helped me recognize all the players behind the scenes that make all that we do function.
Lastly, I think PLU gave me the space to think about big problems and think that I had skills to bring to the table to help address them.
What advice do you have for Lutes, both present and past, who may also hope to accomplish things that may seem insurmountable on the surface? 
Things that are insurmountable often don't have one right answer or one person that can solve them. Working with people of different backgrounds and skillsets can be a challenge, but when done well, it allows for new ideas and a series of steps and mini-solutions to unfold that hopefully make the problem look a little less insurmountable.  Work on being a convener.
What motivates you? 
A couple years ago I had a chance to sit down and write a personal mission statement and define my values. It's a thing I would highly recommend people take the time to do. During that process two things really stand out as motivating me. One is people. I want people to be cared for, respected, and have the opportunity to reach their highest potential. I also really value my relationships with people and those individual relationships motivate me, too. I see my role as trying to connect people and do what I can to remove systematic barriers that prevent them from reaching their potential.
The second is that I want things to be fair. As a white, hetero, cis-gendered, able-bodied, upper-middle-class woman, there are many things that I unfairly benefit from. The process of learning about that privilege and what it has afforded me has been challenging and eye-opening but is also a call to action. Thankfully, my profession of public health aligns with my value of fairness and centers the importance of addressing the disparities in where people live, learn, work and play.  I see it as my charge to point out where those disparities are in our community and pull the right people together to help address them.