Currently Reading:
Act Six scholar Andre Jones '22 grows leadership skills through outreach
Act Six scholar Andre Jones '22 grows leadership skills through outreach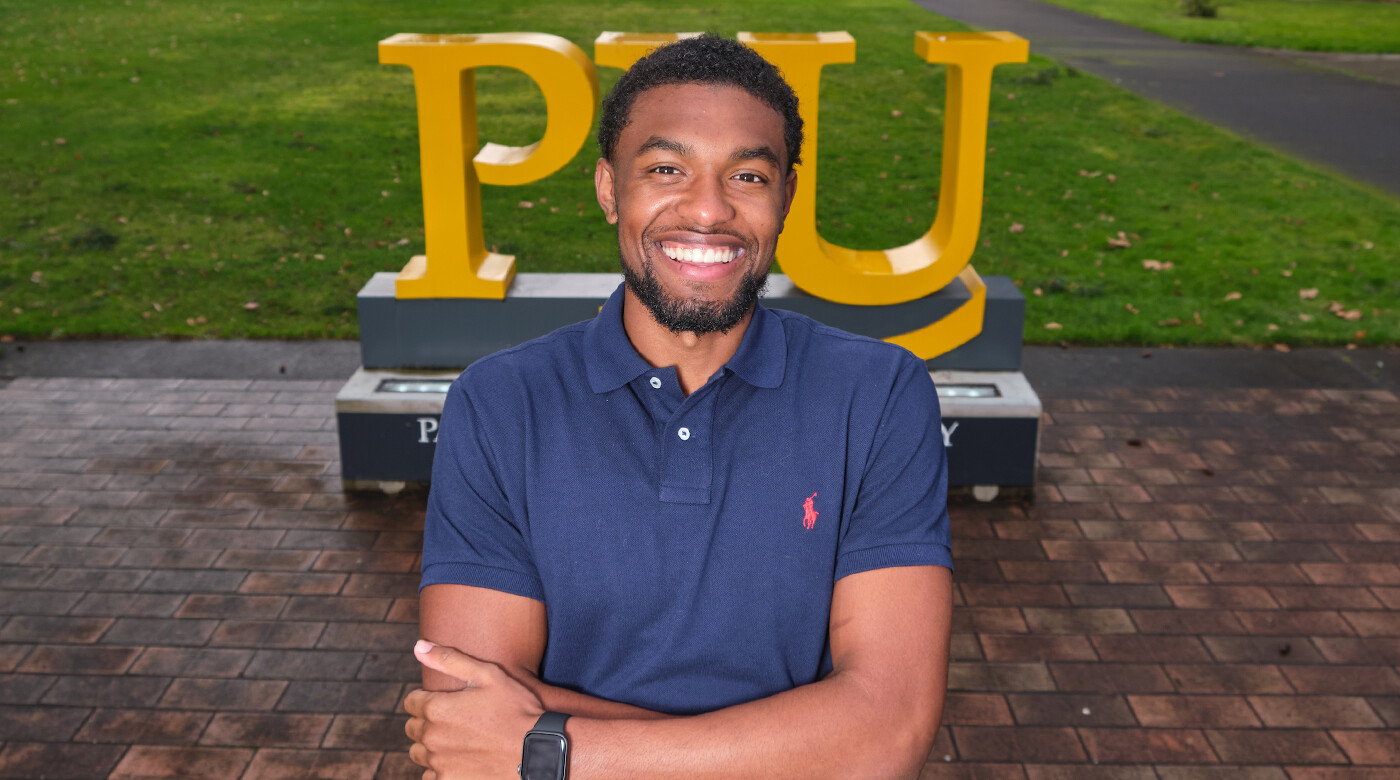 February 2, 2021
By Veronica Craker
Marketing and Communications
When it came time to find a college, Andre Jones '22 had options. He considered attending a historically black college or university, like Howard University or Morehouse College. Fortunately for PLU, the Tukwila, Washington native found himself pulled closer to home. His choice of schools narrowed after he was awarded an Act Six Scholarship. PLU is one of five universities affiliated with the program that offers leadership training and scholarships for emerging urban and community leaders.
"One of my mentors in high school was an Act Six recipient," Jones said. "But they left my freshman year, so I was never introduced to  PLU or Act Six until my senior year." 
After learning more about the university located just 30 miles south of him, he decided it was the school for him. Aside from having the major he wanted to pursue, it was far enough away from Tukwila to feel like he was going off to college, but close enough to home that he could easily return for visits. 
Founded and run by the Tacoma-based nonprofit Degrees of Change, the Act Six program identifies and rewards scholars who are passionate about learning, eager to foster intercultural relationships, willing to step out of their comfort zones, committed to serving those around them, and want to use their college education to make a difference on campus and in their communities at home.
"Just their presence in the classroom brings a diverse perspective," Melannie Cunningham, director of multicultural outreach and engagement at PLU, said of Act Six Scholars at PLU. "I look at the group of students we have and every one of them is unique in their own way — they have some amazing qualities."
A graduate of Foster High School in Tukwila, Jones is majoring in Global Studies with a minor in Hispanic studies. During his time at PLU, he has studied abroad in Mexico and has been involved in a number of clubs, including the Black Student Union and the Lute Nation step team.
Jones is an advocate for the Act Six program and says he appreciates how it brings students like him into spaces on campus that typically lack representation.  
"We take up space and we normalize (students of color) presence on campus," he said. 
Through Act Six, Jones is building his leadership skills by engaging with the local community. Jones says he saw his leadership skills grow while participating in the Big Buddies program with local kids. 
"I grew up with my grandparents and they ran a daycare so I was always around kids and babysat," Jones said. "I always really enjoyed working with kids, so the buddy program is where I felt comfortable. That's where I felt my leadership was at the best."
PLU has certainly benefited from his presence, but Jones says he has gained a lot from interacting with his fellow Act Six recipients. He credits them for snuffing his fears of studying abroad.  
"I was really scared to go study abroad, but one of the benefits of being an Act Six student is we have a cadre or cohorts," Jones said. "Your cadre is a group of other Act Six students who support you — it's like a family. A lot of them studied abroad and said, 'no bro, it's not scary, go you will have fun' so that gave me a lot of confidence." 
Now he's ready to offer advice to students who are making their own decisions about college. He encourages them to not be afraid. 
"You guys aren't alone," he said. "A lot of my fellow cadre members, who came to college were leaving home for the first time. Everyone you meet is most likely scared as well. You're not going to be alone when you are going through this. Whether you go to PLU, Morehouse, Howard, or whatever, it's OK, you're not alone."