Currently Reading:
Simulating for Success
Simulating for Success
PLU's new center uses 21st century tools to teach next-gen nursing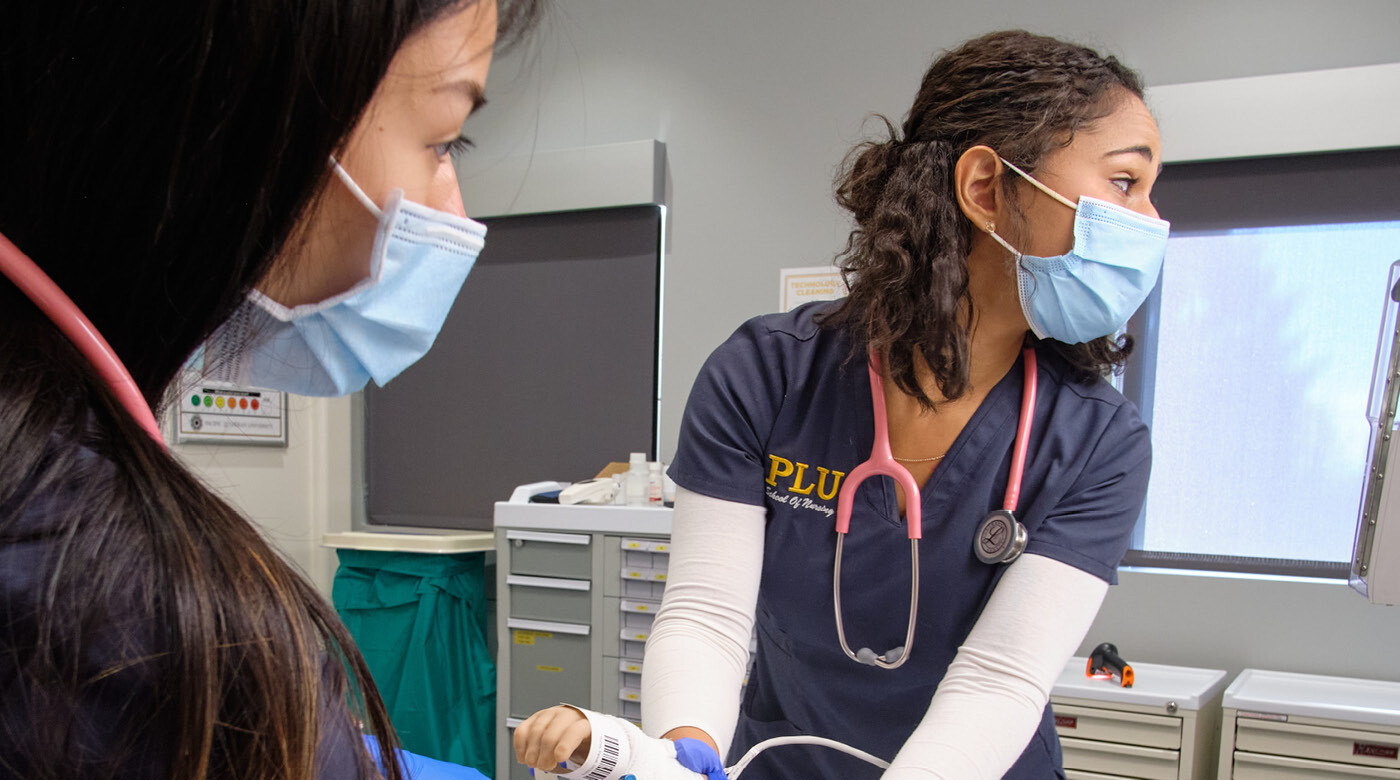 November 1, 2021
By Lora Shinn
ResoLute Guest Writer
A pair of nursing students in grey scrubs knock on the door, wash their hands, and greet little Jillian, who rests in a bed connected to beeping monitors. The child opens her eyes and whimpers, then coughs. As the students listen to Jillian's lung sounds, the patient moans in pain as her breathing becomes more labored. The nursing students work quickly but carefully — this is a dangerous situation.
Outside the room, fellow students and an instructor watch behind a one-way mirror and on a livestream. The students miss a step and their instructor asks the simulation technician to increase the patient's breathing. The technician dials in the corrective change and Jillian, a state-of-the-art manikin, begins to breathe easier.
The exercise unfolds in one of the two simulation suites inside the PLU School of Nursing's new Clinical Learning and Simulation Center. Located on the corner of Garfield Street and Pacific Avenue in the building that formerly housed the PLU bookstore, the 16,000-square-foot center will help PLU respond to a critical public need, as Washington state is facing a drastic shortage of nurses. There is a growing demand for bachelor- and graduate degree-prepared nurses fluent in both technology and leadership to address the complex and rapidly changing healthcare environment. PLU is known for producing excellent nurses — resulting in 100 percent of nursing graduates gaining employment within six months of graduation.
Funded by individual donors, foundations and community partners, the center doubles the space available to nursing students, preparing them for their careers in a wholly modern way. In addition to the suites, the bright, spacious facility contains a student lounge, a 96-seat classroom, and another 48-student room with four screens, a video conference camera, and a projector to accommodate hybrid learning.
The Center's Clinical Learning Lab is set up to mimic a contemporary hospital environment. In the medication room, students can practice dispensing medications according to patient records. In the lab, lifelike manikins can be set up in 16 hospital-like beds with functional headboards. A whiteboard near each patient provides an opportunity to provide information and a plan of care for each patient. But it's the simulation lab experience that seems to especially inspire students — and keep them up at night.
Starting in the fall of 2020, students began working in pediatrics and OBGYN simulations. Nursing major Rion James Bird '21 still remembers his first simulation lab scenario — caring for a baby with a cleft palate. First, he shared the news with a pregnant mother manikin about her child's diagnosis, then helped the mother support the infant manikin with feeding modifications and emotional support. The patient manikins, who can breathe and blink, are voiced by an instructor outside the room, watching the scene unfold.
"The experience provided some safety but still triggered strong emotions," Bird says. "With this physical presence in front of you and the clock ticking, someone's life is in your hands."
Students often attend simulation labs in groups of eight, accompanied by their instructor and a lab technician. They gather in a simulation suite that is set up to resemble the high-tech healthcare environment many of them will quickly find themselves in following graduation. Then, in groups of two, they navigate 20-minute procedures while their instructor and peers observe from the nearby debriefing room. After the scenarios are complete, the students discuss what went well, what could've been done differently, and how to translate the experience to a real-life scenario.
This approach to nurse training is similar to how commercial pilots train on flight simulators — with opportunities to learn, test and master skills. The manikin experience offers a safe, less-threatening environment that allows students to assess the patient, prioritize care and apply critical thinking skills.
"The experience provided some safety but still triggered strong emotions. With this physical presence in front of you and the clock ticking, someone's life is in your hands."
- Nursing major Rion James Bird '21
While many of us are familiar with low-fidelity manikins used in CPR classes, high-fidelity manikins can be programmed with hundreds of interactive scenarios and medical conditions. For example, a manikin with asthma might display rapid breathing, wheezing and color changes.
Nursing major Linda Awuah '21 remembers the first time she heard a manikin make a little "oh" sound when touched. "It sounded real. I wasn't expecting it at all."
A manikin can show signs of dehydration or suffer a sudden seizure. High-fidelity manikins even allow IV and catheter insertions, blood draws and throat and nose suction. In one exercise, a pregnant manikin carries a manikin baby that can come out through the birth canal in a simulated labor sequence, while students monitor the health of the baby and mother.
"Students get exposure to certain medical emergencies they might not encounter during their clinical experience," says Carrie Park, PLU School of Nursing pediatric clinical instructor. "Simulation prepares them for even uncommon events."
Adjustments made mid-simulation by the control room can sometimes create startling outcomes. One afternoon, Awuah's pregnant patient hemorrhaged with real fluids and eventually died. It was an alarming event, and Awuah was devastated despite an encouraging post-session debriefing. She went home upset with herself, but also feeling grateful for the experience.
"It's so real, words can't describe it, and it sets you up for the real world," she says.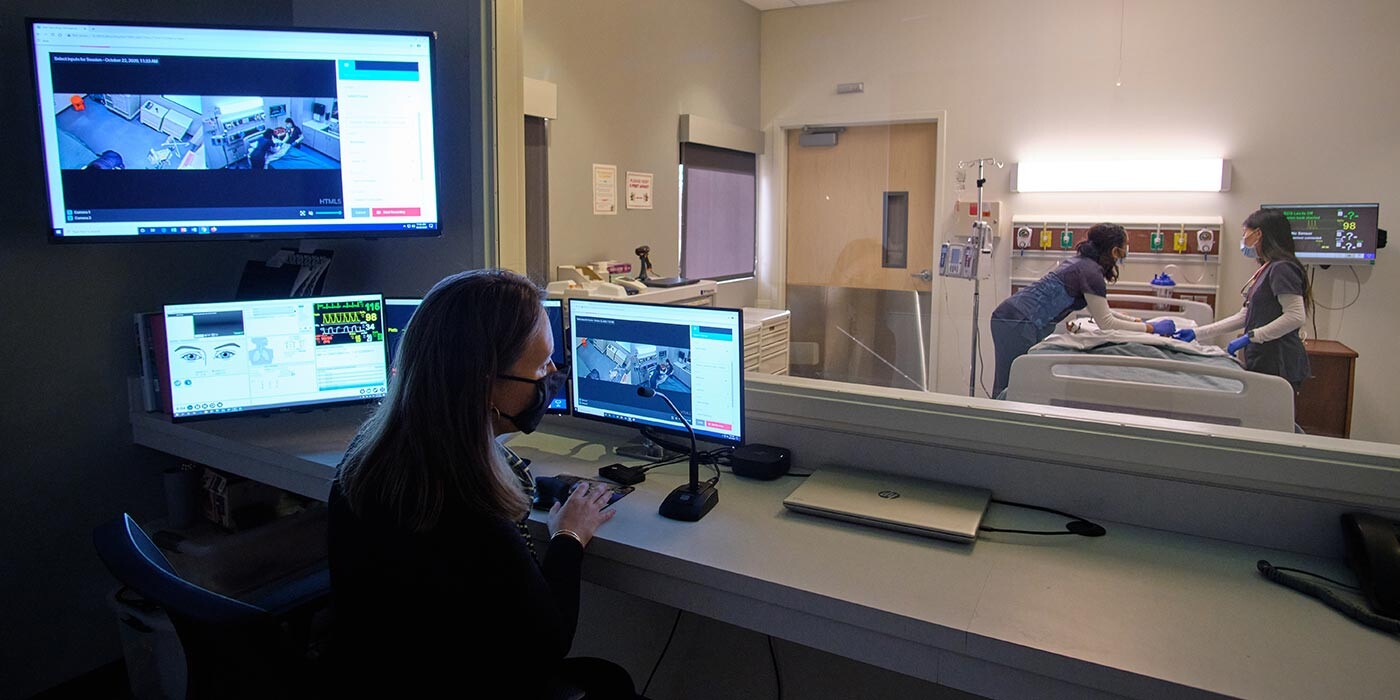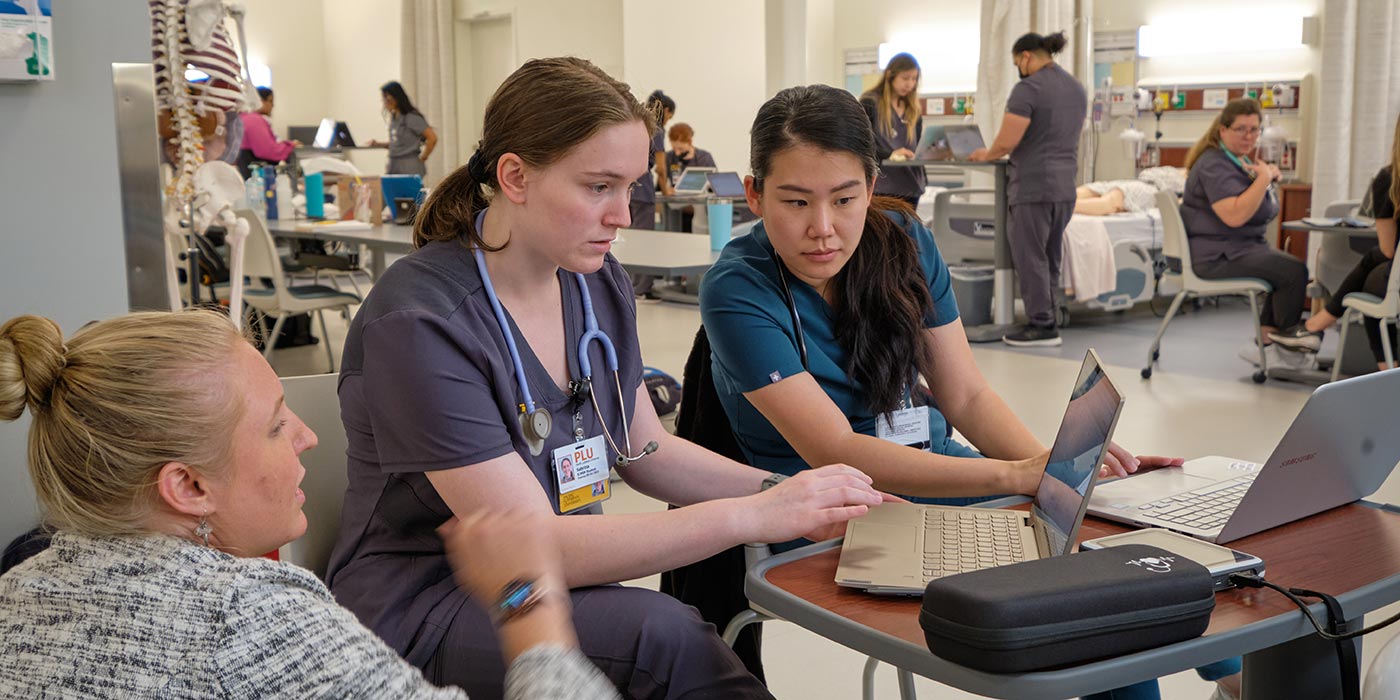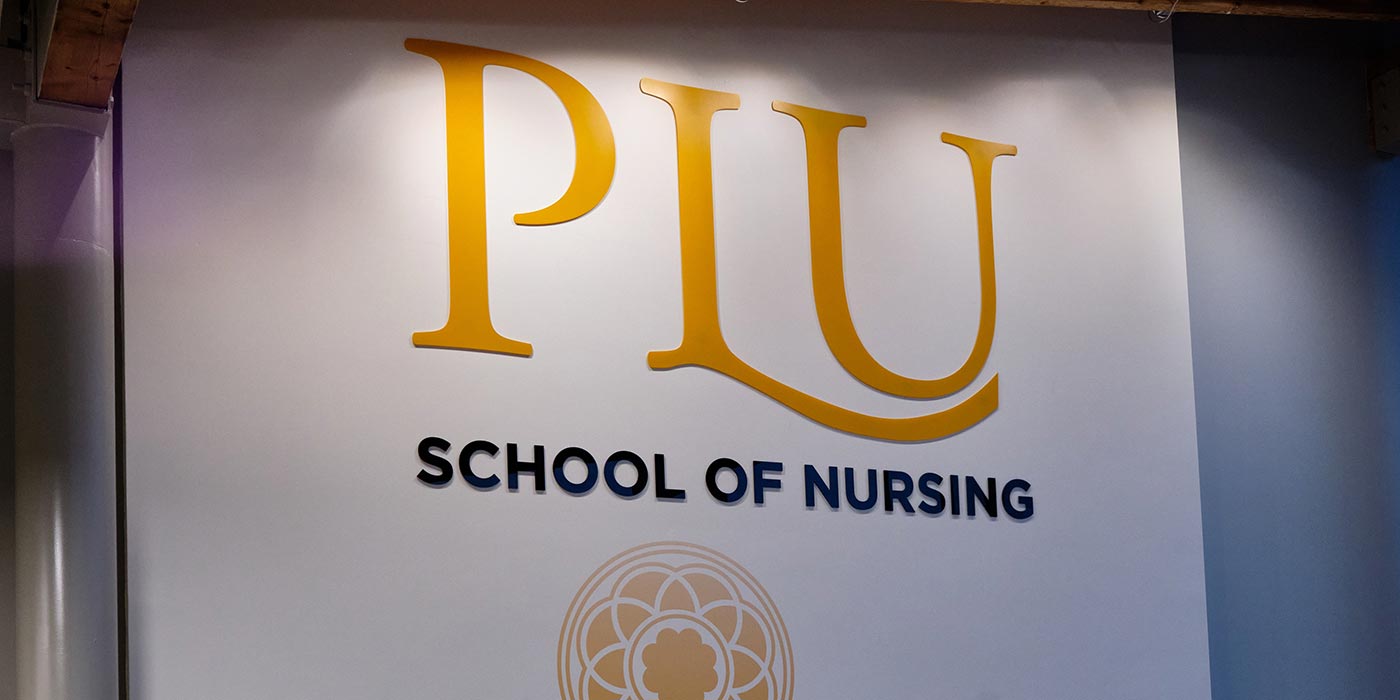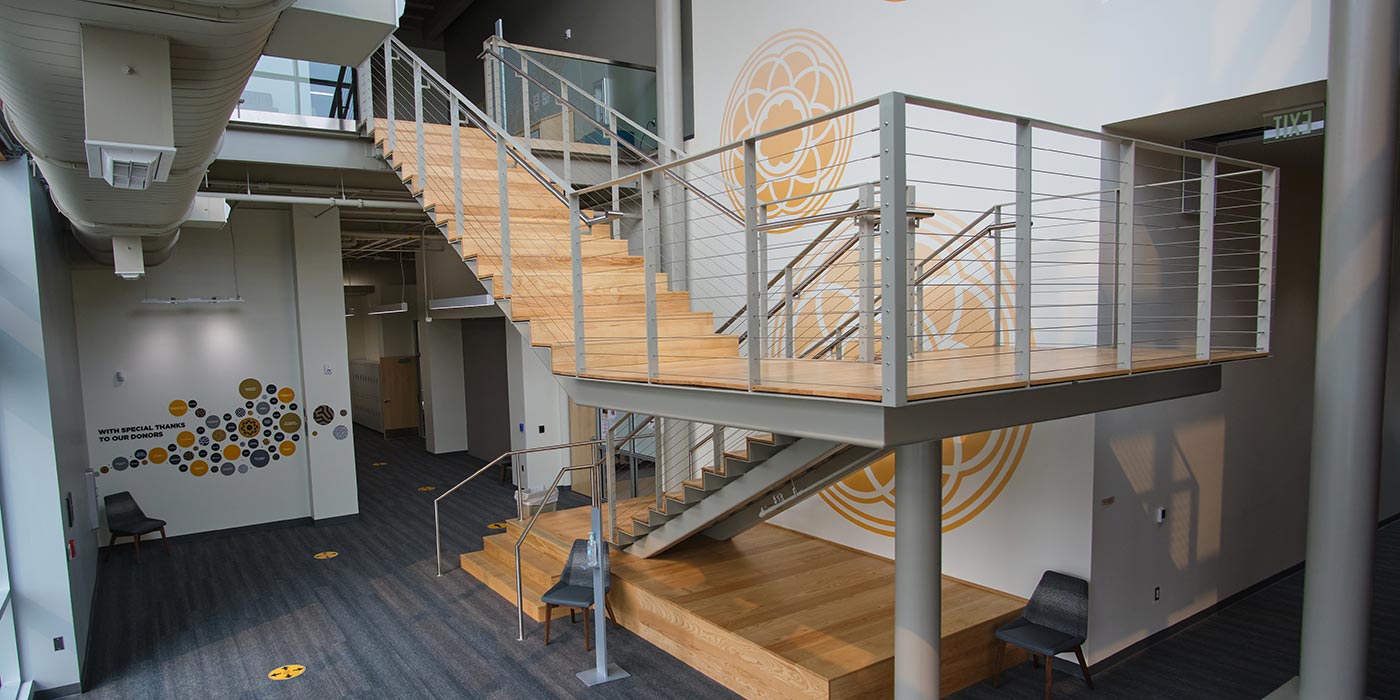 There's a lot of prep behind the scenes. It takes months to write and develop scenarios. After tweaks, the scenario is programmed into the manikin's operating system, which communicates through the computer in the control room.
However, scenarios might be adjusted further based on student responses and reactions. "I'm constantly troubleshooting to make the scenarios better," says Jodi Kushner, the simulation director for the Clinical Learning and Simulation Center. The current cast of interactive manikins includes two adult men, two adult women, a birthing mother, a child, and a baby. Some of the manikins have skins that can be replaced to simulate different ages and also simulate a transgender patient.
"PLU has an outstanding reputation in the Pacific Northwest for producing high quality nurses. This new center ensures that our students will get the practice they need and uphold this reputation for decades to come."
- School of Nursing Dean Barbara Habermann
Dressing the manikin might involve street clothes or a hospital gown. Preparing the manikins for their simulation might include adding a "moulage" or mock injury. Pre-made latex can act as a wound, makeup could simulate blood or a bruise, and green baby food in a diaper might indicate diarrhea.
Kushner says that preparing for the unexpected isn't all that different from real-world clinical experiences.
PLU School of Nursing (Photos/John Froschauer)
"It's giving us the ability to present scenarios that aren't guaranteed to come up clinically, including high risk-scenarios that you want a student to be educated in how to handle," says School of Nursing Dean Barbara Habermann.
Research indicates that more higher-level decision-making happens in simulation than in a clinical setting, Kushner says. In a clinical setting, students are often involved in care but are accompanied by a nurse who makes most decisions. In a simulation lab, the students are assessing the situation, interpreting data, and making decisions.
Thanks to the new technology and the additional space provided by the center, Bachelor of Science in Nursing students at PLU will now benefit from a nursing curriculum that is at least 25 percent simulation experience, compared to an average of 10 percent in the previous location.
"PLU has an outstanding reputation in the Pacific Northwest for producing high quality nurses," concludes Habermann. "This new center ensures that our students will get the practice they need and uphold this reputation for decades to come."