Currently Reading:
People's Gathering fosters timely conversations about race, perspective and inclusion
People's Gathering fosters timely conversations about race, perspective and inclusion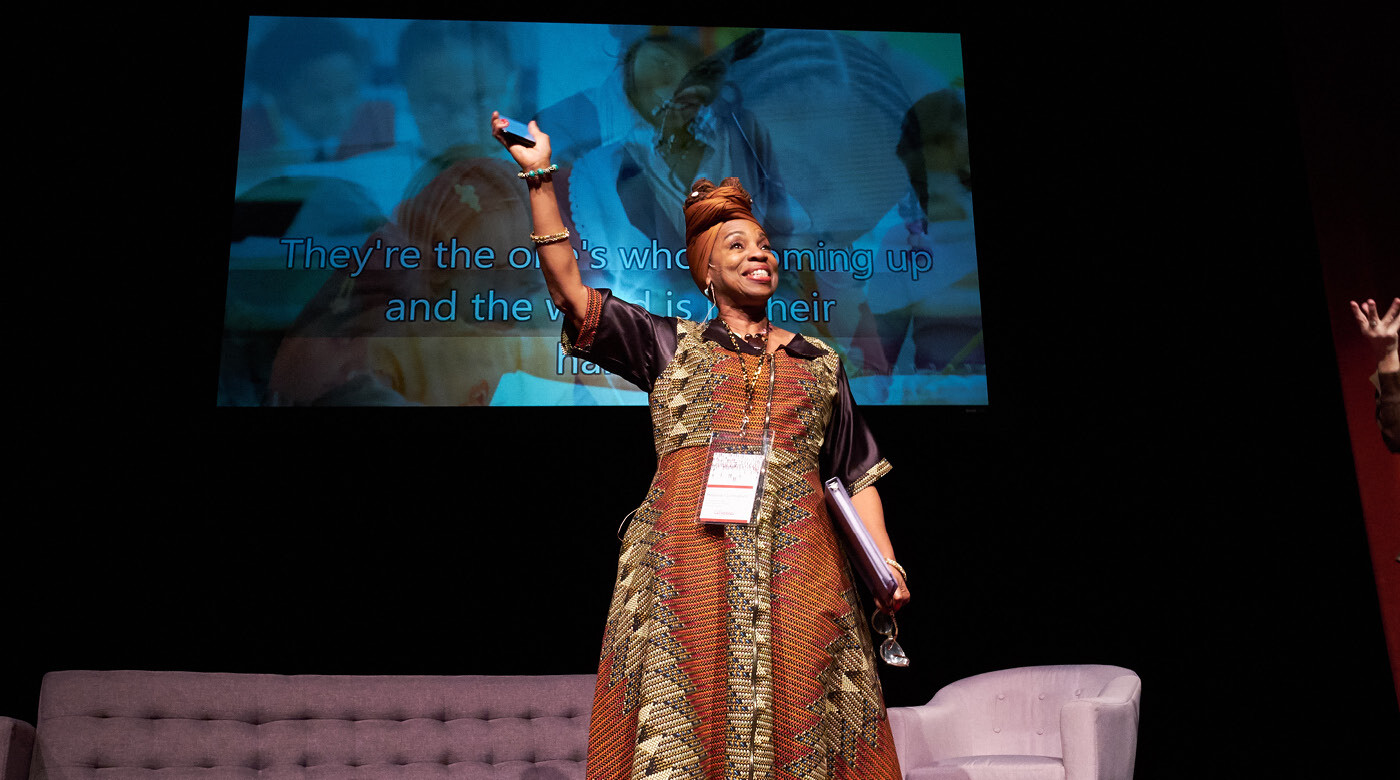 November 1, 2021
By Silong Chhun
ResoLute Writer
PLU Director of Multicultural Outreach and Engagement Melannie Denise Cunningham has an uncanny ability to get folks talking.
In 2016, she noticed the community was yearning to discuss one pressing topic in particular. That summer, the news of Philando Castile, a Black man fatally shot during a traffic stop by a police officer in Minnesota, topped newspapers and social media news feeds. Cunningham watched as friends from a wide range of backgrounds struggled to engage the challenging topic of systemic racism.
To address the need for a deeper understanding of race relations in her own backyard, Cunningham founded an event series now known as The People's Gathering: A Revolution of Consciousness. It's an initiative designed to provide a supportive space for the PLU community and the broader Puget Sound community to dive into difficult conversations about race relations in the United States.
"The consciousness of this country is shifting," says Cunningham, who works in the PLU Campus Ministry office and partners with the university's Center for Graduate and Continuing Education to produce People's Gathering events.
"Where we are right now in our nation's history and our national rhetoric, we need to learn how to talk about race. Most of us learn about race on our own, and that can be really difficult."
Each People's Gathering begins with remarks from keynote speakers that frame the day's theme. Then the conference divides attendees into small discussion groups according to which racial identity box each person checked when they registered for the event.
Cunningham says the small group discussions engage attendees in "frank and open conversations about race, equity and inclusion."
"In those dialogue rooms you explore how you are moving through and navigating race as a white person, as a black person, as a Latinx person, as an indigenous person, as an Asian person, and so on," she explains.
Kristy Gledhill '21, a recent graduate of Rainier Writing Workshop, PLU's creative writing MFA program, agrees. "Those breakout discussions can be the most valuable part of the event, but they can also be the most intimidating as well," she says. 
"The real value in those discussions is in the realization people get that they're not alone in their concern over issues of race and their uncertainty over what to do about it — with their families, at work, in their communities."
After the breakout groups, the larger group reconvenes and attendees share a bit about what was discussed.
Gledhill, who directs an initiative called the South Sound Antiracist Project, serves as a facilitator of breakout discussions among white-identifying attendees. In that role she works to set a constructive tone and pose questions for attendees to consider. She says attendees often enter her small group feeling nervous, and leave feeling encouraged.
"In these conversations, it's not about the white people leaving feeling guilty," Gledhill says. "It's about leaving with answers, feeling empowered, and continuing the conversation in their families, their workplaces, etc. These are not always comfortable conversations, but I've found great joy and a sort of liberation in the opportunities for honesty, resolve and direction they can provide."
The first People's Gathering in February 2017 was attended by roughly 200 people. By the third installment in April 2019, attendance had increased to more than four hundred. Plans for a fourth on-campus event were set aside when COVID-19 hit in early 2020. However, as the pandemic accentuated health discrepancies within marginalized communities and tens of thousands of Americans marched in the streets following the death of George Floyd, Cunningham realized that The People's Gathering couldn't wait until after the pandemic to continue.
Her team organized an emergency, virtual People's Gathering, opening the conference to new possibilities.
"We realized there was a big opportunity going virtual. People from all over the world could join us for these conversations," says Cunningham. And they did. The first virtual edition of the conference was attended by more than five hundred participants from all over the country and the world, including Indiana, Texas, Illinois, California, South Africa and Ghana.
Cunningham approaches The People's Gathering as a professional and personal development platform that allows people to grow their skills in navigating conversations around race. And she has plans to bring the conference to you.
"What we want to do next is take the successes that we've realized with race dialogue and make them portable — so we can hold race dialogues at a community center, at a church, at your nonprofit, or any organization," says Cunningham.
"We're always going to need to talk. And as long as we can sustain a supportive space that people value, we can continue to move the needle of consciousness and awareness."