Currently Reading:
Collective Impact: George Zeno talks Parkland, equity and community partnerships
Collective Impact: George Zeno talks Parkland, equity and community partnerships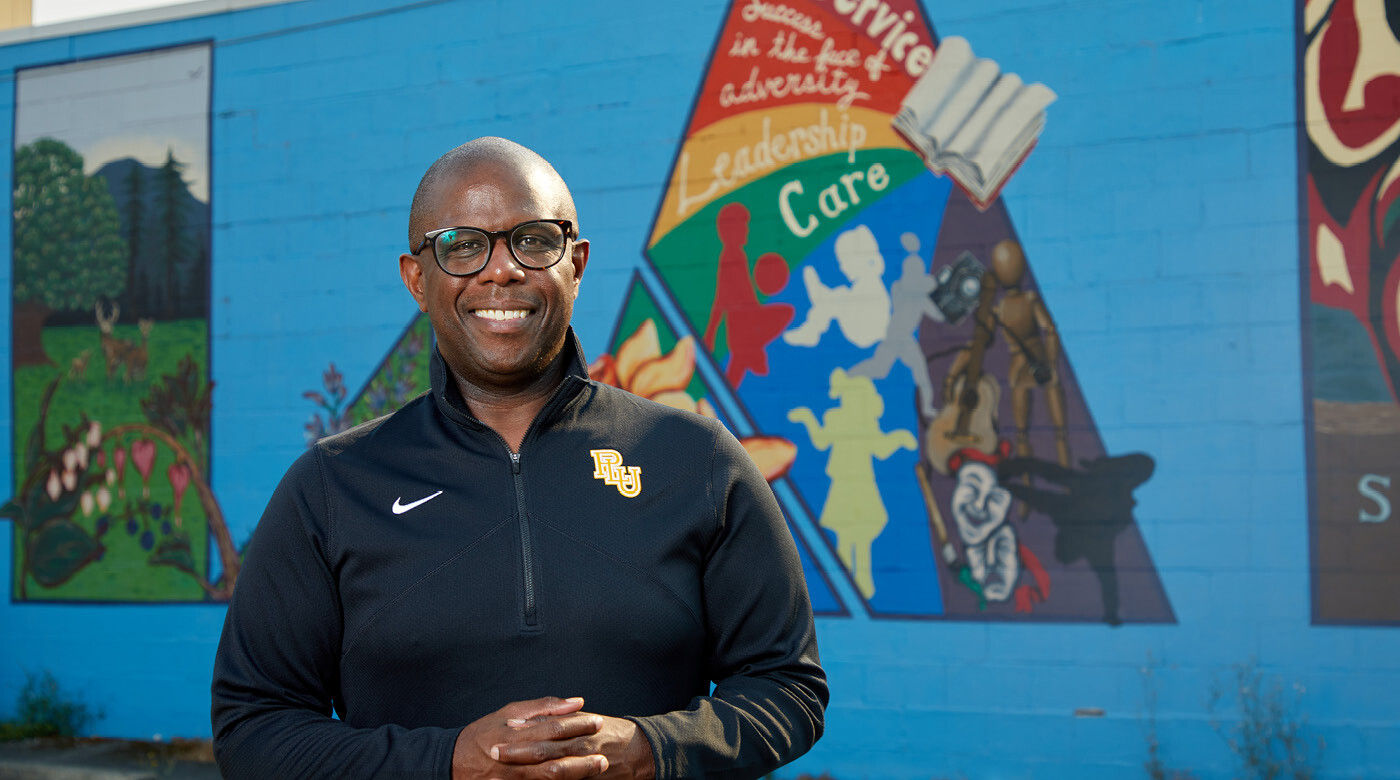 November 1, 2021
By Zach Powers
ResoLute Editor
Nearly a year into his new role as PLU Associate Vice President of Advancement, George Zeno and I took a walk through Parkland and discussed one of my favorite questions, #WhyPLU?
Zeno is essentially a community matchmaker for social progress. Mentored at the University of Washington by PLU alumni Connie Kravas '67 and Eric Godfrey '70, Zeno's goal is to empower communities to solve their own challenges through shared learning and mutual benefitting activities. For Zeno, this practice of active listening and community equipping, aligned with a university's strengths and resources, is the most powerful way to create real, lasting societal change.
As UW's chief community builder for equity and inclusion, Zeno developed diversity-focused corporate social responsibility programs for Washington industry titans like Costco, Safeco Insurance, Nordstrom, and Boeing. Those programs led to numerous scholarship, internship, and hiring initiatives, and $141 million invested in building an inclusive economy. More recently, he served as the chief philanthropy officer for university scholarships and student programs at University of California, Berkeley, working with partners across the world to build financial resources and initiatives to support and empower low-income, first-generation, undocumented, immigrant, refugee, LGBTQIA and veteran students.
For Zeno, the sector may be higher education development, but the mission is equitably and justly transforming systems with care to meet the needs of everyone involved.
You have a long track record of building large-scale coalitions, initiatives and public-private partnerships at public research universities. What did you find intriguing about a small Lutheran university in Parkland?

It was really the mission-specific purpose at PLU. The intentionality of centering the question "How are you of service to people, community, and the Earth?" That resonated with my values structure and what I believe it means to be part of a community. The more I learned about PLU, the more I was motivated by the incredible topography and people that PLU is surrounded by. Our environment here presents an opportunity, and I think perhaps an obligation as well, for us to live out our institutional mission as a highly dynamic and intentional community partner.   
What is it about our environment, in particular, that you find energizing?
There are few universities in the country that match the diversity of land and people that surround Parkland. We have urban, suburban, shoreline, rural, foothill and Native American communities. We have the fourth largest US military base in the world next door that brings with it the ninth largest veteran community. We are at the center of a rapidly changing demography with the largest unincorporated region in the Northwest that brings with it resource-limited public schools, underdeveloped neighborhoods, and medically underserved populations that are seeing a decline in life expectancy. 
We are truly a microcosm of America. We contribute great things through our programs, faculty, students, and alumni but it's important that we consider how we align those contributions to impact entire system structures and think about what it means to deliver as a partner throughout these communities and beyond. We talk a lot about a more diverse, just, and sustainable society, but it's not going to come to us. We're learning how the next generation of Lutes can purposefully deliver that, both locally and globally.
How would you apply this systems thinking to, say, our many partnerships and programs with the Franklin Pierce School District?
A school district is a great example of system impact. When we invest in building the capacity of a local school district like Franklin Pierce, a public school system with nearly 70% students from low-income families, we're addressing educational and economic inequities faced by the next generation. Disrupting these inequities at their earliest stages means increasing economic opportunities that will impact life expectancies and community wellness. 
Our faculty are working with community members, K-12 teachers, students, and administrators to design high impact programs like the Parkland Literacy Center where PLU students are learning how their role as tutors extend the classroom for teachers, build academic confidence of children, and support the district's education achievement goals. This is more than community service. This is community impact through PLU.
Part of the work you're facilitating at PLU is the development of the plans and strategies necessary to adopt a "collective impact" model of resource development. Can you briefly explain that model?
No one organization is going to meet its mission by itself. A collective impact model is a community-centric partnership structure that convenes community stakeholders to co-design approaches to solutions of complex social and economic challenges. We believe we can be more equitable and just in mobilizing resources for PLU when we aim to build the capacity of our faculty, students, and facilities to achieve public good. We're learning how to be a trusted community partner who weaves together businesses, nonprofits, local government agencies and donors with people who will most benefit from a solution approach. This requires actively listening with empathy, forming a common agenda, sharing learning outcomes, leveraging high impact skills across partners for mutual benefit, and continuously communicating through feedback loops.
Collective Impact sounds like a powerful model well aligned with PLU's values as an institution. How can PLU students think about their role in this method of community change-making?
When we speak of our mission of serving other people, our communities and the Earth, continuously learning from our environments and being able to apply theory and practice together are critical to our mission delivery. Our students come from richly diverse backgrounds and they will continue to develop new experiences on their own journeys of vocation. We hope they can take all of their lived experiences and the nuances of life and combine them with critical thinking to lead impact in their own communities. When students learn to problem-solve through community action, whether it's in Parkland or Lima, they are developing lifelong skills that help us better understand how Lutes contribute to the development of a more equitable and just world. 
Can you think of a recent effort that exemplifies this sort of mentality?
Yes. I think PLU's role in supporting this region's vaccination plan for COVID-19 is a great example of this. The Tacoma-Pierce County Health Department's response team learned quickly that it needed additional support in meeting its community objectives. The team learned from its challenges of lower response rates due to community trust levels of government, health systems, and the vaccine itself. 
To be effective, efficient, and culturally appropriate, TPCH needed to convene community leaders in education, health, civic, and religious organizations in a stakeholder partnership to rapidly vaccinate eligible residents. TPCH brought together MultiCare, CHI Franciscan, and PLU to provide technical support while the county worked with community groups and places of worship on community outreach to drive attendance. Each technical partner was able to utilize its strength for delivery and impact — MultiCare and CHI provided medical infrastructure and oversight while PLU served as a trusted community hub and our nursing students administered the vaccinations.

When we look at a public-private partnership like this, recognizing the mutual benefits of shared learning and leveraging resources are clear. Our community is learning how to solve complex problems by working together and building trust in our systems. Our government, CHI and MultiCare are able to reach more people through PLU. 
PLU nursing faculty are able to use action-based learning that provides students an opportunity to bring our mission to life for real-time impact. Our nursing students build the capacity of our healthcare systems to be mobile, adaptable, and culturally responsive. Thanks to earlier investments by donors in our nursing facilities, faculty, and students, we were ready to respond when our community needed us most. 
We often ask our students and alumni to share #WhyPLU, so my last question to you is #WhyPLU to take on this challenge of envisioning how a university can anchor community-wide, systemic transformation?
Because our democracy depends on institutions like PLU showing up. Fully showing up. Not a department, not a student group, not one professor doing community research. But the full weight of the university, including our alumni, needs to be applied to taking on some of the most complex challenges  and opportunities in our community. This is what I've learned so far — when we invest in PLU's people and facilities, we invest in a cadre of changemakers who we call Lutes. And the world needs more Lutes.  There's so much learning that we have to do in playing this role, but that's the beauty of our mission at PLU. We start with inquiry and we're motivated by service, leadership, and care. I'm just grateful I get to be a part of this community.