Currently Reading:
Welcome Back Lutes
Welcome Back Lutes
PLU students safely and enthusiastically return to campus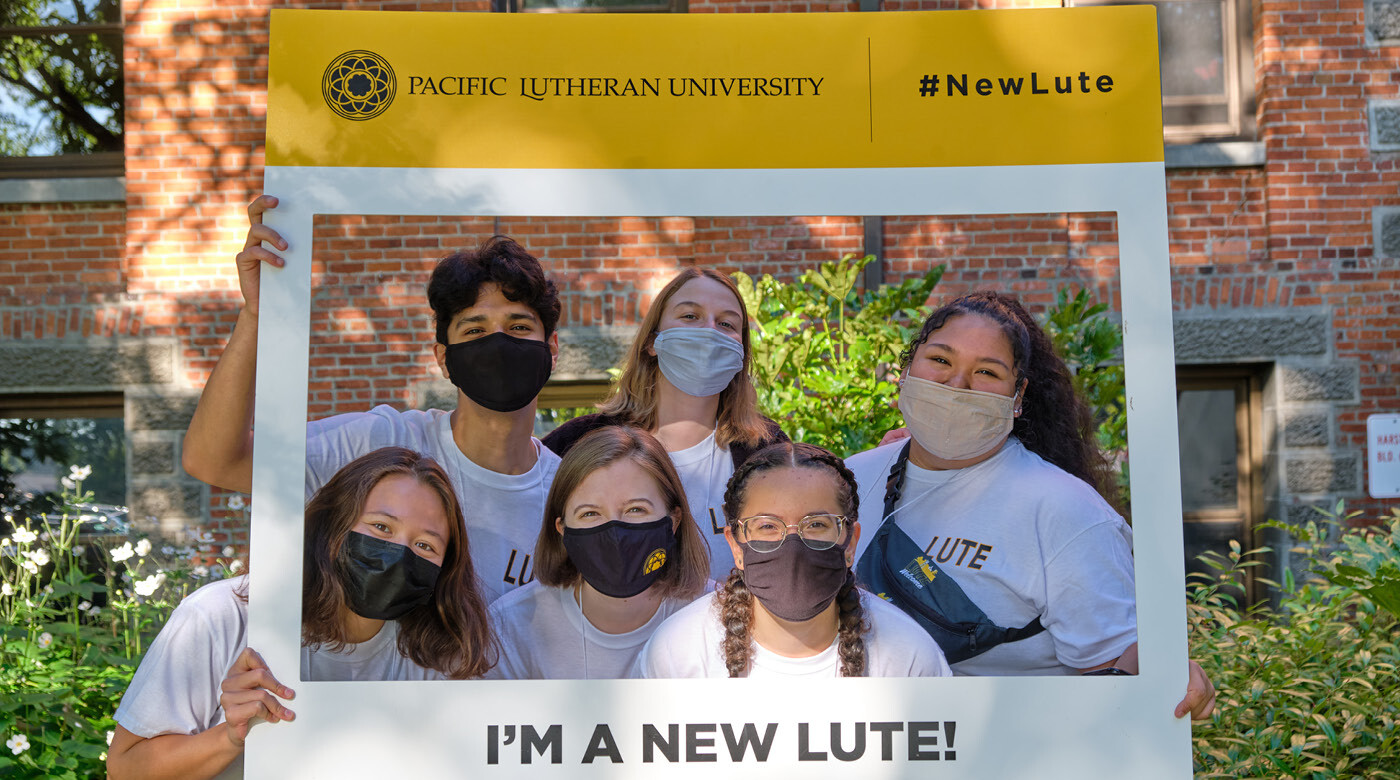 November 1, 2021
By Zach Powers '10
ResoLute Editor
Most PLU alumni remember their first move-in weekend vividly. The nervous excitement you felt walking into your residence hall. Meeting your roommate for the first time. Just as you were starting to feel settled, it was time to head to your first New Student Orientation event. And so went a whirlwind few days of new places, new faces, and making PLU your new home away from home.
This year, roughly 1,160 students are living on campus, many of whom are first-year students or sophomores who spent last year attending classes virtually from home. They collectively descended on campus the first week of September for LUTE Welcome, a rapid-fire series of events that included move-in, new student orientation, convocation, the student resource fair and others.
Dhaval Patel is the community director of Stuen, Ordal and Kreidler Halls. He was particularly moved by the energy from the first-year students. "They were really excited," he says. "Their last full school year in person was their sophomore year of high school. There's been so much that they've missed out on in this last year and a half. So they came in with a lot of energy, wanting to make friends right away."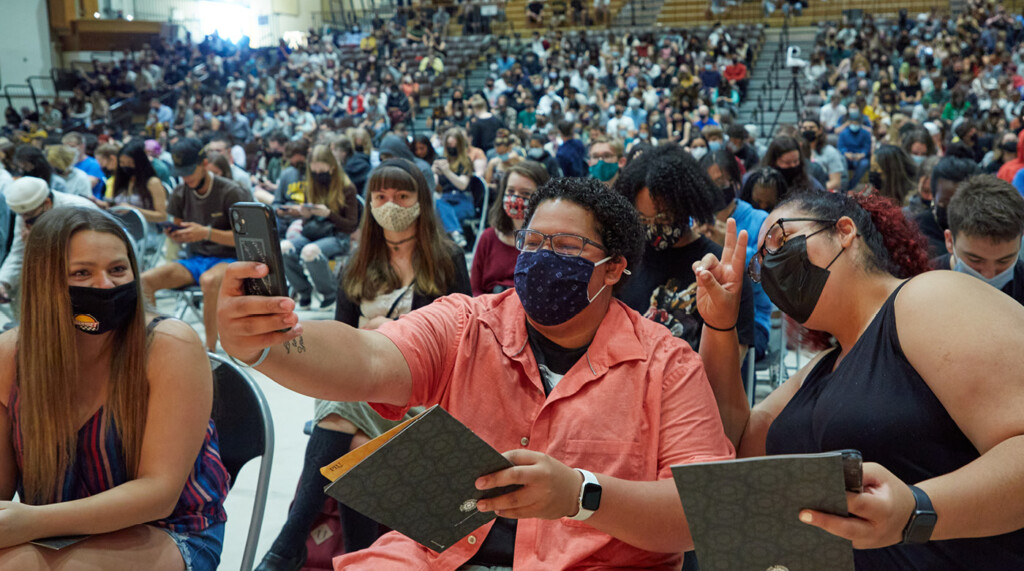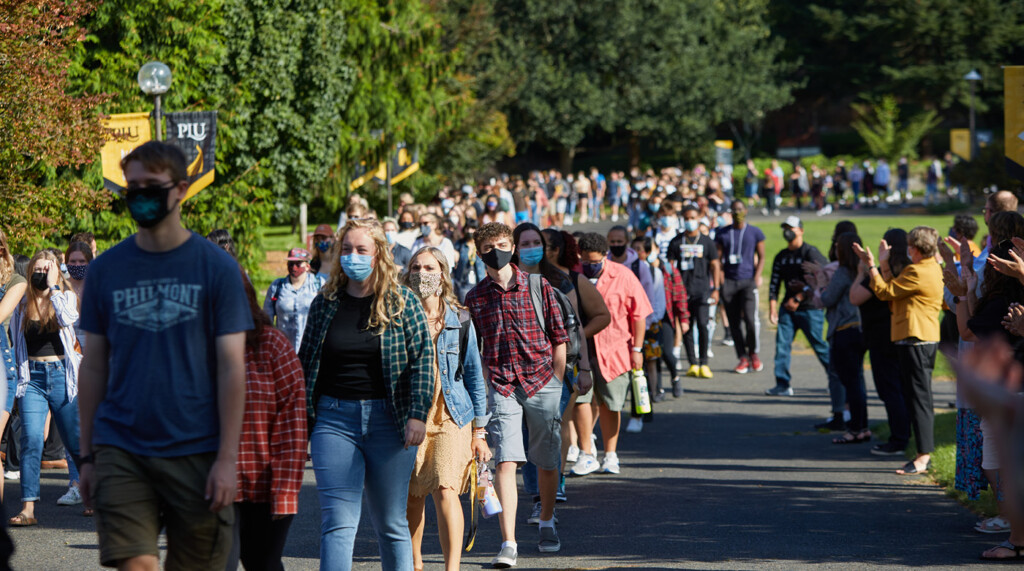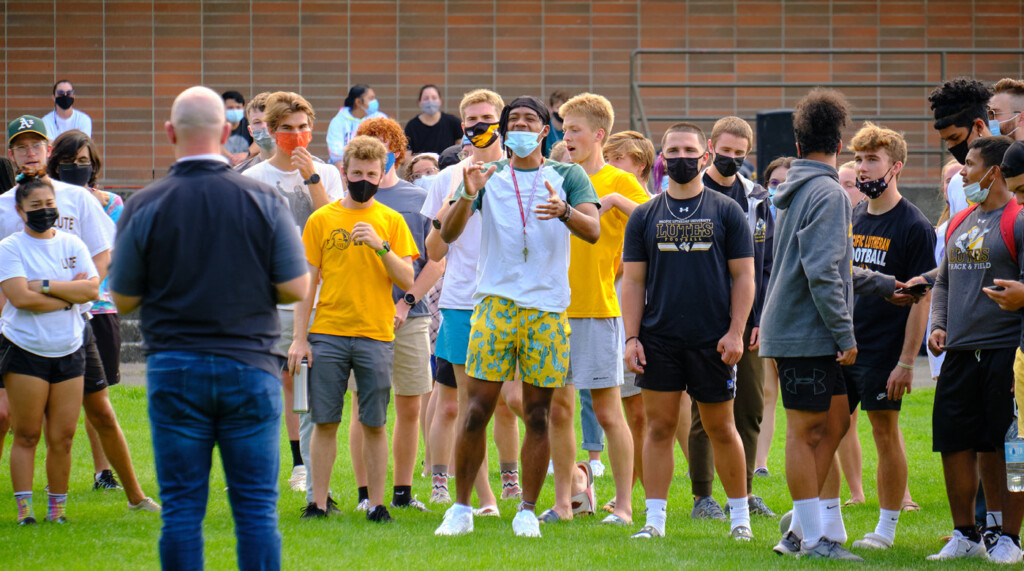 LUTE Welcome organizers combined lessons learned throughout the previous 18 months with traditional LUTE Welcome plans to create a COVID-safe experience unique to 2021, explains Jes Takla, PLU assistant dean for campus life, co-curricular learning, and assessment. "For example, we did staggered move-in, where students were assigned different times and that helped minimize standing in line, kept hallways from feeling too crowded, and added to an overall sense of calm."
Takla says most of the safety related changes to LUTE Welcome programming were subtle, such as moving orientation sessions outdoors or replacing a few larger events with smaller breakout groups. A number of minor changes were also made to meal and snack plans, like serving waffles instead of salads at the annual move-in day picnic and recruiting staff to serve them so students and their family members wouldn't have to worry about sharing serving tongs. 
"Each person is on their own individual journey with their comfort being back on campus or being back in certain-sized crowds," says Takla. "Some people were beyond excited to be back and see a big bustling campus and see lots of people hanging out. For others, it was the first time they'd been in a group of 30 or 50 people in a year and a half. We made it clear that they were welcome to step away from a wing meeting or an orientation session if they needed to."
At the beginning of fall semester, 95% of the student body —as well as staff and faculty — had been vaccinated for COVID-19. Students arrived on campus with a clear understanding of institutional and community safety expectations. "We're not having to train people to wear masks," says Patel. "They're used to wearing masks and they're coming in with good habits, so it hasn't been an issue."
"You'll get the occasional lapse, and you just say, in a nice way, 'Hey, please put your mask up.' They apologize, put their mask on, and it's all good."
Students, staff and faculty alike understand that this will be an unusual school year. The ongoing pandemic means extra precautions, extra planning, and that some events and programs will be done differently or postponed for an additional year. However, during LUTE Welcome week, the air was thick with optimism. 
"We're starting the year off strong," says Patel. "I'm really proud of the fact that, even though we're still in a pandemic, there's still room for fun and students understand that this is a place where they're going to be supported and we're committed to helping them thrive."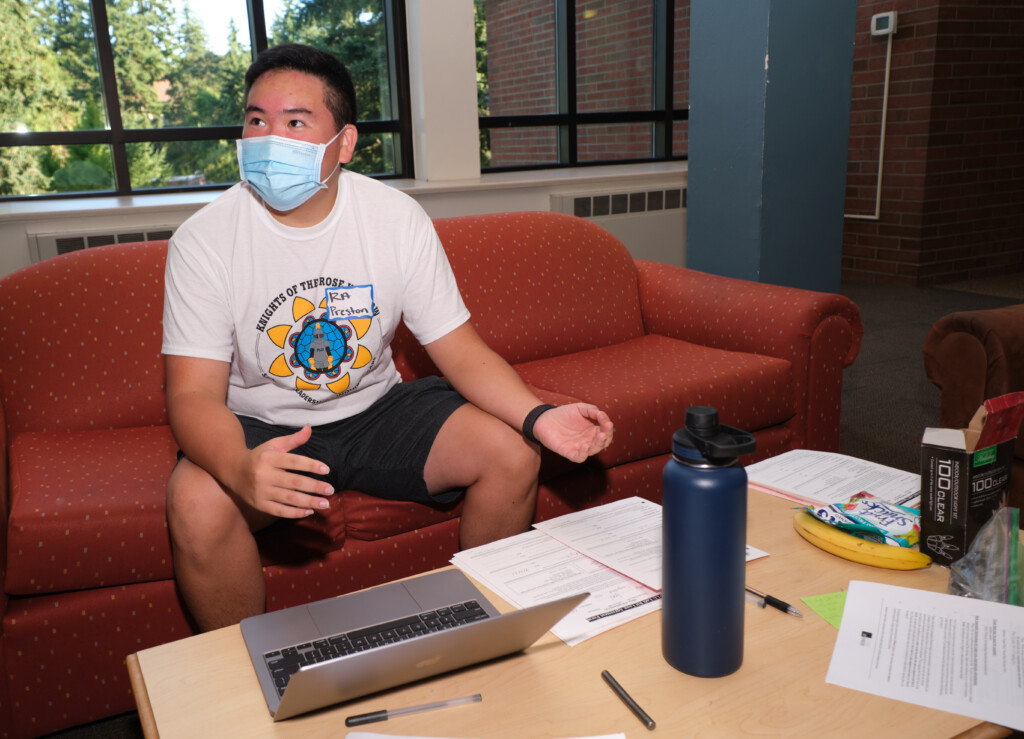 "I'm excited to get to know all the new students and form a community with them and give them a good first impression of PLU. I hope that it's a lot different than last year. They are able to join a community, they are able to hang out with friends, and are able to have a lot of opportunities that weren't open to a lot of students last year in person, or with outdoor activities and trips."
–Preston Gee '24
Resident Assistant
Dual-Degree Engineering Major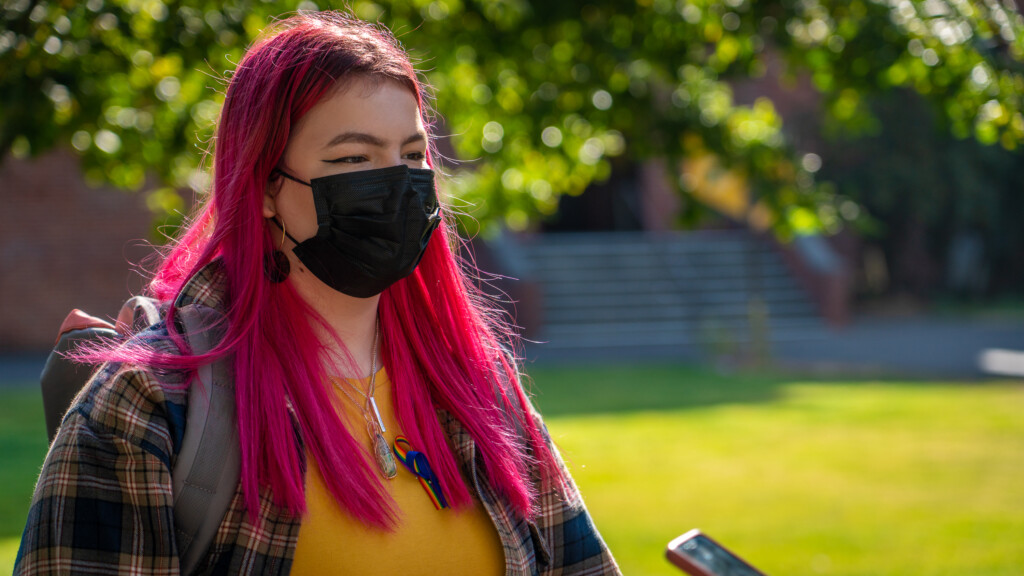 "I hope that new students find a good support system here. We have a lot of great mental health services here, but I hope they feel really comfortable here and I hope that they find a group of people that they feel really comfortable with. My goal is to definitely work more on my mental health, make sure that I'm doing good. Because being an RA and doing full time school can be a bit busy, especially with adding a minor to my major. It's a lot! I'm definitely prioritizing my mental health and getting through this school year."
-Ceci Omri '24, Resident Assistant
English Major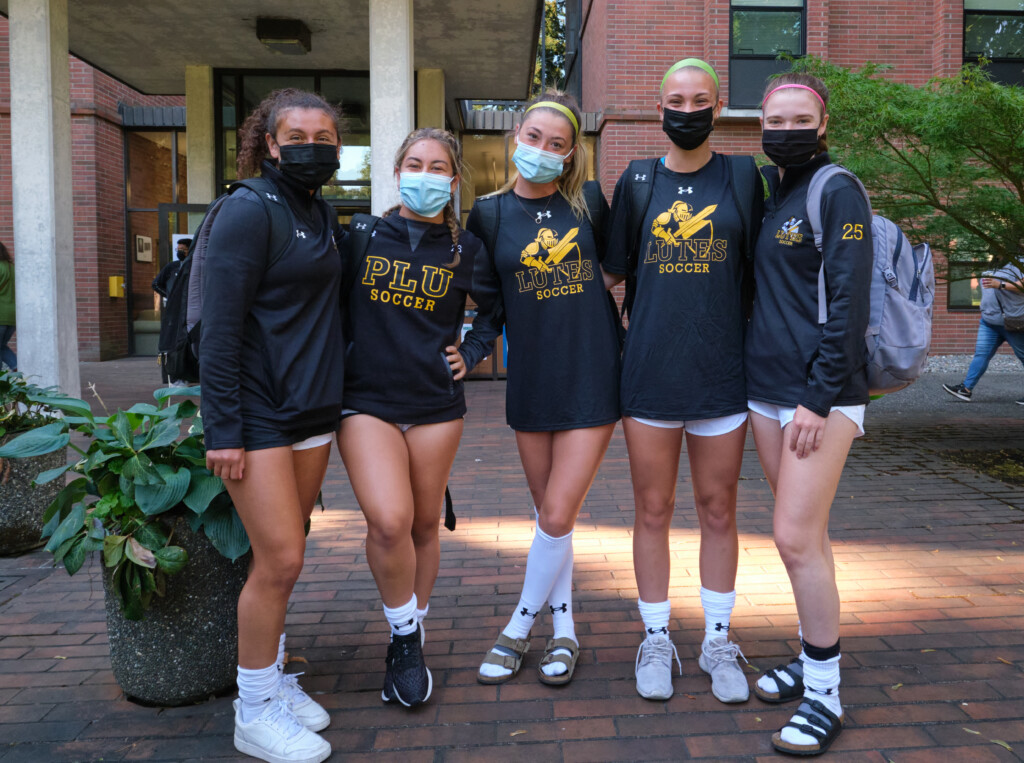 "It's a little chaotic but it's nice that I won't be the only one in my hall anymore. I'm looking forward to classes, being in-person and not being in my room the entire time — I'm really excited for that. I'm hoping to meet people outside of soccer. I love soccer girls, but it will be nice to meet other people too."
-Kaylie Brown '24 (pictured middle)
Portland, Oregon
Education Major