Currently Reading:
On the Court and in the Classroom: A Brother and Sister Find Success at PLU
On the Court and in the Classroom: A Brother and Sister Find Success at PLU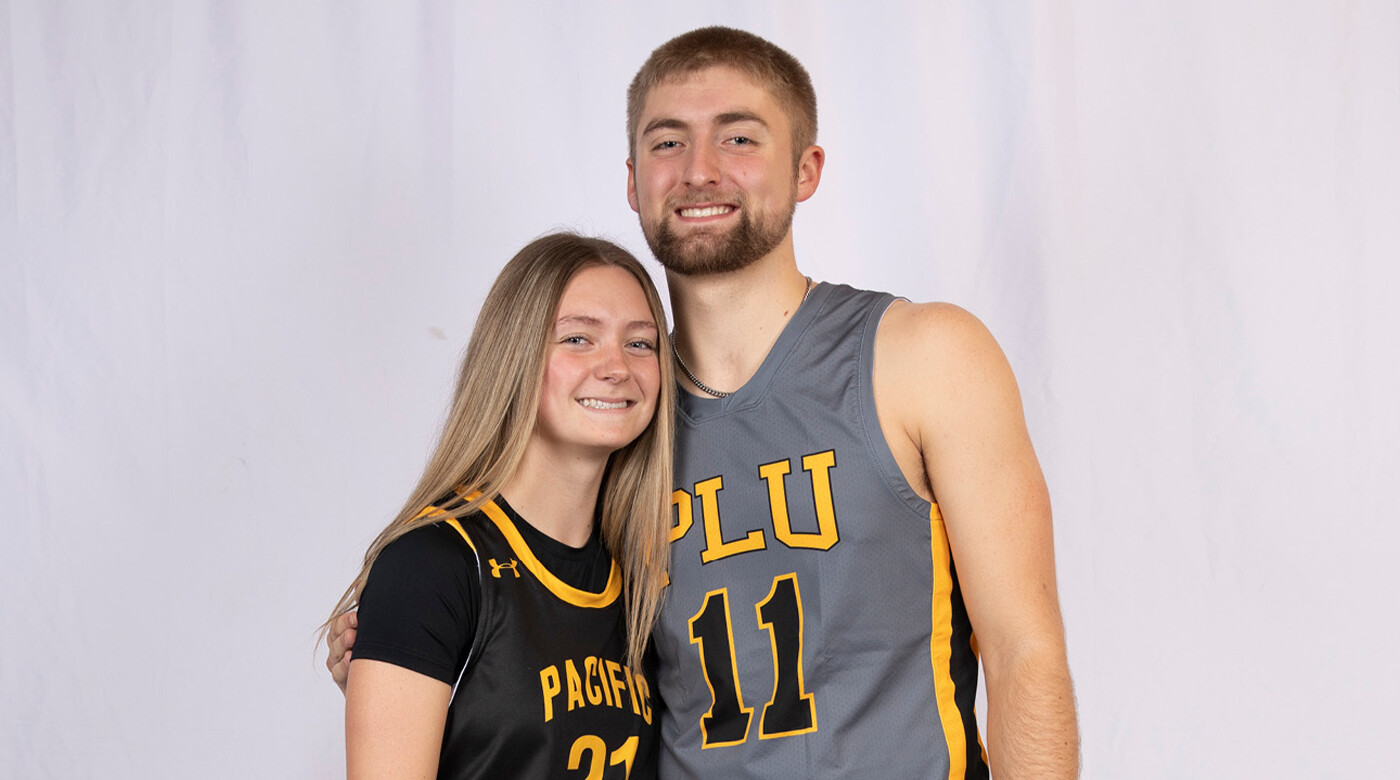 February 24, 2023
By Lora Shinn
PLU Marketing & Communications Guest Writer
On the day of high school class choices, a middle school teacher noticed the normally outgoing Jackson Reisner sitting quietly, acting withdrawn.
Jackson grew increasingly anxious as the morning progressed. A movie buff, the Burlington eighth grader had seen all the difficult depictions of high school. Teens bullied, fought, teased and pushed each other, mired in terrible social dramas. Fearing he would suffer a fate similar to on-screen high school life, Jackson dreaded high school.  
The teacher sat with Jackson for lunch and recess, discussing the student's concerns and misconceptions. Jackson left the classroom with a sense of relief and renewed confidence.
"It made such a difference in my life and how I viewed growing up in general," Jackson says now of the talk. "I want to be that positive influence for someone, and make a difference in a middle school kid's life."  
Jackson is in his third year at Pacific Lutheran University. He's majoring in education and hoping to become a middle school math teacher after obtaining his master's degree.
He's following a family vocation of sorts. Jackson's mom was a third grade teacher and currently works as an administrator in Burlington, Wash. In total, six family members are employed as teachers or are in education administration as principals.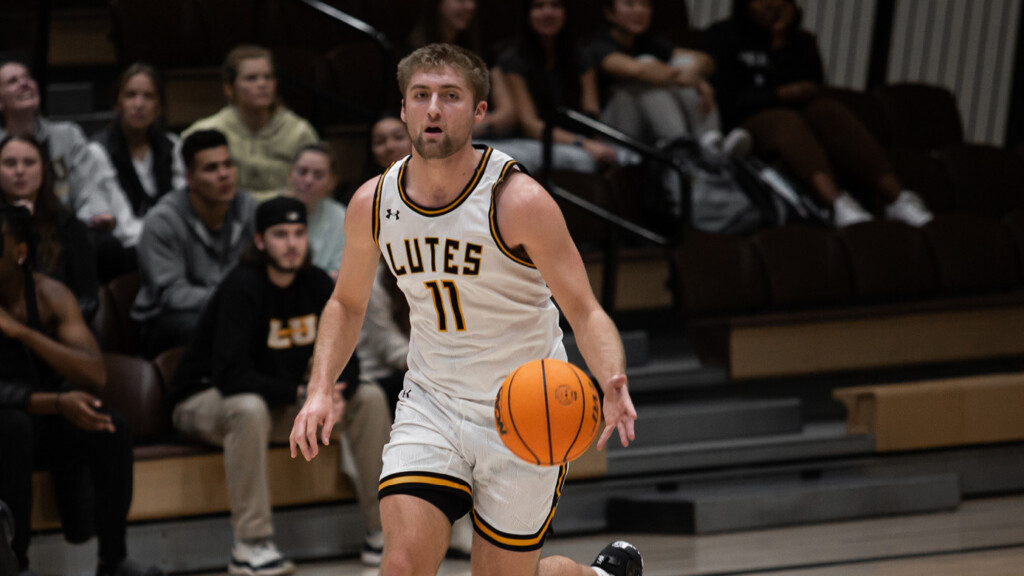 Jackson's parents, Amy and Eric, met while attending PLU, and PLU was one of the first to recruit Jackson for the basketball team. 
 "When I visited, I liked the feeling of a Division III school and saw the people on the team were a good community. I knew that even if I stopped playing, I'd want to stay at PLU," Jackson says.    
He thought his sister Sydney, two years younger, might want to attend the University of Washington or a larger school. But he ribbed her, saying, "I bet you'll want to come here because you want to be around me."
It turned out to be true.
When Sydney visited Jackson at school, she enjoyed the campus and environment—and she would also get a chance to play basketball if she attended PLU. "Having basketball and my brother here made it 10 times easier to choose PLU," she says.
Like Jackson, she's playing for the basketball team. They're one set of siblings on PLU's teams, in addition to Brandin and Sydney Riedel, a duo similar in age span.
 And like Jackson, Sydney's majoring in education after realizing she loved teaching others—she hopes to work with elementary-age kids in math or other STEM fields.
"It was nice having someone I could ask questions of, and he already knew his way around. It made the transition a lot smoother," she says.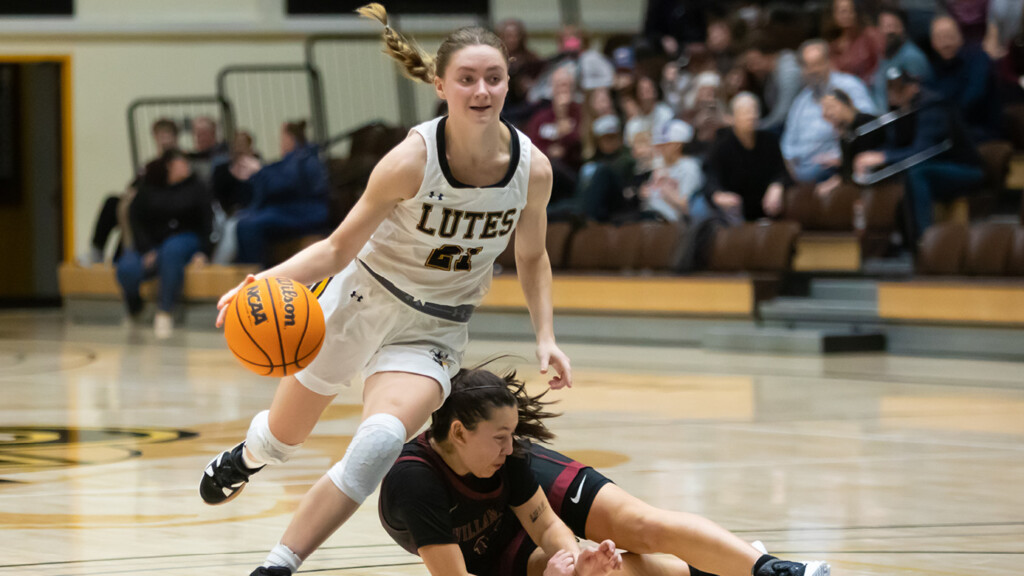 Still avid film fans, Jackson and Sydney get together to watch movies weekly—except during finals, of course. They catch concerts while he dishes on professors and classes to take, and he picks her up if she needs a quick ride.
In turn, Sydney says she encourages Jackson. "Jackson is one of the best shooters I've ever seen, but even the best shooters don't have great shooting games," she says. So she'll shoot with him outside practice to help boost his confidence. 
In spring, Jackson and Sydney often head to Farrelli's Pizza after games, meeting up with their parents and older brother Davis. Davis, who lives in Auburn and is training to be a pilot, also makes the 30-minute drive for movie nights with Jackson and Sydney.  
 While some young adults see college as a time to break free from family roles and expectations, others may find more meaning in attending school alongside a sibling.
The two have a great relationship. "Thinking about it now, any other way wouldn't have felt right," Jackson says. "I get homesick sometimes, but when I'm leaving the gym after practice, I see my sister, and it's like home is here."
"I definitely recommend going to school with your sibling," Sydney says. "It creates an added cushion of support. Moving to college is a big life change, and having your sibling around throughout that makes the process a whole lot easier."