Currently Reading:
Grayson Nottage '23 prepares to become a teacher who excites students about science
Grayson Nottage '23 prepares to become a teacher who excites students about science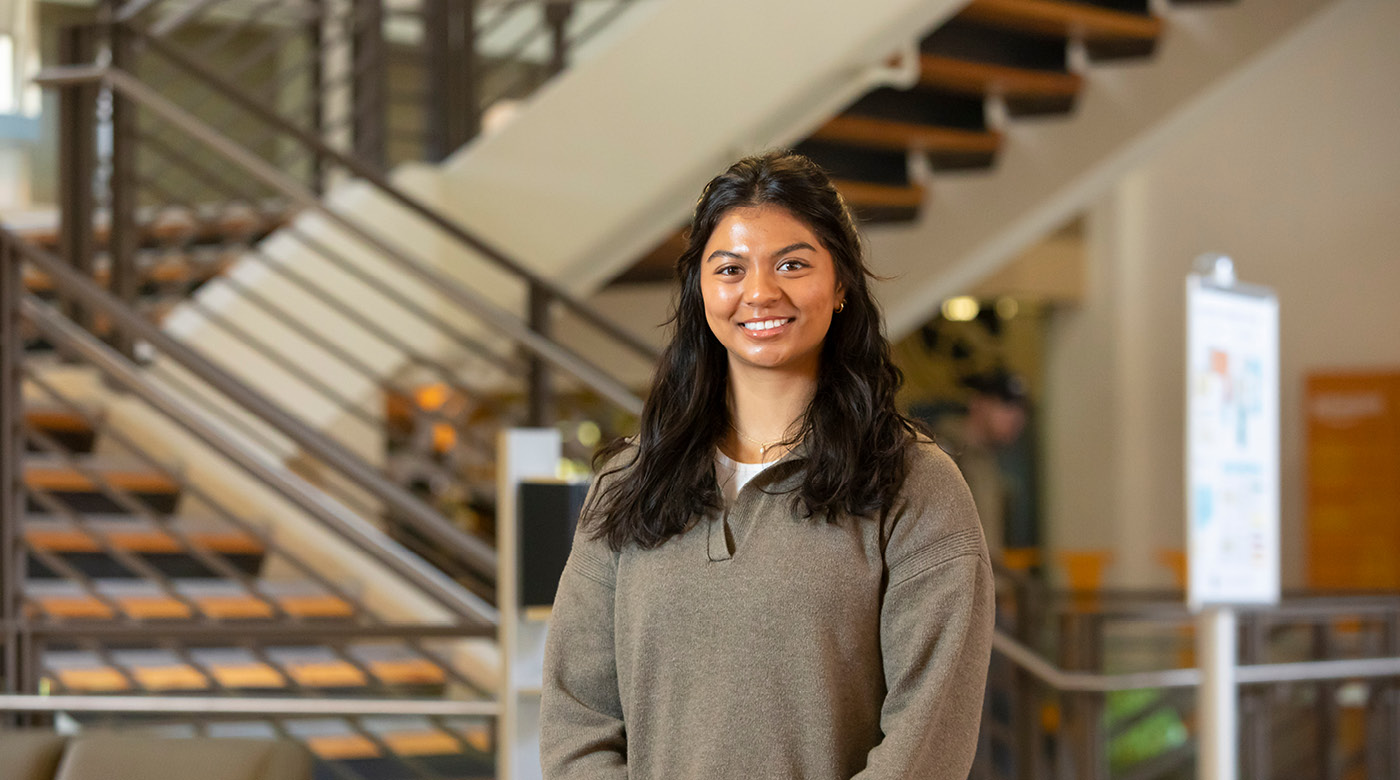 April 24, 2023
By Grant Hoskins '23
PLU Marketing & Communications Student Writer
Grayson Nottage '23 has wanted to become a middle school science teacher ever since she was a middle school science student. She admired many of her own science teachers, and aspires to become the sort of educator that inspires and excites students about science.
Next month Nottage will graduate from PLU with a geosciences degree. She won't go far, at least right away, because this fall she will begin PLU's Master of Arts in Education (MAE) program and continue her work as a scholar in PLU's Culturally Sustaining STEM (CS-STEM) Teacher Program.
How has your participation in the CS-STEM program at PLU shaped your experience?
I am part of the Noyce CS-STEM Scholarship Program, and Professor Andrea Munro, who taught the STEM education class in the fall, pointed out to me that PLU had created a CS-STEM minor that I was one class away from completing. It was really fun to be a part of a CS-STEM classroom and see how things go.
What made you decide to enroll in PLU's MAE program?
Because my goal has always been to become a teacher, the MAE program was a great next step as it is only one year. This program is really great, and with my connection to the CS-STEM scholarship, they will pay for part of my master's program.
What made you want to teach at the middle school level?
I really enjoyed the classes I took when I was in junior high, and so the inspiration of having great teachers made me want to be one, so that's the goal.
What moment at that age made you passionate about teaching?
Just the little things — the community I experienced there was great, and it was my first step toward freedom being able to pick my own classes. The teachers I had really worked on connecting with students and making the school a safe space where students could express themselves, find friendships and make mistakes, because it was okay at the end of the day.
What is an aspect of your PLU education that you hope to emulate in your future classroom?
I have really appreciated PLU's mindset of accepting all perspectives on different things — something I would love to incorporate into my future teaching. Ensuring everyone's voice is heard and students have a unique perspective will allow them to have different insights on discussed topics.
What are you most proud of from your time at PLU?
I am most proud of my work toward academic success as I am definitely in the realm of a perfectionist. I pride myself in the work I put in, and so far, it has been great, although there are some challenges along the way. I am really proud of the academic work that I have done.
What's your favorite memory from your time at PLU?
Within the past year, there have been a lot of fun beach trips I have got to go on through the geosciences department. Those are always fun to hang out with kids in the class I would not normally be around. I have enjoyed getting to go and discover new things at Manchester State Park in the fresh air, out of the classroom and doing some fieldwork.
What makes PLU impactful to you?
The small class sizes and learning aspect is really unique to PLU. If you miss a day of class, I feel like professors are in tune with knowing that and seeing how to help and support their students — that is something definitely unique to PLU.
Where do you plan to teach after graduation from the MAE program?
I hope to stick around the South Sound region — it's close to home, and I like the area. I'll take all the rain, sun and snow rather than just one or the other.