Currently Reading:
Growing into her own: Sarah Davis '23 discovers her passion for plant biology at PLU
Growing into her own: Sarah Davis '23 discovers her passion for plant biology at PLU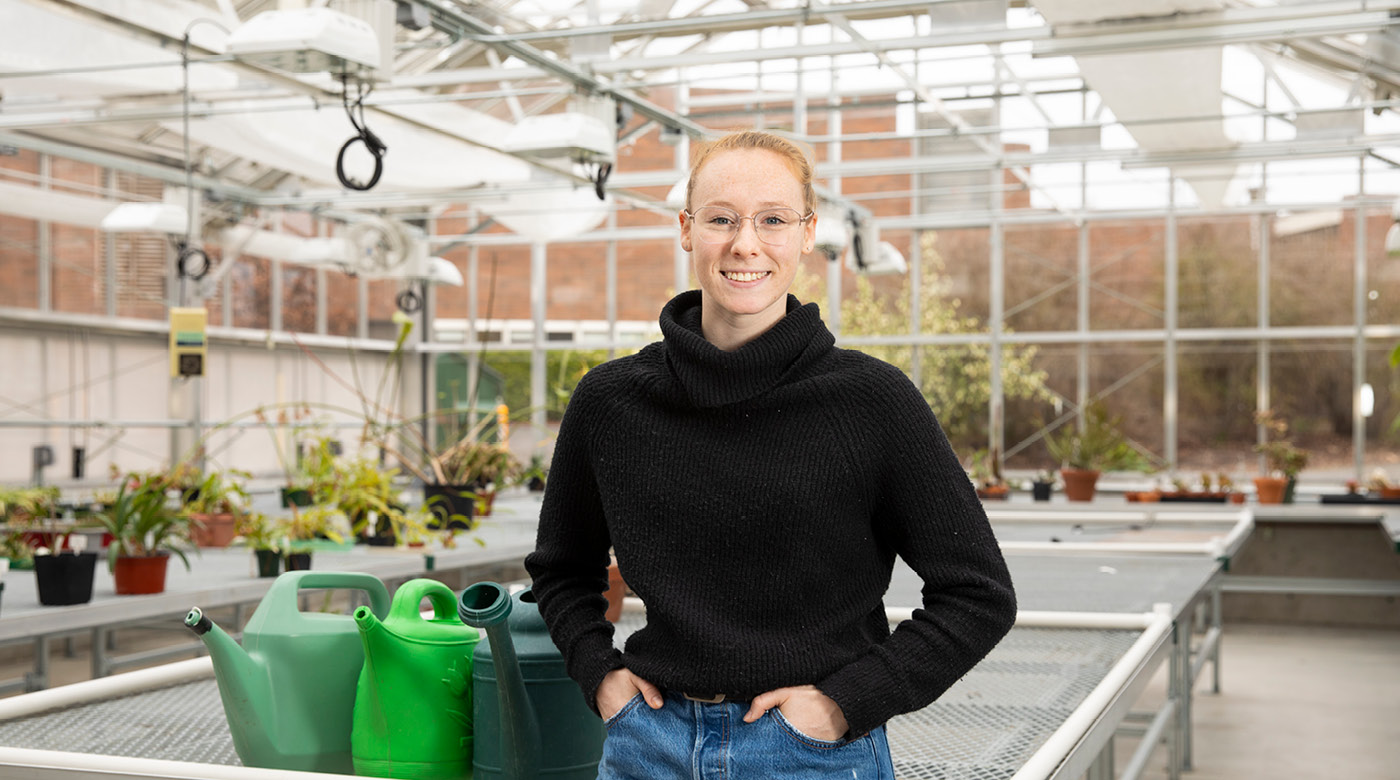 April 26, 2023
By Lisa Patterson
PLU Marketing & Communications Guest Writer
Sarah Davis began her PLU journey with the idea that medicine and health care would be the ultimate goal, but then a couple of classes focused on plant development and global agriculture grew a new passion.
"I have a family history of agriculture, my grandfather used to have apple orchards in Eastern Washington," she said, explaining why her PLU biology classes resonated with her. "From that point forward, I began to pursue plant biology, as I had both personal and academic passion in the subject."
On her way to her degree, Davis completed a capstone project on plant genetic engineering in agriculture and an internship with Washington State University, where she researched tree fruit physiology in response to changing environmental conditions.
After graduation, Davis plans to begin a master's and PhD program at University of British Columbia to study plant science — specifically how high-value horticulture crops are impacted by different environmental conditions. We caught up with her to reflect more on her PLU experience.
Tell us about your capstone project?
My capstone project was very much inspired by my passion for plant science, food security and agriculture. I completed my capstone project last spring, where I wrote a literature review focusing on genetic engineering mechanisms to combat environmental stressors — such as flooding and drought — in important agricultural crops … food security is being threatened by the severe weather patterns as a result of climate change. One potential solution to the severe crop losses, loss of food security and economic hardship for growers is gene editing to improve crop resilience. In my project, I specifically focused on genes that could be edited into crops — such as wheat or barley that would make them more tolerant to flooding or extended drought. This could be done through varying mechanisms such as increasing anaerobic respiration for flood tolerance and osmotic control in plant vacuoles with proton pumps for drought tolerance.
What did you enjoy most about your PLU experience?
I had the opportunity to study away two times during my time at PLU. The first was to Uruguay during J-Term in 2020 for extensive Spanish study, and the second was to the Bahamas this past J-Term to study marine biology. Immersing myself in different cultures has helped me broaden my worldview, and both have been valuable experiences both with learning about the culture as well as the class material I was learning about at the time. I also really enjoyed working in the biology department as a TA and lab prep. I gained valuable experience that I will take with me to graduate school. The bio department also offered me a lot of learning opportunities, and the faculty were fundamental to my personal and academic growth.
How does your interest in plant sciences intersect with your interest in food and the environment?
Food is the most important resource on this planet, and without proper understanding of how extended periods of drought or flooding impact crop yield, we get into dangerous territory with our food security. The other aspect of this to take into account is sustainability, accessibility and outreach to growers and consumers. With more research, the long-term impacts of farming and agricultural techniques can be found, and more responsible farming techniques can be implemented to help protect food growth and security. Outreach is another important component of plant biology and agriculture, because there are many misconceptions about genetic engineering in plants in particular, so direct communication between growers, scientists and consumers is needed.
Anything else you'd like to share?
The PLU biology/science department has been absolutely phenomenal in supporting my learning. I specifically want to mention that it has been empowering to have so many women on the biology department staff, which has really inspired me to continue pursuing a graduate degree as well as make me feel more confident in my own ability to be a woman in STEM. Two professors in particular — Dr. Laurie-Berry and Dr. Ellard-Ivey — have helped shape my academic interests as well as helped me become the student and person I am today.