Currently Reading:
Ellie Dieringer explores impact of the Holocaust in South America
Ellie Dieringer explores impact of the Holocaust in South America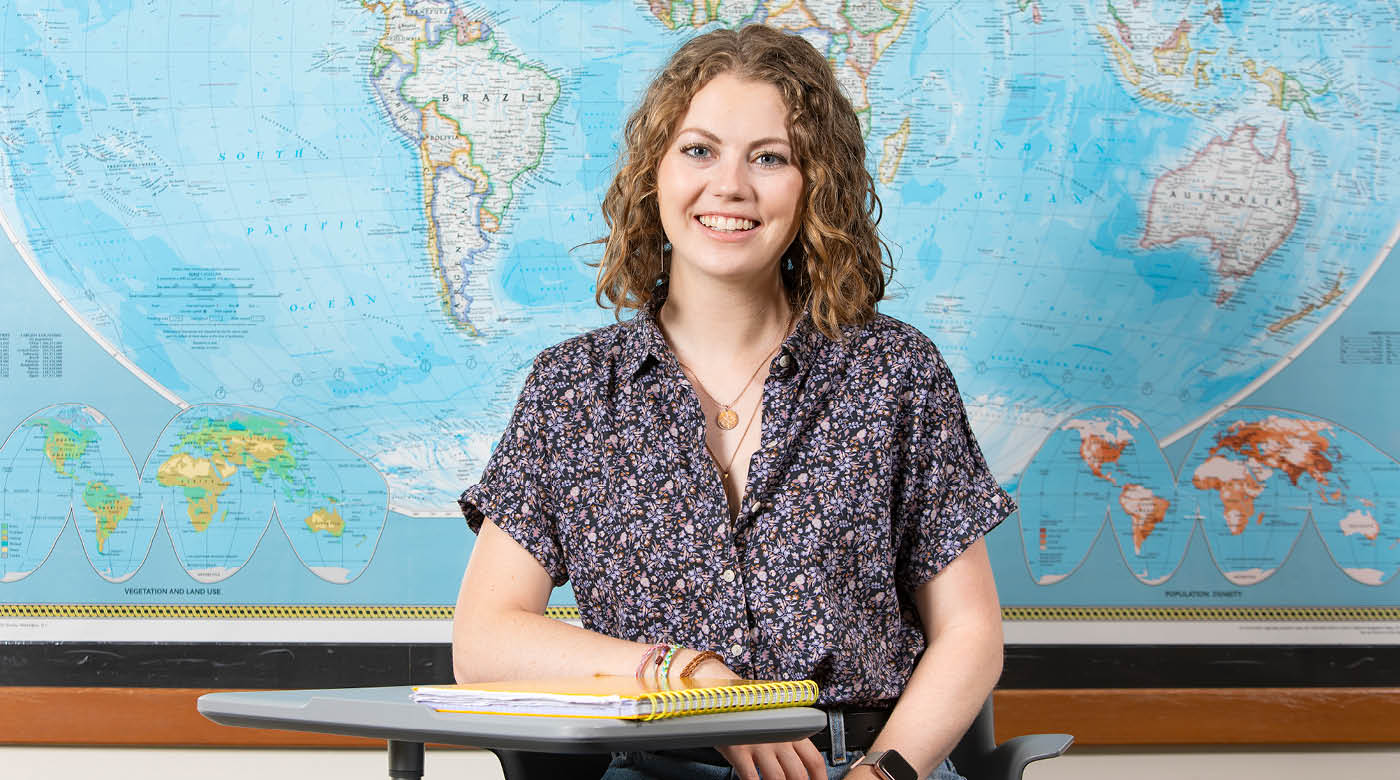 September 5, 2023
By Anneli Haralson
Resolute Guest Writer
Close to 50,000 Jewish refugees fled to Argentina during the rise of Nazism and World War II. In fact, between 1933 and 1945, Argentina received more Jewish refugees per capita than any other country in the world, except Palestine. But to. most – outside of historical scholars or researchers — those facts are likely surprising.
It's the reason that Ellie Dieringer '23, a global studies and Hispanic and Latino studies double major, decided to pursue research in this area. Throughout her time at PLU, she focused her global lens on Latin America — specifically Argentina and Uruguay.
"Part of what drew me to the research I'm doing is the relationships between institutions and the stories they decide to tell," she explains.
During her freshman year at PLU, Dieringer headed to Uruguay for a month-long study abroad trip. While volunteering at a local senior home for Holocaust survivors, she met Giovanna Urdangarain, professor of Hispanic and Latino Studies, and Rona Kaufman, professor of English, who were interviewing survivors and recording their stories.
"I realized I wanted to be involved in that," Dieringer recalls. Following that trip, during her sophomore year, she worked with two other PLU students to transcribe and translate the survivor interviews conducted by the professors.
As a junior, she headed to Oxford University where she explored how curators decide which stories to tell. She thought of the work being done by Urdangarain and Kaufman and the relatively little known Holocaust museums in South America.
Upon returning to PLU, Dieringer and Urdangarain worked together to write a grant proposal to PLU's Wang Center with the goal of studying the role museums play in shaping the international understanding of a nation, especially in light of traumatic histories. The funding was approved, and in early 2023, four years after her first visit, Dieringer returned to Uruguay.
"Coming back from that trip, I was super inspired," she says. "The biggest thing I learned is that scholarship from the global South is underrepresented and makes our understanding of events like the Holocaust shallower. We don't realize what we're missing out on or what voices we are silencing."
Dieringer graduated in May, but the interviews she conducted will be used for ongoing research on the Jewish Diaspora in Uruguay.