Currently Reading:
PLU researchers shine light on RNA activities
PLU researchers shine light on RNA activities
Professor of chemistry Neal Yakelis works with five summer research students to gain a deeper comprehension of RNA and its intricate workings within the realm of cells.
Posted by:
mhines
/ November 8, 2023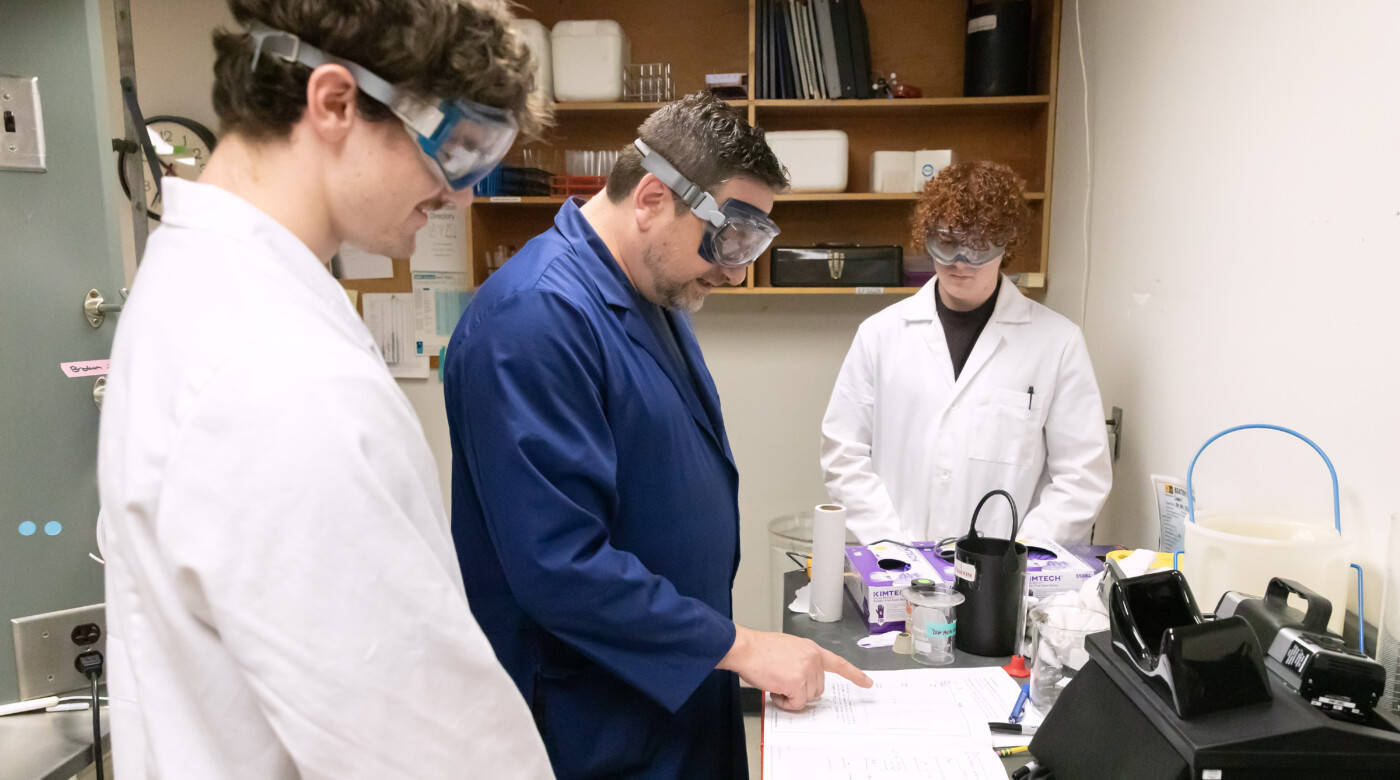 November 8, 2023
By MacKenzie Hines and Ava Edmonds
Marketing and Communications
Audrey Borloz '24, Fani del Toro '24, Aidan Donnelly '25, Grady Lemma '25, and Angela Rodriguez Hinojosa '24 spent the summer focused on synthesizing organic compounds called antenna ligands for lanthanide ions. When these molecules interact with specific ions like europium(III) or terbium(III), they exhibit an extraordinary light-absorption property. This results in the ions emitting prolonged luminescence, which surpasses the typical fluorescence we're more familiar with.
Simply put, imagine having a special marker that attaches to objects in a room and makes them glow under a UV blacklight. Now, envision this concept magnified to a molecular level. Funded by a collaborative three-year grant from the M.J. Murdock Charitable Trust, professor of chemistry Neal Yakelis and his collaborators from two other Puget Sound area universities are working to adapt this concept for their research.
"It never ceases to amaze me how my students transform into young scientists through their work in the lab during our summer research program at PLU," said Professor Yakelis. "This project has allowed them to experience the collaboration necessary to answer important scientific questions. The students' creativity and meticulous work have helped to develop new methods to build these luminescent molecules in a greener, more efficient manner. I'm confident they are well-prepared to take on new questions in their future paths."
Using a clever aptamer strategy, the ultimate goal was to employ these luminescent markers in labeling and activating RNA molecules. Essentially, they're affixing a unique tag to RNA, enabling them to observe its intricate functions within cells. Understanding RNA activities is pivotal, as these molecules play a vital role in various cellular processes. This cutting-edge research has the potential to uncover invaluable insights into cellular mechanisms.
Angela Rodriguez Hinojosa '24 | Chemistry major
Reflecting on a day in the lab
"A typical day in the lab starts with reviewing my plans for an experiment and talking to Dr. Yakelis to ensure everything is designed well. Experiments vary and can last a few hours or take a few days. For example, there will be some days that I design and execute multiple short experiments," reflected Rodriguez Hinojosa.
"Once my plans are organized, I set up my experiment in the fume hood and get started on a reaction. My reactions usually are on a smaller scale and require various steps such as heating, stirring, separation, purification, and characterization. Separation consists of vacuum filtration or extraction via a separatory funnel. Purification consists of high vacuum or rotary evaporation, and finally, characterization techniques are Nuclear Magnetic Resonance and FTIR Spectroscopy, which are techniques used to identify the product."
"Each of my reactions requires almost all these steps, which can make the process lengthy, but overall, the hard work pays off when you produce your target compound."
"My time working in the lab has evolved dramatically because not every experiment is the same, as they can vary in length, scale, and techniques. However, I was quick to adapt to these changes and learned to navigate how to approach different experiments. Research requires patience, critical thinking, and problem-solving. I was glad to learn from Dr. Yakelis and be a part of his team!"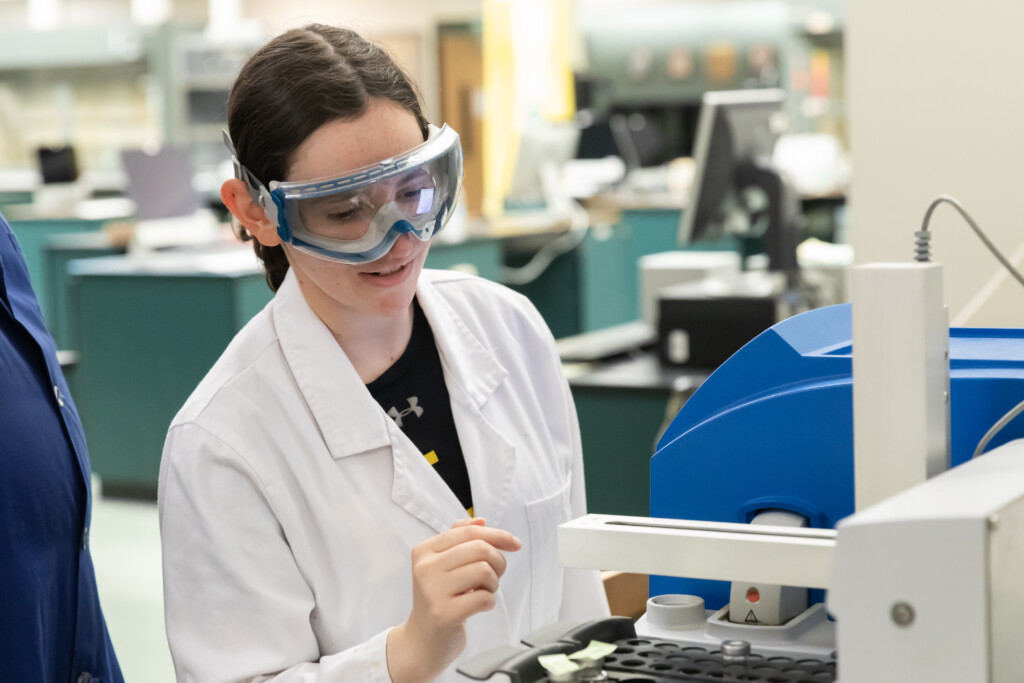 Fani del Toro '24 | Chemistry major
Preparing for the future
"Doing summer research with Dr. Yakelis has played a vital role in shaping my post-graduation plans, particularly in pursuing a Ph.D. in organic chemistry," said del Toro.
"It helped me gain practical skills in creating new synthetic methods, deepened my love for organic chemistry, and gave me confidence for the challenges ahead. This summer research experience has directed me towards my desired path in chemistry, where I aspire to make significant contributions to creating complex organic molecules."
Grady Lemma '25 | Biology and Chemistry major
Learning problem-solving
"Along with the technical experience that I gained, I think that my experience with Dr. Yakelis helped me understand the type of problem-solving that research requires."
"We spent a lot of time researching literature experiments to gain familiarity with the reactions we planned to run. In my case, they rarely went according to plan, but I learned something each time, which helped guide me toward the next step."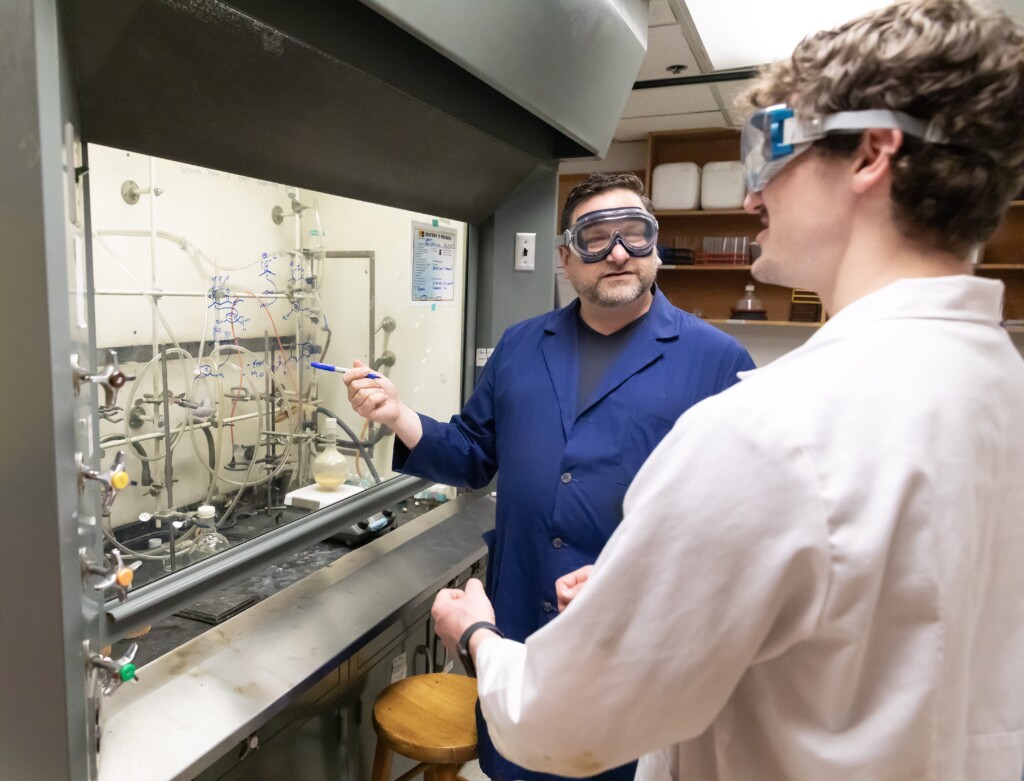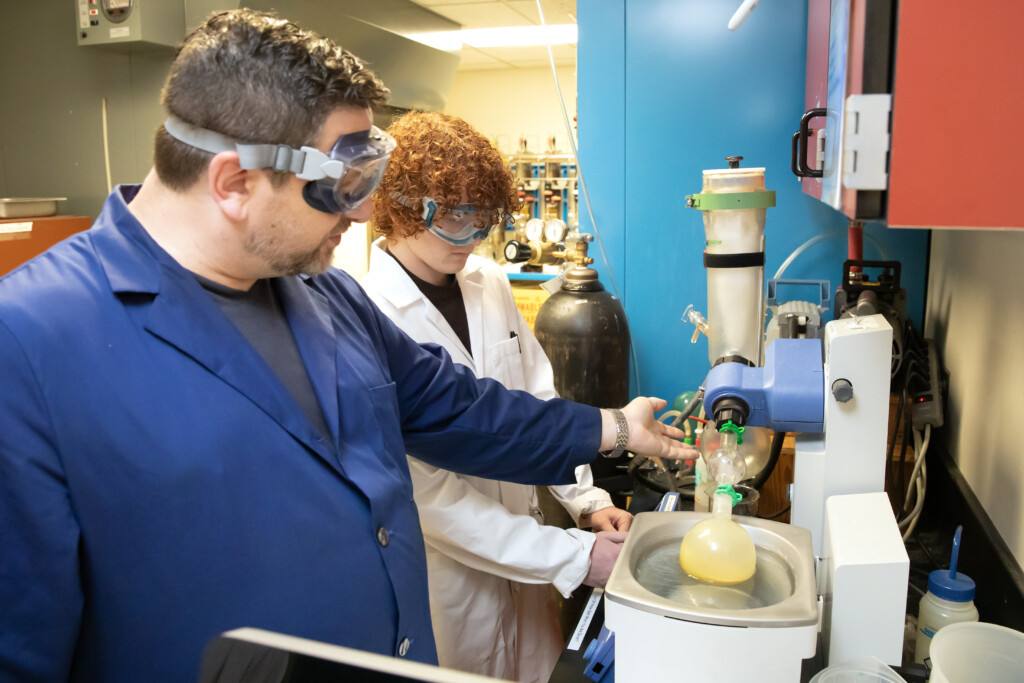 Aidan Donnelly '25 | Chemistry major with minors in biology and Hispanic studies
The importance of collaboration
"A memorable task that stood out during summer research was working with our collaborators. It was an incredible experience to meet and work with other professors and students in different fields of study and connect their research to ours as well as the overarching project."