Peace Scholars in Oslo
Students Meet with Leading Norwegian Peace Practitioners. Program Interest Meetings November 18 and 20, 2019
Interest Meeting Times

Peace Scholars and American Embassy PLU Alum
Exploring Future Careers

Excursions Explore Norwegian Nature and Culture
Excursion Choices Range from Hiking and Whitewater Rafting to Cultural Landmarks in Telemark

Nobel Peace Prize Forum
Peace Scholars got to interact with Nobel laureates and global and local peacemakers
Become a Peace Scholar!
2020-2021 Peace Scholars Rahel Ambachew (left) and Elana Tracy (right)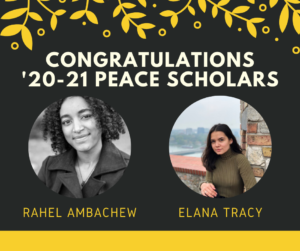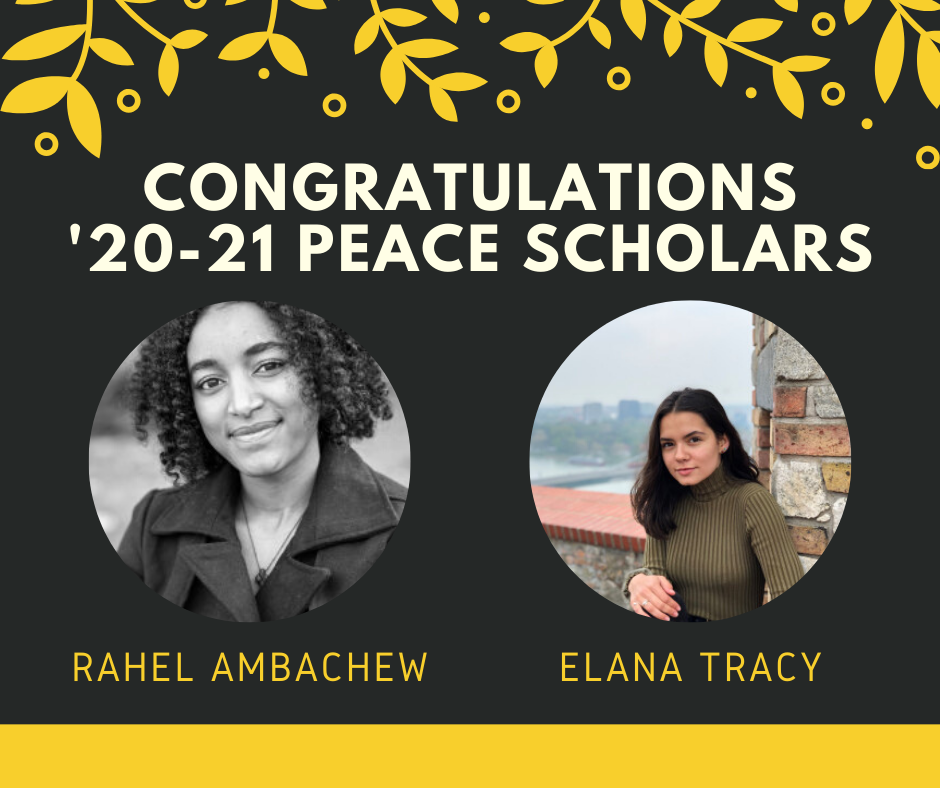 Established in 2011, the Peace Scholars Program is designed to deepen understanding of central issues and theories of dialogue, peace-building, conflict, and war. Annually, two students from each of the six (to eight, depending on the year) participating colleges and universities form a group of collaborative scholars.
The program is changing due to COVID-19 and other factors. We do not know what the program will look like in the future years.
Until recently, the program has had three components:
Study in Norway for seven weeks: study includes a week-long intensive dialogue training, a peace seminar, and additional class at the Oslo International Summer School.
Attend and participate in the Human Rights Forum.
Promote the program and contribute to peace-building efforts on PLU campus.
In Norway, students begin their study at the Nansen Center for Peace and Dialogue in Lillehammer.  There they engage in structured dialogue sessions with students from the Balkans/Caucasus regions, Middle East, and South America.
In 2020, there will be no Human Rights Forum and the peace seminar and other components of the study in Norway will be conducted virtually.
Peace Scholar Studies
Peace scholars participate in an interdisciplinary six-week undergraduate level course in peace studies at the Oslo International Summer School. The course includes both classroom instruction and visits to prominent institutions dealing with peace and conflict. Upon return to the PLU campus, students work with the Peace Scholars coordinator and committee to promote the program through presentations and recruitment meetings.
Travel, lodging and meals related to the Human Rights Forum and the Peace Scholars summer study are paid for by PLU and generous donors. Students may be get additional funding for non-program costs.
When they weren't busy studying peacebuilding and conflict with students from all over the world, PLU Peace Scholars Ariel Wood '17 and Theo Hofrenning '17 explored downtown Oslo and Norway's southeastern coast. Learn more about the Peace Scholar program at plu.edu/peace-scholars.