Thank you all for attending the 2016 Food Symposium!
If you would like to watch the panels for a second time Click Here!
Food Symposium - February 26-29, 2016
Food and the Environment
PLU's Philosophy Department is hosting the 3rd Food Symposium on February 26-29, 2016 focused on the theme of the relationship between food and the environment. The symposium will feature two keynote speakers, Dr. Vandana Shiva and Valerie Segrest, as well as panel discussions, a screening of the PLU MediaLab documentary on food waste titled "Waste Not," and a Pierce County food tour to visit local innovative production, consumption and waste models hosted by PLU's Center for Community Engagement and Service. Student led initiatives and events will also be included.
PLU MediaLab Documentary - Waste Not: Breaking Down the Food Equation
Schedule of Events
Opening Keynote
Friday, February 26, 7:30pm
Location: Karen Hille Phillips Center for Performing Arts
Dr. Vandana Shiva
Dr. Shiva's talk will also be a feature event for the Wang Symposium: Countenance of Hope
Food Tour
Saturday, February 27, 9am-2pm
The Food Tour will showcase some local models of ethically responsible food production, consumption, and waste. The Food Tour will include visits to Mother Earth Farm and Hidden Valley Compost Factory and Recycling Center, and conclude with lunch at Arista Pasta and Specialty Foods.
Space is limited for the food tour.
Food Production Panel
Monday, February 29, 11:15am-12:20pm
Location: Scandinavian Cultural Center
Dr. Michael Schleeter (Philosophy)
Holly Foster (Zestful Gardens)
Anika Moran (Mother Earth Farm)
Dr. Justin Lytle (Chemistry)
Food Consumption Panel
Monday, February 29, 12:30pm-1:35pm
Location: Scandinavian Cultural Center
Dr. Suzanne Crawford-O'Brien (Religion)
Dr. Kevin O'Brien (Religion)
Ryan Ceresola (Sociology)
Sue Potter [Executive Director FISH]
"Waste Not" Screening
Monday, February 29, 1:45pm
Location: Scandinavian Cultural Center
PLU MediaLab
Amanda Brasgalla '15
Taylor Lunka '15
Dr. Samuel Torvend (Religion)
Closing Keynote
Monday, February 29, 6:00 pm
Location: Scandinavian Cultural Center
Valerie Segrest
Event Sponsors:
Arbaugh Family Endowment
Department of Philosophy
Southwestern Washington Synod ELCA
PLU Dining and Culinary Services
ELCA World Hunger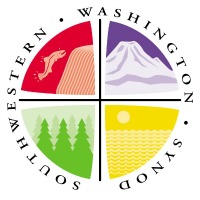 Keynote Speakers:
Dr. Vandana Shiva and Valerie Segrest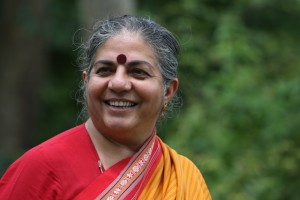 Dr. Vandana Shiva is trained as a Physicist and did her Ph.D. on the subject "Hidden Variables and Non-locality in Quantum Theory" at the University of Western Ontario in Canada. She later shifted to inter-disciplinary research in science, technology and environmental policy, which she carried out at the Indian Institute of Science and the Indian Institute of Management in Bangalore, India. In 1982, she left to set up her Research Foundation for Science, Technology and Natural Resource Policy in her home town of Dehra Dun in the foothills of the Himalaya. Her greatest learnings, however, have come from Mother Nature.
Valerie Segrest, Community Nutritionist & Project Coordinator, specializes in local and traditional foods. She is a graduate of the Northwest Indian College and received a Bachelor of Science in Nutrition from Bastyr University in 2009. Valerie teaches classes on traditional foods and medicines for the Northwest Indian College's Cooperative Extension Department. As an enrolled member of the Muckleshoot Indian Tribe, she serves her community through coordinating the Muckleshoot Food Sovereignty Project. In 2010 she co-authored the book "Feeding the People, Feeding the Spirit: Revitalizing Northwest Coastal Indian Food Culture". In 2010 she was awarded a fellowship through the Institute of Agriculture and Trade Policy to further her work coordinating the Muckleshoot Food Sovereignty Project. Valerie hopes to inspire and enlighten others about the importance of a nutrient-dense diet through a simple, common sense approach to eating.