The Gold Group forms part of the ongoing commitment to advocate with and for undocumented students at PLU. Created by undocumented students, for undocumented students, our group and our meetings provide a confidential space to connect with community members, share on and off-campus resources, and learn about opportunities for engagement, advocacy, leadership and more.
Meetings are held twice a month. For general questions about the group or information about membership, please contact us at undocu@plu.edu
Task Force working with and for Undocumented Students
The Task Force working with and for Undocumented Students advocates for undocumented students by coordinating campus trainings, connecting the community to on and off campus resources, and eliminating barriers to student success.  The following are members of the task force:
Questions?
For questions regarding the Gold Group, resources for undocumented students, future training sessions, or donations to the PLU4US Campaign, please visit the Diversity Center or write us at undocu@plu.edu
A member of the Task Force working with and for Undocumented Students will respond to your inquiry as quickly as possible.
Gold Group Student Representatives
Joanna Royce-Davis, VP Student Life
Tamara Williams, Executive Director of the Wang Center
Giovanna Urdangarain, Associate Professor of Hispanic Studies
Adela Ramos, Associate Professor of English
Heidi Schutz, Assistant Professor of Biology
Emily Davidson, Assistant Professor of Hispanic Studies
Nicole Juliano, Assistant Director of The Diversity Center
Diane Harris, Director of Circulation and Building Services Library Services
Ann Dodge, Circulation Coordinator Library Public Services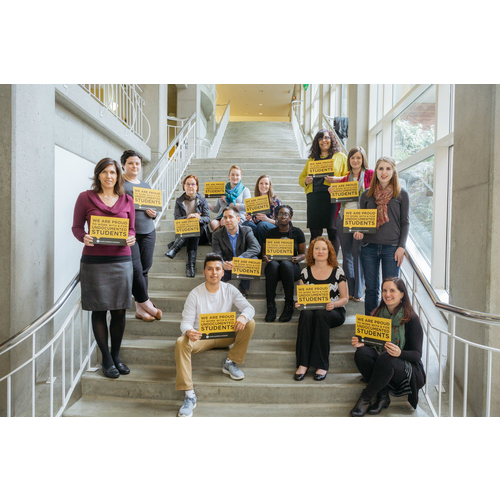 Faculty and Staff in Support of Undocumented Students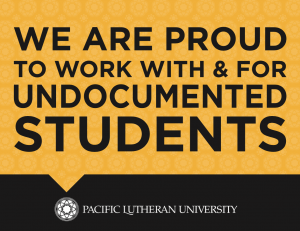 The following list is a directory of faculty, staff, and students who stand in solidarity with undocumented students.  All of the people listed in this document have attended a workshop led by Leadership Without Borders or Puentes and would like to be identified as people in support for undocumented students.
Those who have attended a training have also been invited to post the image on the left on their office doors and spaces.