"Jewish Women as Couriers in the Resistance"
Keynote: Dr. Lenore J. Weitzman
7:00 p.m. – Keynote: "Jewish Women as Couriers in the Resistance" (Regency Room, AUC)
Lenore J. Weitzman, Clarence Robinson Professor of Sociology and Law at George Mason University (emeritus)
Weitzman is the author of 5 books, including the award-winning The Divorce Revolution: the Unexpected Social and Economic Consequences for Women and Children in America (1985), which focused national attention on the economic hardships that no-fault divorce laws created for women and children. Her research led to the passage of 14 new laws in California and was instrumental in reforming national legislation on child support and pensions. (Her book also won several academic awards including the American Sociological Association's Distinguished Contribution to Scholarship.)
Weitzman received a B.S. from Cornell University and a Ph.D. in Sociology from Columbia University, followed by a two year post-doctoral fellowship at Yale Law School.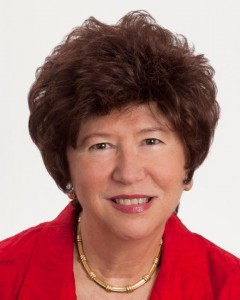 She has been a professor at Stanford University, the University of California, George Mason University, and Harvard University — where she received Harvard's "Phi Beta Kappa Distinguished Teaching Award."
Weitzman's current work focuses on the Holocaust. She co-edited Women in the Holocaust, (Yale, 1999) with Dalia Ofer, a finalist for two Jewish Book Awards, and is now writing a book on the "Kashariyot", the young women who were secret "couriers" for the Jewish resistance during the Holocaust. Based primarily on in-depth interviews with survivors in Israel and the United States, her book chronicles their courageous missions to reach Jews trapped behind ghetto walls, to mobilize resistance, smuggle weapons into the ghettos, and to rescue and hide Jewish children. Her work provides a missing chapter in the history of the Holocaust and a new understanding of the wide range of women's roles and activities in those years.
In 2011 Lenore gave the keynote address to the United Nations General Assembly on the International Day of Holocaust Remembrance, to highlight their focus on "Women in the Holocaust". Her other honors include a Guggenheim fellowship; membership at the Institute for Advanced Study in Princeton; a Fulbright Fellowship in Israel; the Kroener fellowship in Holocaust studies at Oxford University; and fellowships from Ford, Rockefeller, NSF, and the U.S. Holocaust Memorial Museum in the United States. In 2007 she received a national medal as a "Feminist Who Changed America."
In addition to her academic work, Weitzman serves on the as Board of Directors of The Jewish Book Council (and as Secretary of the board), and was Chair of the Board of Women for Women International, a non-profit organization founded to help women who suffered in the rape camps and concentration camps in the former Yugoslavia. It later expanded to Rwanda, Kosovo, and the Congo – and then to many other countries – building on its unique formula of  creating one to one aid (and a personal tie) along with micro credit loans and intensive skills training.