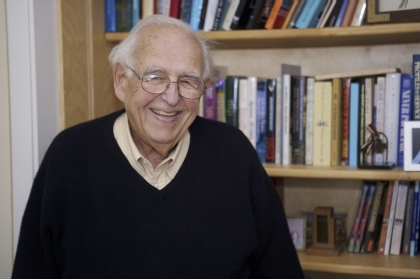 Mayer was born January 14, 1930 in Mainz, Germany to Joe and Emmy Mayer. By the time Kurt was school age, Hitler had come to power, and laws which stripped Jews of their civil rights had been implemented. Forbidden to attend public school, Kurt went to a school which had been created in the synagogue near the family home. In 1938, the Mayers moved to Wiesbaden and Kurt was enrolled in a boarding school at Bad Nauheim.
On the morning of November 9, at the age of 8, Kurt and his classmates were roused from their beds, marched barefoot in the bitter cold, and forced, at gunpoint, to watch the Nazis burn Torah scrolls and prayer books from his school in a day of death and destruction that would become known as Kristallnacht, the Night of Broken Glass.
Kurt's father immediately set about trying to make arrangements to leave Germany, obtaining visas to the United States which allowed the family to cross the Atlantic on one of the last ships to carry Jewish refugees to America in April 1940 (for more details about Kurt's childhood and the Mayers' "exodus" from Germany, click here to read the first chapter of Kurt Mayer's memoir).
Kurt's family settled in San Francisco, where he quickly learned English well enough to be a member of Lowell High School's prize-winning debate team. Kurt attended College of Pacific in Stockton, California and then Hastings Law School in San Francisco. Kurt served in the US Army in the Judge Advocates office in Germany.
In 1957, Kurt moved to Tacoma, going into the home construction business. His company would build several thousand homes in Washington, Idaho and Colorado. He was a strong advocate of affordable housing and also championed desegregation by selling homes to minority families in all-white neighborhoods, despite strong opposition from realtors and other builders.
Kurt was first introduced to Pacific Lutheran University when he was invited to speak to Professor Christopher Browning's Holocaust class. He was initially skeptical about how the Holocaust would be taught at a Lutheran University, but after auditing Professor Browning's class he understood how scholars studied and taught the Holocaust. In his memoir, My Personal Brush with History, Kurt wrote, "The fact that a university founded by Norwegian Lutherans would teach the evils of Nazism and spare no one who was guilty from being exposed was for me the key." He was also impressed with the school's commitment to valuing life, faith and service to others. "PLU is a place where faith and reason meet, where truth and ethics are honored and where young minds are molded to make the world a better place," he wrote. In addition to speaking in history classes, Kurt lectured in the School of Business on the risks and rewards of being an entrepreneur.
Kurt served on the Board of Regents of PLU from 1995-2005. With encouragement from family members and friends, The Kurt Mayer Chair in Holocaust Studies was created to honor Kurt and to insure the teaching of the Holocaust would remain an important part of the PLU curriculum. His wife, Pam encouraged him in all aspects of his life, particularly his commitment to PLU. His children Natalie and Joe and Joe's wife, Gloria, continue to be active supporters of the Holocaust program at PLU.
Kurt returned to Mainz a number of times over the years, including in 2010 where he and his family witnessed the opening of a new Jewish synagogue built in the same location where his childhood synagogue was destroyed during Kristallnacht.
Kurt published his memoir, My Personal Brush with History, in 2009; it was translated into German and published in October 2012, a month before he died.