Raphael Lemkin Lecture - Spring 2020
"Rescue and Resistance" - this event canceled due to Covid-19
Dr. Mordecai Paldiel is a leading scholar on the rescue of Jews during the Holocaust. Born in Antwerp, Belgium, in 1937, to Jewish parents who had moved there from Poland – during the German invasion of Belgium, in May 1940, the family fled to France. Originally settled in St. Gaudin, southwestern France, the family, then known as Wajsfeld, moved to various parts of occupied France. In September 1943, with the help of the Catholic cleric Simon Gallay, the family, then numbering parents and six children, fled to Switzerland, where they stayed until the war's end — then returned to Belgium. In 1950, the family moved to the USA, and settled in Brooklyn.
In 1962, Mordecai Paldiel made Aliyah and studied at the Hebrew University, Jerusalem, where he earned a BA degree in Economics and Political Science. He then furthered his studies at Temple University, Philadelphia, where he earned an MA and PhD in Holocaust Studies, under the tutorship of Professor Franklin H. Littell.
Returning to Israel, Paldiel was nominated director of the Righteous Among the Nations Department, at Yad Vashem – the country's national Holocaust Memorial, a post he occupied from 1982 to 2007. During that 24-year stint, under Paldiel's stewardship, some 18,000 non-Jewish men and women from various countries were awarded the prestigious honor of "Righteous Among the Nations," by the Yad Vashem Holocaust Memorial, for their role in saving Jews from the Nazis at considerable risks to themselves.
Paldiel is currently teaching, in New York: at Yeshiva University-Stern College, New York – courses in Holocaust & Rescue, and History of Zionism; as well as Touro college, in Modern European History. He also taught at Drew University, in Madison, New Jersey, and Richard Stockton College, Pomona, New Jersey.
Dr. Paldiel has published numerous books and articles on the rescue of Jews during the Holocaust, such as: "The Path of the Righteous: Gentile Rescuers of Jews during the Holocaust"; "Saving the Jews: Amazing Stories of Men and Women Who Defied the Final Solution";  "Churches and the Holocaust: Unholy Teaching, Good Samaritans & Reconciliation"; "Diplomat Heroes of the Holocaust";  "Saving One's Own: Jewish Rescuers During the Holocaust"; and  "German Rescuers of Jews: Individuals versus the Nazi System".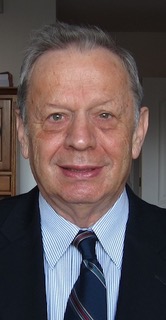 Raphael Lemkin Lecture Spring 2019

Patricia Heberer-Rice - U.S. Holocaust Memorial Museum
7 p.m. | Thursday, April 25, 2019 | Anderson University Center – Scandinavian Cultural Center
Free and Open to the Public
Nameless Victims, Silenced Voices: A Profile of Victims of the ``Euthanasia`` Program
From October 1939 until the final days of World War II, the "euthanasia" (T4) program claimed the lives of an estimated 250,000 disabled patients residing in institutional settings throughout Germany and in certain regions of German-occupied Europe. Who were the victims of Nazi "euthanasia" policy? Until recently, relatively little research has attempted to reconstruct the lives and fates of T4 victims. Scholarly preoccupation with the over-arching killing apparatus has helped to overshadow the individual identities of these individuals. Lack of adequate documentation has heretofore presented a major obstacle: many patient files have been lost or destroyed, while German privacy laws have ensured that the bulk of these records remained inaccessible to researchers. Utilizing patient files from the Bezirkskrankenhaus Kaufbeuren, formerly a notorious "euthanasia" facility near Augsburg, this presentation will offer a much-needed perspective to a field in which the analysis of process and perpetrator often precludes important questions about the victims themselves.
Dr. Patricia Heberer-Rice
Dr. Heberer Rice is one of the leading scholars on the Nazi Euthanasia murders. She has been based at the Museum's Center for Advanced Holocaust Studies (former U.S. Holocaust Research Institute) since 1993. Heberer Rice completed her undergraduate degree in Historical Studies and German Language and Literature at Southern Illinois University as the graduating class' valedictorian. She conducted her doctoral studies at the Free University of Berlin and the University of Maryland (UMD)-College Park, where Heberer Rice earned a PhD based on her dissertation on the Hadamar killing facility and its role in the Euthanasia program. She is the author of many articles and book chapters on the Euthanasia killings and other aspects of the Nazi state's murder programs. Dr. Heberer Rice (co-)authored two books, Children during the Holocaust, a volume in the Center's series Documenting Life and Destruction(AltaMira Press, 2011) and Atrocities on Trial: The Politics of Prosecuting War Crimes in Historical Perspective, co-edited with Jürgen Matthäus (University of Nebraska Press, 2008). Dr. Heberer Rice is currently the Director of the Division of the Senior Historian, The Jack, Joseph and Morton Mandel Center for Advanced Holocaust Studies at the United States Holocaust Memorial Museum.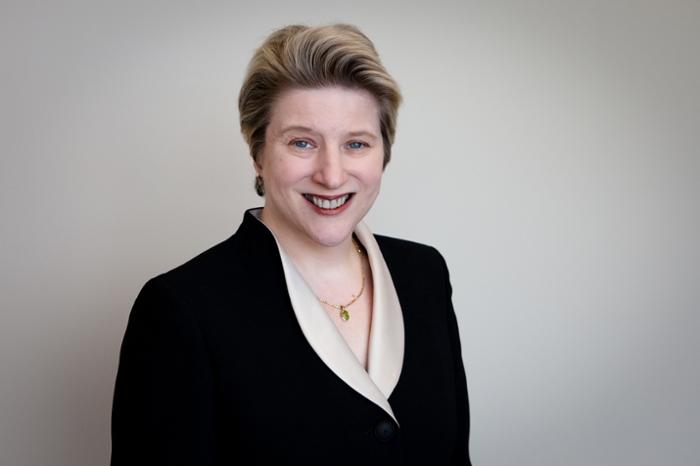 Raphael Lemkin Lecture & Award Ceremony
April 25, 2019 at 7 p.m.
Scandinavian Cultural Center, AUC
Free and open to the public
Raphael Lemkin Lecture Spring 2018

Violence, Espionage, & Anti-Semitism: British & Soviet Spy Ops Against Boston's Christian Front Organization, 1940-1945
Fr. Charles R. Gallagher, S.J., of the history department at Boston College spoke about his explorations of a heretofore unknown set of intelligence relationships involving Nazi, British, and Soviet spy networks in Boston during World War II.
Along with the lecture, each year, PLU offers students a chance to participate in a Lemkin Essay Contest. Students are asked to write a 7-10 page essay on the topic "Genocide: What does it mean to you?" A panel of faculty members judge the essays. The first place essay winner will be awarded $750. Second place award is $250.
Congratulations to 2018's Raphael Lemkin Essay Contest winners!

First place: Teresa Hackler for her essay "It is Nice in a Developed Country Like America: Reflections on the 1994 Genocide against Tutsi and the Global Implications of Divisive Language.

Second place: Katherine Wiley for her essay "People are Bad," but…Exploring the Lessons of Genocide.
Raphael Lemkin Lecture 2017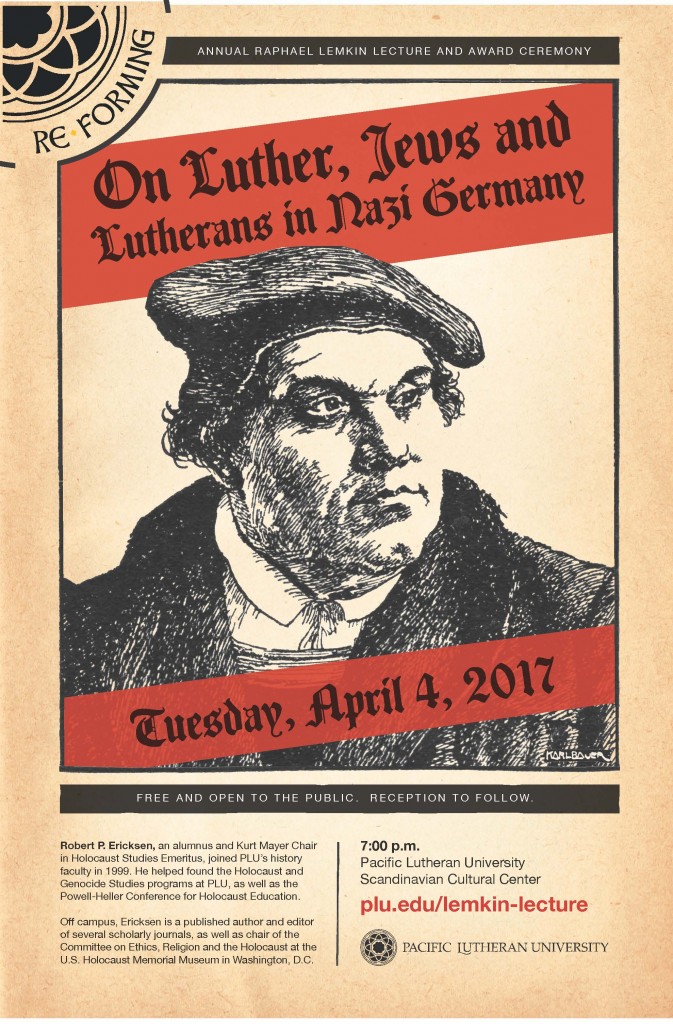 About Raphael Lemkin
Learn more about the Polish-born Jew who escaped from Nazi-controlled Poland during the war, and what the lecture is all about.
More