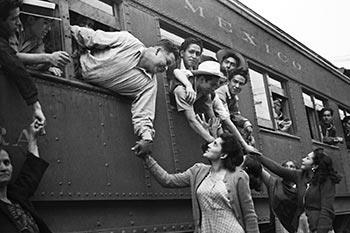 Braceros, photographed by the Hermanos Mayo/ Braceros, fotografiados por los Hermanos Mayo
Curator: John Mraz
Other Credits: Other credits: A collaboration of the Archivo General de la Nación (AGN), the Museo Nacional de los Ferrocarriles Mexicanos, and the Centro Nacional para la Preservación del Patrimonio Cultural Ferrocarrilero (CNPPCF).
A specter is haunting the world – the specter of immigration. In this exhibit we explore the experience of emigrating, as it was rendered by photographers who had also been uprooted. Today, as waves of migrations hurl themselves on the coasts and borders of the world, it seems appropriate to reflect on the Mexican braceros who were recruited to fill the boots of those US soldiers who had gone to fight fascism in the Second World War. Under the "Bracero Program, 1942-1964," Mexicans were legally contracted to work in the USA as temporary unskilled laborers. We have chosen to tell this story through photographs made by other emigrants, Spanish refugees from that country's Civil War (1936-1939), who — though they left their country for different reasons –nonetheless bring the particular gaze of emigrants to this task.

A World of Difference
Documentary Series Premiere
4 p.m. | Saturday, Feb. 17 | Microsoft Auditorium, Seattle Public Library
All across the country, people of color, women, immigrants, low income communities, and many others, say they feel less respected, more fearful, and in many places, under attack, because of their differences. MediaLab's four-part series, A World of Difference, investigates how communities experience diversity and ultimately asks the question: How do we value difference?
Episodes
I: Immigration // El Paso, TX
II: Gender // Portland, OR
III: Race // Sedalia, MO
IV: Class // Richwood, WV
Please join us for a theater screening of the first two episodes, followed by a Q&A discussion with guest panelists. Admission is free, and open to the public. Refreshments will be provided. Please RSVP for planning purposes.
Event Details
Time: 4 p.m.
Date: Saturday, Feb. 17
Place: Microsoft Auditorium,
Seattle Public Library
1000 4th Ave.
Seattle, WA 98104

PAUL O. INGRAM LECTURE
Indigenous Environmentalism as Spiritual Responsibility
7 p.m. | Tuesday, Feb. 20 | Anderson University Center – Scandinavian Cultural Center
Michelle M. Jacob is a professor of indigenous studies and director of the Sapsik'ʷałá (Teacher) Education Program at University of Oregon. She is a member of the Yakama Nation, and founding director of the Center for Native Health and Culture at Heritage University.

13TH VISITING WRITER SERIES
Minal Hajratwala, Author's Story and Reading
7 p.m. | Tuesday, March 6 |Karen Hille Phillips Center for Performing Arts – Studio Theater
The series continues with Minal Hajratwala, author of Leaving India: My Family's Journey from Five Villages to Five Continents (2009), which was called "incomparable" by Alice Walker and "searingly honest" by the Washington Post.

THE RACHEL CARSON SCIENCE, TECHNOLOGY & SOCIETY ANNUAL LECTURE
The Case for Engineering Our Food
7:30 p.m. | Tuesday, March 6 | Anderson University Center – Chris Knutzen Hall
This year's speaker is Pamela Ronald, a distinguished professor in the Plant Pathology and Genome Center at the University of California – Davis. She also serves as founding director of the UC Davis Institute for Food and Agricultural Literacy.

3RD ANNUAL CÉSAR CHÁVEZ & DOLORES HUERTA LATINO STUDIES LECTURE
Diary of a Reluctant Dreamer:Undocumented Vignettes from a Pre-American Life
6:30 p.m. | Monday, March 19 |Anderson University Center – Scandinavian Cultural Center
This year's speaker is Alberto Ledesma, author of the memoir-comic book Diary of a Reluctant Dreamer and Graduate Diversity Director in Arts & Humanities at Berkeley.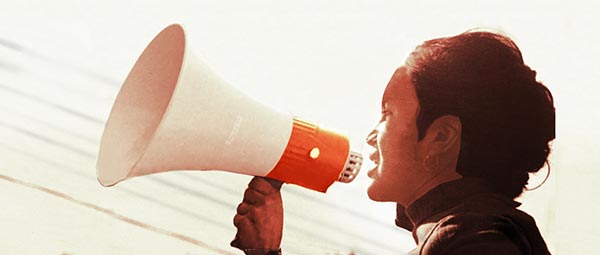 Dolores: Rebel. Activist. Feminist. Mother.
Film screening and panel discussion
6 p.m. | Thursday, April 12 | Xavier 201
Please join the Women's and Gender Studies and Hispanic Studies at Pacific Lutheran for a screening of Dolores: Rebel. Activist. Feminist. Mother.
Dolores Huerta is among the most important, yet least known, activists in American history. She tirelessly led the fight for racial and labor justice alongside César Chávez, but her enormous contributions have gone largely unrecognized. This multi-award winning film explores her life and reveals the raw, personal stakes involved in committing one's life to social change.
There will be a panel presentation featuring local activists following the screening. Refreshments will be provided. This event is part of Rhiannon Berg's final Capstone Project for the School of Arts and Communication at PLU.