Rabbit Hole – A Studio Theater Production
February 20, 2012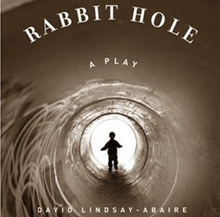 Theatre, as a communal form of art, is an ideal forum in which to experience the kind of shared compassion that helps us persevere in difficult times and bring us closer together.
The opening night of PLU's Rabbit Hole, on March 9, 2012, provides an opportunity for thoughtful discussion on theatre and compassion. We welcome theatre alumni back to PLU for a panel at 5:30 p.m. in Ingram 100 and a reception prior to the Rabbit Hole curtain at 7:30.
Director and Assistant Professor of Theatre, Brian Desmond, will host the panel discussion. Attendees will discover how compassion informs the work of theatre professionals as they audition for roles, develop characters, rehearse with fellow cast members and perform for an audience. Theatre alumni on the panel include Kristina Corbitt '10 (Jet City Improv Company Member), Kirsten Helland '10 (Oklahoma! at The 5th Avenue Theatre), and Justin Huertas '09 (Spring Awakening at Balagan Theatre and on a National Tour).
Rabbit Hole, which won the 2007 Pulitzer Prize, is a story of loss, heartbreak, and forgiveness as a family attempts to move on after a life-shattering accident.
"The play demands an intense level of naturalistic acting that requires the performers to be unfailingly honest in order to get the most out of both the humor and the pathos in the text. Our students have been aching for that kind of challenge, and I wanted to give it to them," Desmond said.
Rabbit Hole, offers a real, raw journey that author David Lindsay-Abaire describes as "not a tidy play."
"During the course of the play, each of the five characters has to learn how to deal with a variety of very challenging situation," Desmond said. "Regardless of how they act (and react) to each other and to the circumstances, it is ultimately compassion for themselves and for their fellow human beings that allows the characters to move on in their lives with some measure of understanding and grace."
Rabbit Hole will open in the Studio Theater – PLU's new black box venue. The venue provides an intimate experience for the audience members. Rehearsals begin Monday, February 6, 2012.
"It is a truly incredible play… it's not just sad, it's also incredibly funny and so real, so honest that I think audiences will really enjoy not just watching the show but being a part of these people's lives," Abigail Pishaw, cast member, said.
For tickets please call the Campus Box Office: 253-535-7411. Tickets are $8 General Admission and $5 with student or PLU ID. Tickets are available three weeks prior to opening night.