Currently Reading:
Matt Kennedy wanted to make a difference
February 18, 2010
A leap of faith: one Lute finds that one person can make a difference
Matt Kennedy '07 sat in front of his computer screen and tried not to hyperventilate. On one side of the screen was his bank account, on the other side was the airlines Web site where he planned on purchasing his ticket to Uganda.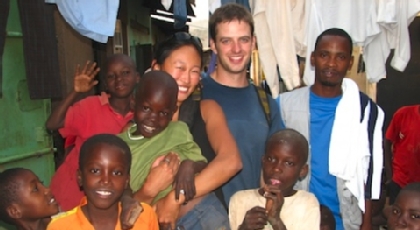 He held his breath and hit "buy" and watched his bank account shrink. After months of wrestling with doubts, Kennedy had committed himself to go to Uganda under the auspices of Global Youth Partnership for Africa to teach bicycle repair to residents of a large slum outside the capital city of Kampala.
A few weeks later, Kennedy stepped off of the plane in Uganda, and again, tried to steady his breathing. He felt the humid, cloying night air tuck around him like a cloak. He now had $500 left in his bank account had had a $100 stuffed in his pocket – a gift from his girlfriend who dropped him off at the Seattle airport.
"I remember thinking 'please, pleeease, let someone be there for me,"" Kennedy said this year.
There was a friendly face waving a sign. But Kennedy soon discovered the job he had flown almost 9,000 miles to do didn't exist.
This series of panic, calm, panic, calm, had been the normal state of affairs for Kennedy ever since he decided to leave his safe and secure job at REI in 2008.
"I knew to be happy, to be really  happy, I had to feel like as I was contributing to life in general, something meaningful," said Kennedy in an interview before the Wang Center Symposium, which will take place March 4-5 on the PLU Campus. Kennedy will speak the second day of the event, the theme of which is "Understanding the World Through Sports."
The transformation from budding bicycle repair teacher to soccer tournament organizer and life coach, came about fairly quickly after Kennedy stepped off that plane in Entebbe. After about a week in the country, Kennedy quickly realized that the bike idea was a bust..
"I'd never seen anything like it," he said, recalling his first visit to the bicycle repair shop. "They were using technology that was generations before my time, using means I'd never used before."
So with two months left on his visa, what was he going to do?
A random conversation with an Australian in a youth hostel gave him an idea. What about setting up a soccer tournament in the poorest areas of the city, a nearby slum called Namuwongo, and teach life and leadership skills in the process?
The director of the Global Youth Partnership stateside, Jeremy Goldberg was interested in the idea. So working with a local contact, Ocitti Joseph, Kennedy set up a tournament involving 15 teams, interspersed with leadership meetings two times a week.
Kennedy knew that there was no way that he, a white man from America, could sell the idea of a tournament and leadership classes to a group of 54,000 people living on the equivalent of $2 a  day in a slum with open sewers and a 30 percent HIV infection rate among adults.
Children are often discouraged from attending school so they can panhandle for their family, which often live in a cinder block "house" the size of what most in the US would consider a shed. But Ocitti had "street cred" with the residents. He was their unofficial mayor. And there were informal soccer teams in the slum to draw from, as well as the insatiable desire to play soccer.
"He generally did the leadership classes and organization within Namuwongo, while I worked on organizing from the outside," said Kennedy.
In June, the two-day tournament was finally started, funded by the last $500 in Kennedy's bank account. It played out on a baked ochre field on the outskirts of the slum. The day of the tournament, the women cooked and the men played. Hundreds from the slum turned out to cheer on the teams, which came down to the underdogs – called the Rangers against the favored Gomo Tong team. The game ended in a shoot out, and the hundreds of spectators crowded around the goal, ignoring the scorching heat. The Rangers won and the crowd erupted. On the outskirts of the mayhem, Kennedy took a moment to stand outside himself – "this really happened," he remembered thinking.
"It was like they'd won the Super Bowl," he said.
Kennedy bade farewell to Ocitti and headed off to China on a job guiding youth through a hiking and biking tour. For Kennedy, he thought that was it for his Uganda experience. But again, he was wrong.
The idea of capitalizing on another tournament just wouldn't stop tapping at his mind. But he was home now, in Puyallup in 2009 and unemployed, living off food stamps. The idea of returning to Uganda seemed an unattainable dream. Then, he scored a landscaping job. He moved in with Mom and decided to try and save 90 percent of his earnings. His grandmother sold her house and gave him $2000 of the proceeds. After months of work in 2009, he was buying tickets to Uganda again, this time with his girlfriend and fellow Lute, Margaret Chang, '07, a global studies major.
Kennedy at first couldn't find his fellow organizers, but with new confidence, headed into the slum and quickly found them, including Ocitti. But the field they'd used for the first tournament was gone, now the home of an office complex. So they found another field outside of town and another at a nearby school. When the bus arrived to take spectators to the school, the kids and the parents were amazed, Kennedy said.
"They didn't believe this would happen," he said. "They didn't believe the buses would come."
Or that t-shirts would arrive or that they'd be fed a free lunch. But all this occurred and again, hundreds watched the last tournament.
Eventually, Kennedy and the Partnership would like to see the program become sustainable by the community and provide some jobs for the people of Namuwongo. Already, Kennedy has heard that some members of the community – a thief and one or two prostitutes have chosen to get off the streets and seek gainful employment. Whether it's because of the tournaments is hard to say, Kennedy said. But social workers within the community think the tournaments have had a positive effect in the community.
"In my mind, this is a story about people…people like us," he said. "We really want to be able to cut this loose and see what they do with it.
I think this has taught me what a little person, and I count myself as one, can do.  If you have a vision, if you're flexible, if you're willing to take a risk…incredible things will happen."
Editor's note: Kennedy returned to Uganda this January as part of Pacific Lutheran University's J-term program. He met with Ocitti again, and others of Namuwongo to try and plan another tournament another trip. Again, Kennedy doesn't have the money. But one has the feeling, that won't stop him. He currently lives and works in Utah, leading outdoor adventure trips for troubled youths.